Is AVG Selling YOU?
| | |
| --- | --- |
| AVG, the maker of free antivirus software used by millions, has published a new simplified one-page privacy policy shines a spotlight on what data they collect from you, along with how and when they're allowed to sell it. Are they violating your privacy and selling your personal info to the highest bidder? Let's take a look... | |
What's in AVG's Simplified Privacy Policy?(
On September 15, 2015, the developers of AVG Antivirus Free published a new privacy policy that will take effect on October 15. AVG Technologies, Inc., touts the new policy as a noble effort to bring simplicity and transparency to the notoriously confusing genre of privacy policies.
It does, but it also establishes AVG's right to sell some data collected about users of its products. Some people object, of course.
"It is utterly unethical to [the] highest degree and a complete and total abuse of the trust we give our security software," Alexander Hanff, security guru and chief executive of Think Privacy, told Wired UK. He urges AVG users to uninstall the product(s) and use another security suite.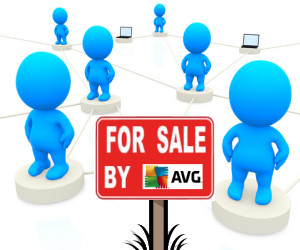 AVG opened a can of worms by simplifying its privacy policy. Most such documents are couched in dense legal jargon and run to overwhelming lengths. Most users quickly give up and just click OK to accept the terms, not knowing what they've agreed to. But AVG's new policy is mercifully brief and crystal-clear from its beginning:
Q: Why do you collect my data?
A: It's simple. We provide products and services to help you secure your data, devices, and personal privacy. We use data to improve those products and services; provide support; send notifications, offers, and promotions; and to make money from our free offerings so that we can continue to offer them for free.
AVG broadly classifies the data it collects into "personal" and "non-personal" categories. Data that can personally identify you includes such things as your name, address, email address, phone number, credit card details, AVG account username and password, and more. Personal data that AVG collects is never sold or rented, the policy states.
What Exactly Does AVG Sell?
Should you stop using AVG, and switch to Avast, Avira, Bitdefender or some other free antivirus? Maybe, but not for the reasons mentioned here. Go ahead and switch, if you know for sure that the product to which you'll switch isn't doing exactly the same thing. A better reason to switch is how well that product does its job of protecting you from malware threats. See my article on the Best AntiVirus Software http://askbobrankin.com/best_antivirus_software_for_2015.html for more on that.
There's one caveat in the AVG privacy policy. It specifies that some personal data (such as your email address) may be shared with others, including "certain selected resellers, distributors and other partners to enable them to contact you on our behalf about products, services or offers we believe are important to you or your business…"
In other words, when you install and register AVG Antivirus Free, you become a "lead" that may be passed to "selected resellers and distributors." Since AVG swears it doesn't "sell or rent" personal data, I surmise that AVG only earns commissions on leads that produce sales for its partners.
In my opinion, users of AVG Antivirus Free are unlikely to be bothered much by these AVG partners. At most, I'd expect an occasional message that goes straight into my junk email folder, unseen by me.
"Non-personal data" is so nebulous that AVG explicitly says, "(W)e cannot list out each and every type of non-personal data that we collect…" But one example provided in the new privacy policy is your device's Google Advertising ID, a replacement for cookies that serves no other purpose than to enable targeted advertising. Other examples include your browsing and search histories; the ISP or mobile network service provider used to connect to AVG products; and "information regarding other applications you may have on your device and how they are used."
"We collect non-personal data to make money from our free offerings so we can keep them free," declares AVG's new privacy policy, without saying exactly how the company makes money with your non-personal data. The obvious and customary answer is, "By selling analyses of large amounts of such data." In other words, they're selling anonymized, aggregated profiles that don't personally identify anyone in particular.
How Should You React to This News?
This is nothing to get excited about, in my opinion. I don't care at all if I am counted as one of eleventy-six AVG Antivirus Free users who are over age 40 and dwell in area code 914. Nor do I care if the statistical factoid, "Nine out of every 10 Google Chrome users also uses Microsoft Word" includes me; why should I? If selling demographic analyses helps keep software free, then sell them.
What does bother me is that all of this data, personal and non-personal, is being collected by one company, creating a huge attraction for hackers. Even more disturbing is the fact that security software such as AVG's necessarily enjoys the highest privileges on the devices on which it runs; virtually no corner of any of my devices is off-limits to security software, which has to guard every possible point of vulnerability.
To be fair, I've never heard of an Internet security company being breached and plundered by hackers in the manner of Ashley Madison, or others in the news of late. Let's hope the locks on their doors are very secure.
AVG is in the hot seat right now because it has made its data collection practices less opaque than other vendors have. Think Privacy's Mr. Hanff may tell us, "use something else." But I wonder what other free programs have buried beneath mounds of legal jargon (or just not bothered to disclose). I suspect pretty much all of them are doing the same type of data collection.
"If you're not the buyer, then you're the product," as the Internet saying goes. But furthermore, if you buy a product, then you become a product (a lead for someone selling related products). AVG has simply told the truth about that.
Your thoughts on this topic are welcome. Post your comment or question below...