Ready For Driverless Cars?
| | |
| --- | --- |
| The biggest hypefest of the 21st Century is "driverless cars." Is there presently any car that can take you from Point A to Point B, in all kinds of conditions, without human help? How soon can we expect to see driverless cars at dealerships, and whose brand name will be on them? How will driverless cars reshape American society? | |
Keep Your Eyes on the Road and Your Hands Upon the Wheel
Let's answer the easy question first. Yes, there is a fully driverless car. Google has been test-driving prototypes of its latest-generation "pod" car since mid-2015. The pod car's steering wheel, gas and brake pedals are removable; without them, the car drives itself like a high-wire artist works without a net… very carefully and slowly.
Currently, pod cars are being tested on a few streets in Mountain View, CA, Google's home town. They are limited to daylight hours and clear roads, and must keep it under 25 mph. The car's algorithms are extremely cautious, sometimes excessively so. Occasionally, a timid pod car has crept down the middle of a street, straddling the center line that its sensors are supposed to detect and avoid. But that's why they're being tested, and improved.
The pod car's rooftop sensor array contains lasers, radar, and cameras to provide 360-degree and three-dimensional input to the car's computer. People, pets, other vehicles, trees, poles, etc., are stored as digital objects in an ever-growing database in Google's cloud. All the different representations of similar objects help the pod car learn to recognize objects from the many perspectives presented by the real world. The more pod car miles driven, the more intelligent the system gets.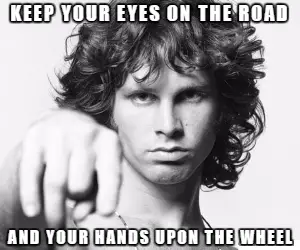 Tesla stirred up the media with its October, 2015, announcement of "Autopilot" for its Model X and S electric cars. The big reveal turned out to be a software update downloaded to all Tesla vehicles. The update activates and uses laser, LIDAR, and camera sensors in a Tesla to enable smarter cruise control, reactive steering and braking, and auto-navigation.
But the Tesla autopilot system has a lot of bugs to work out. Videos on YouTube show the steering wheel jerking unexpectedly in response to harmless debris on the road, and one handsfree driver was pulled over for doing 75 mph in a 60 zone; the car should not have let that happen. In short, do not take your hands off the wheel of a Tesla when it's on Autopilot.
The Tesla upgrade also included a feature called "park/summon." At the press of a button, the car will park itself in a garage, or back itself out when "summoned" by its owner. An automatic garage door opener slaved to the Tesla is a good idea. The parking and summoning happen with painful slowness, as this video documents.
Research and Rumors
Apple is covertly working away on its Titan electric car, which it hopes to unleash in 2019. The famously secretive company hasn't said if the Titan will be driverless, too. But why wouldn't it be?
Google predicts that self-driving cars will be available to consumers between 2017 and 2020. Tesla's Elon Musk says 2020 will be the big year. No one else is making such predictions now, but a lot of firms are getting into the driverless car game.
Uber and Carnegie Mellon University launched a joint initiative in February, 2015; that means Uber provides money and CMU provides knowhow. The plan includes an Uber Advanced Technologies Center in Pittsburgh; it has yet to break ground, let alone develop a prototype driverless car. But CMU was building driverless cars in the mid-1980s, so this partnership could yield fruit very quickly.
Mercedes-Benz has one prototype "research car," the F 015 Luxury in Motion. An Engadget reporter praised the car's luxury, but when he asked if the car would stop if he walked in front of it, the answer was "no." That tells you how far along the F 015 is.
BMW has teamed with Baidu, the "Chinese Google," to develop a driverless car that has been tested in Beijing on both surface streets and highways.
An Audi A7 prototype drove itself 550 miles to the 2015 Consumer Electronics Show, but it's not yet ready for city traffic. Audi hopes to bring a fully driverless car to market in 2016.
Delphi Automotive is known for making the parts that go into cars. But it's also produced a self-driving car called "Roadrunner," an Audi SQ5 tricked out with Delphi technology. The Roadrunner made a 3,400 mile coast-to-coast run that included tricky situations like traffic circles, construction, bridges, inclement weather and aggressive drivers.
Honda's self-driving car has received approval for testing on California public roads. One reporter who took a test ride said the Honda merges into traffic "better than some people I know."
Ripple Effects
All in all, 17 companies already have prototypes of self-driving cars. As the examples above indicate, they're in various stages of readiness. Society, however, is not very ready at all.
California, Nevada, Texas, and Michigan are the only states that have enacted regulations that permit driverless cars on public roads - for testing purposes only, and under strict conditions. Eleven states have gone in the other direction, passing laws banning driverless cars. Other states are still wrestling with how to regulate driverless cars. The federal government is not considering any legislation or regulations concerning driverless cars. (That probably means they haven't figured out a clever way to tax them yet.)
If driverless cars become the norm, we may not need so many cars. A fully autonomous car could be shared by many people, vastly increasing its utilization rate. Currently, the average car spends 95% of its time parked. On the flip side, I saw one prediction that driverless cars might cause more urban congestion by NOT parking. The reason: In many cities, it would be cheaper to instruct the car to circle the block for 2 hours, than to pay for parking in a garage.
One possible downside is that State and local revenues derived from cars and drivers will decrease significantly. Fewer cars mean few registration fee and sales tax dollars. Who needs a driver's license when cars drive themselves? Assuming driverless cars become better drivers than humans, traffic ticket revenues will decline. I can think of a few "speed trap" towns where that would put a major dent in revenues.
In the private sector, car insurance should become cheaper, and claims adjuster jobs may be fewer if driverless cars get into fewer accidents. Auto bodywork businesses may decline. If cars become shared resources, aftermarket personalizations may go out of fashion; no more fuzzy dice or flame paint jobs.
Driverless cars are likely to be commonplace within our lifetimes. With that revolution will come dramatic societal changes. But for now, the best driving advice comes from a drug-addled singer who penned Roadhouse Blues, back in 1969.
Your thoughts on this topic are welcome. Post your comment or question below...
 

Ask Your Computer or Internet Question



  (Enter your question in the box above.)

---

---

| | |
| --- | --- |
| | Check out other articles in this category: |

| | |
| --- | --- |
| | Link to this article from your site or blog. Just copy and paste from this box: |
This article was posted by Bob Rankin on 12 Jan 2016
---
---
---
There's more reader feedback... See all 28 comments for this article.
Post your Comments, Questions or Suggestions
---
Article information: AskBobRankin -- Ready For Driverless Cars? (Posted: 12 Jan 2016)
Source: https://askbobrankin.com/ready_for_driverless_cars.html
Copyright © 2005 - Bob Rankin - All Rights Reserved