Which is the Best Month to Buy a Car?
| | |
| --- | --- |
| Do you know the best time to shop for a car? And how is the global chip shortage affecting auto prices and inventory? Today I have some some tips for online auto buying that will help you save money and get the car you want. You may not even have to set foot in a dealer showroom. Read on... | |
Online Car Buying Tips
According to experts at Kelley Blue Book and Edmunds, December is the best month of the year to buy a car. Non-stop TV ads touting car deals also attest to that fact. The biggest discounts offered by auto makers and dealers are found in the months of December, March and January, in that order. Here's why end of the year car buying deals can make December the most wonderful time of the year to get a new set of wheels, all wrapped up in a big red bow.
One of the biggest factors is quotas. Dealerships and salespeople have both end of month and yearly quotas to meet. That's the December Double Whammy. Especially if you're paid on commission, and even more so if there's a bonus for making your quota, a salesperson will be motivated to make the best deal possible before the ball drops on December 31st.
A related point is that every manufacturer wants to earn the designation as the Top Selling car, truck or SUV of the year. For example, Ford might offer great deals on their F-150 pickup truck in December, if they think they can beat out the Dodge Ram or Chevy Silverado. It's all about bragging rights and marketing for the coming year.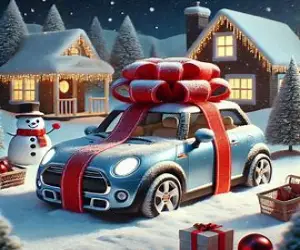 The new year often brings new models and designs, so dealers may be anxious to clear out their inventory of the older models to make room for new stock. Buying last year's model at a discounted price can be a win-win for you and the dealer. (The 2022 models started arriving on the lot months ago.) In addition, some states charge an inventory tax on car dealers, based on the number of cars they have on their lot at the end of the year. So there's further incentive for deals and discounts to limit the dealer's tax burden.
And of course, the weather plays a role in many areas. If it's cold and snowy, customers will be less inclined to trudge through car lots in search of a deal. The laws of supply and demand, coupled with your dealer's desire to meet quotas and make room for new models, all come together to give car buyers an edge in December.
The semiconductor chip shortage we keep hearing about, and low interest rates, are affecting demand, availability, and pricing of many new cars. Prices for new cars and trucks are about 5 percent higher than last year. Used cars are in such high demand, that prices have jumped over 40 percent! If you're in the market for a new car, it's a great time to sell or trade in a used one.
The chip shortage is also affecting the feature sets of new cars. Car and Driver has an article detailing features some new cars won't get because of the chip shortage. Those include heated seats, touchscreens, backup assist, HD radio, and hands-free driver assistance technology on some models.
How to Research (and maybe even buy) Your Car Online
Most people would rather go to a dentist than a car dealership. If you hate the high pressure sales people, the backroom negotiations with the invisible but all-powerful "finance manager," the last-minute up-sales of extended warranties, undercoatings, floor mats, etc., then you may want to get as much of your car buying done online as you can. The good news is, you actually can buy a car without setting foot in a dealership.
There are plenty of potential gotchas when purchasing a car. But arming yourself with knowledge will help you avoid getting taken for the proverbial ride. For most, the first step toward car-buying is to visit your bank or credit union. Get pre-approved for a loan so you know how much you can afford to pay in total and per month. Then stick to that budget no matter what. (Tip: credit unions offer much better car loan terms than banks, and it's easy to join one.)
A favorite line from dealers is "How much do you want to spend on your monthly car payment?" My advice is to tell them they have it backwards. First, you negotiate the price of the car. Then your monthly payment is simply the price divided by the number of monthly installments. If you start with the monthly payment, you'll always end up paying more than you should.
If you plan to pay cash, don't let that secret out of the bag until price negotiations are complete. Dealers make more money when you finance a car, and they may factor that into their price calculations.
Next, do your research, all of which can be done online. Edmunds.com is one of the best places to start; the highly respected Edmunds has refined its proprietary method of estimating actual sales prices of thousands of new and used cars since 1966. Edmunds also published detailed reports on the reliability, maintenance needs, and insurance costs of specific car models. Consumer Reports New and Used Car Reviews & Ratings is another comprehensive, trustworthy resource.
When you have the field narrowed down to a few makes and models, it's time to get a feel for market prices and your trade-in value. Edmunds is great, as I've mentioned. So is Kelley Blue Book. NADA is another popular pricing tool; but be aware that NADA is the National Auto Dealers Association and represents dealers' interests.
Getting a Price Quote
Now that you have a feel for what your potential car(s) should cost, you can get actual price quotes from a number of websites. CarsDirect will help you find the right car at the right price and then connect you to the Internet sales department of the dealer who has the deal. TrueCar.com will show you what others have paid for similar cars as it displays dealer offers that meet your specs. CarGurus is a useful tool for both new and used car purchases. CarGurus rates each deal on a scale of "great" to "overpriced" and factors in both price and dealer reputation to rank deals.
The American Automobile Association (AAA) has an Auto Buying Program that offers to help members "get a great deal on a new or pre-owned vehicle, while avoiding the stress and hassles normally associated with buying or leasing a car." AAA refers members to participating dealers that agree to provide low, pre-set, no-haggle pricing. There's no cost for AAA members. USAA - the United Services Automobile Association - has catered to military personnel and their familes with auto loans and insurance since 1922. It may surprise you to learn that Costco has a car-buying program that moves several hundred thousand vehicles per year, including motorcycles, boats, and RVs.
Carvana pioneered the Car Vending Machine concept, but they also offer a service that lets you buy a car completely online and have it delivered to your door. You can also visit one of their locations in person, in Atlanta, Nashville, Charlotte, Houston, Austin, San Antonio, Orlando, Philadelphia, Indianapolis, Kansas City, Memphis, and several other cities.
So you can see there are several ways you can actually close a deal at a firm price without ever setting foot on a car lot. But if you prefer to buy in-person (and many do), you can approach local dealers with the best deals you found online and see if they'll match prices. Don't be afraid to walk out the door if the salesperson won't accept your offer, or if he tries that annoying "how much do you want to pay per month" line. As I mentioned above, negotiate your best price, and then divide by the number of months in the terms of the loan. That's your monthly payment, and it should be the LAST thing you agree on, not the starting point.
Avoid Car Buying Scams
Buying a used car from a private seller can save money; Edmunds reports actual sales prices for dealers and private sellers; the latter are often significantly lower for the same car specs (make, model, year, condition, mileage, etc.). But scams are common in private auto sales, so stay on your toes.
I have a friend who has bought several used cars on eBay or Craigslist, sight unseen. He does tons of research, asks lots of questions, and has even traveled over 1500 miles to close the deal. Amazingly, it's worked out well for him, but I can't recommend doing it that way.
My advice is always, ALWAYS take a private seller's car to a mechanic of your choosing, not his, for a pre-purchase inspection. If the seller won't agree to that, keep looking. And never take cash to a stranger's home - or worse, a remote "storage lot" - to pay for a car. Likewise, don't wire money to anyone. Meet in a well-lit public place, preferably where video cameras are rolling. Some police stations actually encourage people to meet in a designated part of their parking lots for transactions like this.
Ask the seller for the VIN number and get your own car history report from CARFAX or AutoCheck. Don't try to save a few bucks by accepting the seller's report - it may belong to a different vehicle, with the VIN number altered.
Beware of stolen vehicles. The National Insurance Crime Bureau offers a free VIN check to see if a vehicle has been reported stolen and not recovered. Also demand to see the owner's driver's license and registration; make sure the owner's name is on both and that he looks like who he says he is.
Buying a car may never be fun; it's a confusing, stressful, high-stakes game. But with online resources, much of the pain and a lot of travel time can be eliminated. Your thoughts on this topic are welcome. Post your comment or question below…
 

Ask Your Computer or Internet Question



  (Enter your question in the box above.)

---

---

| | |
| --- | --- |
| | Check out other articles in this category: |

| | |
| --- | --- |
| | Link to this article from your site or blog. Just copy and paste from this box: |
This article was posted by Bob Rankin on 10 Dec 2021
---
---
---
Post your Comments, Questions or Suggestions
---
Article information: AskBobRankin -- Which is the Best Month to Buy a Car? (Posted: 10 Dec 2021)
Source: https://askbobrankin.com/which_is_the_best_month_to_buy_a_car.html
Copyright © 2005 - Bob Rankin - All Rights Reserved