Reformat Windows 7 Hard Drive
| | |
| --- | --- |
| If you need to reformat a hard drive using Windows 7, the method you should use depends on whether you want to reformat a bootable drive or a secondary drive. Here are the steps for both procedures... | |
How to Reformat Your Hard Drive on Windows 7
I know, I promised to tell you how to reformat a hard drive (or a drive partition) on a PC that's running Windows 7. But first, I think it's important to let you know why that might not be the best solution.
Reformatting is drastic. It will wipe your drive clean of ALL files, and afterwards you'll have to restore any important files from a backup. And if the drive is a boot drive, you'll also have to re-install the Windows operating system.
All of that can take many hours. So if you're frustrated with a computer that seems to be running slower than normal, or if you've run into a problem with viruses or spyware, read each of the articles below before resorting to a reformat. Doing so just might help you clean up and speed up your system, and change your mind about formatting.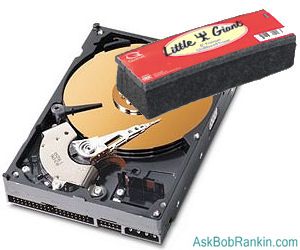 Formatting a Secondary Drive or Partition
Okay, so you really want to reformat your drive. Let's handle the case of a secondary drive first, since it's simpler. I'm defining a secondary drive as a hard drive or a drive partition that is not bootable. It exists just to store files, but it doesn't have the operating system installed on it. If you have just one physical hard drive, a secondary drive could be a partition on that drive marked as D:, E:, etc. A secondary drive could also be a second physical drive installed inside your computer, an external hard drive, or a USB flash drive.
To reformat a secondary drive, simply right-click on its icon in the Computer view and select Format. The dialogue box that pops up will show the drive's capacity in megabytes. You will also see four options that you can specify.
The "File System" is the method used to organize disk space and keep track of where files are stored. You should use NTFS with Windows 7, unless you have a specific need for an older file system. USB flash drives, for instance, perform best with the FAT16 file system.
"Allocation Unit Size" is the number of bytes allocated to each sector of the drive. Use the standard allocation unit size for NTFS (4,096 bytes) unless you have a good reason to change it. The "restore device defaults" button sets the file system and allocation unit size to the values that Windows automatically determines are optimal for the device in general-purpose use.
The "volume label" is any name that you wish to give to the drive. The volume label will appear next to the drive's icon and the drive letter that is assigned to it by Windows.
Check the "quick format" box if you are in a hurry and do not need a bootable drive. A quick format does not format every sector on the drive; it just wipes the existing file system and writes a new one to your specifications. Data formerly stored on the old drive is not actually erased, it is simply ignored and written over after reformatting. If you do not select "quick format", a full format will be done, which can clean up any corrupted sectors on a hard drive.
Click the "Start" button when you are ready. A quick format takes only a couple of minutes, while a full format can run for hours. When the format ends, close the Format dialogue box. You're done!
Formatting a Bootable Drive
Formatting a bootable drive is a little more complicated, because Windows doesn't allow you to format the drive or partition that is currently running. The trick is to format the disk while Windows is not using it. To begin, restart your computer and hold down the F8 key. When the Advanced Boot Options screen appears, choose the Repair your computer option, and press Enter. (If the "repair your computer" option is not present, you can also access it by booting from your Windows 7 Installation disc.) If you have more than one Windows installation on your computer, select the one that corresponds to the disk you want to format. Most likely, you have only one, and this step can be skipped.
When the System Recovery Options menu appears, click on the Command Prompt link. When the command prompt window appears, you should verify that you're formatting the correct disk by first entering DIR C: at the command prompt. You should see something like this in response:
Volume in Drive C is TI105847W0F

06/15/2011 11:07 AM DIR Program Files
11/25/2011 03:46 AM DIR Users
02/25/2011 01:07 AM DIR Windows
If the DIR command shows that a Windows directory is present, you're in the right place. Here are the command options to reformat drive C:


FORMAT C: /fs:NTFS (Do a long format, which will scan for bad sectors)


FORMAT C: /q /fs:NTFS (Do a "quick format" which does not scan for bad sectors)


FORMAT C: /p:2 /fs:NTFS (Format and write zeroes to every sector)


In most cases, the first command is the one you should use. Add the /q option only if you're in a hurry and you're reasonably sure there are no bad sectors on the drive. The /p:2 or /p:3 option can be used if you want to make sure all the data on the disk is wiped and replaced with zeroes.
If you have drives other than C: and you want to format one of those, change C: to the desired drive letter. The format command may ask you for the volume label of the drive you are formatting. Enter the volume label shown in the DIR command, then press Enter. Format will give you one final chance to change your mind, displaying a message like this:
CAUTION: All data on non-removable disk drive C: will be lost!
Proceed with Format (Y/N)?
After you reply with Y at the prompt, the formatting will begin. A long format on a large drive can take hours, so be prepared. When formatting is complete, you'll be prompted to enter a Volume label. This can be the same label as before, or any string of 11 characters. After formatting, you will need to restart your computer. If you just formatted the bootable partition, you'll need to start with the Windows 7 Install disc in the drive, so you can reinstall the operating system.
Do you have something to say about formatting a hard drive with Windows 7? Post your comment or question below...
Ask Your Computer or Internet Question



(Enter your question in the box above.)

---

---

| | |
| --- | --- |
| | Check out other articles in this category: |

| | |
| --- | --- |
| | Link to this article from your site or blog. Just copy and paste from this box: |
This article was posted by Bob Rankin on 28 Mar 2011
---
---
---
Post your Comments, Questions or Suggestions
---
Article information: AskBobRankin -- Reformat Windows 7 Hard Drive (Posted: 28 Mar 2011)
Source: https://askbobrankin.com/reformat_windows_7_hard_drive.html
Copyright © 2005 - Bob Rankin - All Rights Reserved