Should You Get 64-Bit Windows?
| | |
| --- | --- |
| Most computer users, and new computers sold, use 32-bit technology and can only run 32-bit Windows. But faster 64-bit computers and 64-bit versions of the Windows operating system are also available. Is moving to 64-bit Windows the right move? Let's look at the pros and cons... | |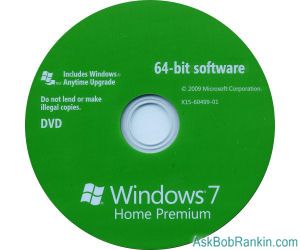 32-Bit or 64-Bit Windows?
First, let's discuss the differences between 32-bit and 64-bit computers. The fundamental difference lies in the number of memory locations each type of computer can directly address in one operation. Using 32 bits (0s or 1s), a computer can address 4 gigabytes of memory. But using 64 bits, a computer can address 16 exabytes -- 16 billion times more than with 32-bits.
That's the theory anyway. If you run the 64-bit version of Windows 7, the actual limits are 16GB for Windows 7 Home Premium, and 192GB for the Professional and Ultimate editions. Most versions of Linux can use up to 1TB (terabyte) of memory, and Windows Server 2008 tops out at 2TB.
Anyway, you can have a lot more RAM in a 64-bit computer and use it all with the utmost efficiency. The bottom line is much faster computing going on. You can move just about every operation into RAM and do away with slow disk caches. You can carve up all that RAM into many virtual machines and run multiple operating systems and applications simultaneously. Even if you don't have more than 4 GB of RAM, a 64-bit computer crunches smaller numbers faster than a 32-bit computer.
Are You Ready For 64-Bit Computing?
To do 64-bit computing, you need a 64-bit CPU and a motherboard that's also 64 bits. You also need a 64-bit operating system (such as the 64-bit version of Windows 7), and 64-bit drivers for all your hardware.
Before you rush out to buy a 64-bit computer with 64-bit Windows, consider whether you really need the improved performance. The typical home or small business user does not. Windows 64-bit's benefits are most pronounced in applications such as
High-definition video editing, where large amounts of data must be manipulated simultaneously
Very large databases, whose indexes can be stored in RAM for rapid manipulation and searching
Virtualized server farms, where thousands of virtual machines can be created in RAM as they are needed and "dismantled" when they're no longer needed
Scientific simulations in which many thousands of variables must be changed constantly and fast
Unsurprisingly, 64-bit versions of application programs have been written mainly for applications such as these, and there are few 64-bit applications for home and small business users. So the question of whether to buy 64-bit Windows hinges upon whether the applications that you use can take full advantage of 64-bit computing. See if there are 64-bit versions of your bread-and-butter apps first. Currently, even Microsoft Office is available only in a 32-bit version, but Office 2010, slated for release in June 2010, will have a 64-bit option.
Some 64-Bit Gotchas...
Device drivers must be written for 64-bit operating systems. That includes drivers for your monitor, keyboard, mouse, scanner, fax, printer, etc. It's a good idea to check on the availability of 64-bit drivers for your existing peripherals before investing in 64-bit Windows, because many older hardware devices have only 32-bit drivers, and will not work on a 64-bit system. So if you have a printer, scanner or other gadget that's more than a few years old, chances are good that it WON'T work on a 64-bit system. Also, there's little incentive for the manufacturer to provide a 64-bit driver when they'd much rather sell you a new piece of hardware.
Yes, you can run 32-bit applications on 64-bit Windows and hardware. You just won't see the full speed and memory size benefits of 64-bit computing. You may even see a slight degradation in performance, due to the overhead of converting the 32 bit addresses into 64-bit. Most 32-bit programs will work fine on a 64-bit version of Windows, but there are some notable exceptions that require workarounds, including QuickBooks, TurboTax and some anti-virus programs.
Oh, and forget about those old 16-bit programs from the DOS and Windows 3.1 era. They won't run at all on a 64-bit computer. I still sometimes use a DOS-based text editor, file manager and some programming tools that date back to the late 1980's and early 90's. They run fine on XP, but on 64-bit Windows, I'd be out of luck. One possible solution to this problem would be to run an XP virtual machine in a window on your desktop. See Windows 7 XP Mode for details on that.
It's also harder than you might think to upgrade from 32-bit Windows to 64-bit Windows. If you want to go from 32-bit Windows to a 64-bit version, you can't do an in-place upgrade. You'll have to back up your files, format the hard drive, install the 64-bit Windows OS, then restore your files and programs from the backup.
Bottom line, 64-bit computing is definitely state-of-the-art, but it's just not for everyone -- at least not yet. My advice is to go to 64-bit Windows only if you truly need the expanded memory addressing capability, and you have application software that's designed to run on a 64-bit platform.
Do you have something to say about 64-bit computing? Post your comment or question below...
 

Ask Your Computer or Internet Question



  (Enter your question in the box above.)

---

---

| | |
| --- | --- |
| | Check out other articles in this category: |

| | |
| --- | --- |
| | Link to this article from your site or blog. Just copy and paste from this box: |
This article was posted by Bob Rankin on 19 Feb 2010
---
---
---
Post your Comments, Questions or Suggestions
---
Article information: AskBobRankin -- Should You Get 64-Bit Windows? (Posted: 19 Feb 2010)
Source: https://askbobrankin.com/should_you_get_64bit_windows.html
Copyright © 2005 - Bob Rankin - All Rights Reserved