Stop Unwanted Phone Calls
| | |
| --- | --- |
| Those pesky telemarketers are still abundant despite the enactment of the National "Do Not Call List" in 2004 and the similar state laws passed in its wake. Why is that, and what can you do to stop these and other unwanted phone calls? | |
Don't Call Me, I'll Call You (Maybe)
There are several reasons why you may still get unsolicited phone calls, even if you've added your home and mobile numbers to the Do Not Call list. We'll take a look at those, and then I'll offer some tips on how to eliminate or at least reduce those annoying calls from telemarketers, charities and people you just don't want to deal with.
First, business phone numbers are fair game for telemarketers; businesses hold themselves out to the public and are expected to take the bad with the good. "Do Not Call" laws are for personal/residential phone numbers only. If you run a business, dealing with sales calls is just one of the many costs of doing business.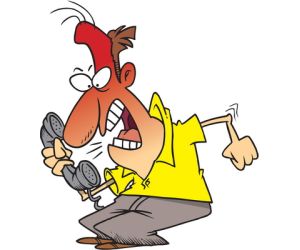 Second, certain types of telephone solicitations are exempt from "Do Not Call" laws. Political speech is sacrosanct under the First Amendment, so campaign-related calls and calls regarding political action will keep coming until the First Amendment is amended.
Calls made by (or on behalf of) non-profit charities are exempted. It's a tough call (sorry), but we, the People, through our dully (sic) elected representatives, have decided that charities should be free to raise money to help the downtrodden by interrupting our dinners. That decision may be revisited if for-profit telemarketing firms keep using charities as cover for lining their pockets, but for now it's the law.
Third, for-profit firms "and their subsidiaries or affiliates" are permitted to call you for up to thirty days after they establish a "business relationship" with you. In practice, that means that if you simply contact a company, by any means, to inquire about anything (even just their location), the company and any firm with which it is affiliated can cold-call you for up to a month with impunity.
So the federal "Do Not Call List" law is full of gaping loopholes, and so are many of the state laws that used it as a model. But state "Do Not Call List" laws have one big advantage for telemarketing victims under certain circumstances.
Option 1: Carry a Big Stick
My friend and former editor, David Hakala, was a business-to-business telemarketer for many years back in the 70s and 80s. Today, he hates telemarketers with the heat of 10,000 suns. So he leapt at the chance to be the first person to sue a telemarketer under his state's newly-enacted "Do Not Call List" law, and he did not settle for small change. Here is what happens when you read the fine print of a law:
David's state law allows victims to sue for $500 whoever makes "or causes to be made" an illegal telephone solicitation. So he sued five people, including one corporate person: The woman who left her sales pitch on his voicemail, the sales manager, the VP of sales and marketing, the firm's president, and the corporation itself. That's $2,500 in total. It cost David $35 to have the court summonses served at the firm's HQ. Within 24 hours, David had settled with the firm's attorney and received a certified check for $1,000.
If litigation is not your style, there are a few other things you can do to defend against telemarketers. But you are up against the most resourceful and lawless predators in the world, so don't expect total victory.
Option 2: Blocking Calls With Settings, Services and Apps
All US-based landlines can block callers who block transmission of their caller-ID data; so-called "private callers." If you have contacts who do this, they will not be able to call you; but that may not be a bad thing. This feature, called Anonymous Call Rejection, is activated by dialing *77, and can be turned off by dialing *87.
Wireless carriers long resisted blocking unwanted callers for their customers because they were charging by the minute; an unwanted call to you was revenue to your carrier. But that has changed since unlimited-talk became the standard of the industry. I don't know of any wireless phone or carrier that lets you block all anonymous callers, but there are ways to block specific numbers.
Verizon Wireless' free blocking service, called Call and Message Blocking, allows you to block up to 5 numbers, but you must renew blocks every 90 days. Another Verizon feature, Usage Controls, allows you to block up to 20 numbers with no expiration, but costs $5/month. Both have the limitation that you can only block specific numbers, and don't enable blocking of all anonymous calls. Both require you to login to the Verizon website and enter the numbers to block. Check with your carrier to see if they have something similar.
On Android smartphones you can block future calls from any specific phone number, if it's first added to your contacts list. The little known trick is to edit the caller's contact, press the options button, then tap "Add to Reject list". If you own an iPhone, this no-brainer feature won't be available until you upgrade to iOS v7. The best iOS users can do until then is pay $1.29 for a "silent ringtone" at iTunes and assign it to phone numbers of unwanted callers.
Android users get a little more help from developers. PrivacyStar is an app for Android that lets you block whole Area Codes as well as specific number, private callers, and unknown numbers. It also blocks text messages. This saves you the trouble of adding numbers to your contact list that you never want to call. Its reverse-lookup feature can reveal who is calling even if caller-ID data is not forthcoming. A free, limited version is available; the full feature set costs $2.99 per month.
A technique I use often is to quickly Google the number while the phone is ringing. Quite often, I can identify the name of the business or telemarketer that is calling. Armed with that info, I can choose not to answer, or hit the "Receive Fax" button on my all-in-one printer/scanner/fax. In some cases, the callers are using sophisticated calling software that detects fax numbers, and will remove you from the list. If it's a human caller, they get blasted with a fax tone, which hopefully has the same effect. At the very least, it's satisfying.
These tools can help to reduce the annoyance of unwanted callers, be they telemarketers, charities or creepy stalkers. Do you have any other tips to share about blocking nuisance callers? Post your comment or question below...
 

Ask Your Computer or Internet Question



  (Enter your question in the box above.)

---

---

| | |
| --- | --- |
| | Check out other articles in this category: |

| | |
| --- | --- |
| | Link to this article from your site or blog. Just copy and paste from this box: |
This article was posted by Bob Rankin on 25 Oct 2013
---
---
---
There's more reader feedback... See all 61 comments for this article.
Post your Comments, Questions or Suggestions
---
Article information: AskBobRankin -- Stop Unwanted Phone Calls (Posted: 25 Oct 2013)
Source: https://askbobrankin.com/stop_unwanted_phone_calls.html
Copyright © 2005 - Bob Rankin - All Rights Reserved