What Is eSIM And Do You Need It?
| | |
| --- | --- |
| Every smartphone buyer knows the ritual of inserting a SIM card into his or her new purchase. It's become more of a challenge as the size of SIM cards has steadily shrunk. But the latest phones from Apple and Google don't need a SIM card to connect to a cellular service carrier such as Verizon or AT&T. Instead, they can use a new hardware format called "eSIM" which stands for "embedded subscriber identity module." Let's examine how eSIM works, what new features it enables, and whether eSIM capability is something you want to look for in your next smartphone. Read on... | |
What is an eSIM?
Fundamentally, a SIM card is a physical network security device (although it supports other applications as well, such as a contacts database). Encoded in SIM circuitry is a unique IMSI number (International Mobile Subscriber Identity) and its associated encryption key. These two bits of information are the credentials that allow you to use the carrier's cellular network. You can think of them as the username and password that your phone uses to "login" to the Verizon, AT&T, Sprint, T-Mobile, or other carrier's network.
That's why, when switching from one carrier to another, it is necessary to obtain a new SIM card issued by the new carrier and replace the old card with the new one. Likewise, if you get a new phone (or tablet, or other cellular-capable device) you have to either install a new card in it or move your existing card to it. This isn't brain surgery but it can be challenging if your fingers are fat or unsteady. As mentioned above, the size of SIM cards has steadily shrunk since SIM cards debuted in 1991, from the size of a credit card to today's nano-SIM format, which is only one-half inch long by one-third of an inch wide.
Now, eSIM tech shrinks the form factor even further and embeds all SIM circuitry in a mobile device's motherboard. There is no removable card. The SIM chip can be reprogrammed remotely, much like the firmware of a router or PC.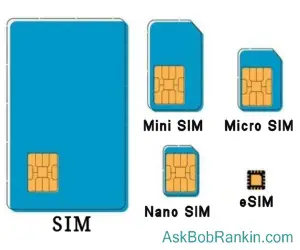 What Can You Can Do With eSIM
The reduction in size makes it easier to fit more than one SIM inside the crowded case of a mobile device. Programmability enables effortless switching from one carrier to another. A number of intriguing applications become possible with eSIM.
• A single phone could have both business and personal lines, with separate contacts, text messages, call records, etc.
• You might use one line for voice and text and another for data, taking advantage of service plan differences.
• A connection could be switched automatically to a carrier with a stronger signal as conditions change.
Setting up a new phone could be as easy as turning it on and selecting a carrier from a list. Jumping from one carrier to a new one could be equally easy, and your old phone number(s) would follow you.
Why Carriers Dislike eSIM
That last item is why carriers are not keen on eSIM. If it's easier to dump one carrier for another, subscriber turnover or "churn" will tend to increase. Carriers might have to put more effort into keeping customers satisfied. That could mean installing new cellular towers in areas where coverage is poor, or offering price incentives to keep customers. The Deptartment of Justice has reportedly opened an antitrust investigation to determine if Verizon and AT&T attempted to influence development of the eSIM specification so that it would allow the carriers to lock customers to their networks.
eSIM first appeared in Google's Pixel 2 and Pixel 2 XL phones, which were released on October 30, 2017. But only the Google Fi (formerly Project Fi) cellular network supports eSIM. That will change now that Apple has added eSIM in its iPhone XS, XS Max, and XR models (released in October, 2018). But the major carriers are still dragging their feet.
Smartphone makers like eSIM because it reduces hardware costs and frees internal space for other uses. But the reason for the carriers' reluctance to embrace eSIM is not hard to see. Imagine a phone that switches from one carrier to another every few seconds as signal strength or price varies. It totally destroys the captive-audience business model and creates billing nightmares. Google Fi helps to solve this problem, by seamlessly switching between three 4G LTE networks (Sprint, T-Mobile, and U.S. Cellular) and managing the billing aspects. It's no accident that Verizon and AT&T, by far the largest mobile providers, are not playing ball with Google Fi. But I expect similar services to emerge, supporting those networks, as eSIM becomes more widely avaialable.
Who Needs eSIM?
The typical smartphone user needs just one line and rarely needs to replace or move a SIM card. But clearly, there are users for whom the ability to automatically switch from one cellular network to another is (or would be) a big deal. It's not uncommon for folks to have a strong cellular signal at home, and poor coverage in other places, or along their path of travel. But others may realize significant benefits from eSIM. They include those who want one phone with multiple lines, and international travelers. The latter currently must carry multiple SIM cards and swap them as they move from one region to another in order to avoid exorbitant roaming charges.
However, the Internet of Things is a potentially huge market for eSIMs. Everything from oil rigs to automobiles seems destined to be connected to the Internet; analysts estimate 20 billion devices will have Internet connectivity in just a few years. You don't need eSIM to switch cellular carriers on a single phone, but if you're Ford or General Motors you sure don't want to have to swap SIM cards on every car you've sold. Such large-scale applications will drive eSIM deployment.
Consumer electronics will get eSIM as an option. Apple's latest iPhones contain traditional SIM cards and an eSIM to provide for a second line. This hybrid configuration will slowly replace the current two-card scheme that enables dual-SIM phones like Exynos version of Samsung's Galaxy S9; the Xiaomi Pocophone F1; and the Asus Zenfone 5Z. Tablets, laptops, portable smart speakers and other mobile consumer devices will also get eSIM. Just don't expect carriers to give up the lock they have on your SIM too quickly.
Can you see how a phone or other connected device with eSIM capability would benefit you? Your thoughts on this topic are welcome. Post your comment or question below...
 

Ask Your Computer or Internet Question



  (Enter your question in the box above.)

---

---

| | |
| --- | --- |
| | Check out other articles in this category: |

| | |
| --- | --- |
| | Link to this article from your site or blog. Just copy and paste from this box: |
This article was posted by Bob Rankin on 14 Jan 2019
---
---
---
Post your Comments, Questions or Suggestions
---
Article information: AskBobRankin -- What Is eSIM And Do You Need It? (Posted: 14 Jan 2019)
Source: https://askbobrankin.com/what_is_esim_and_do_you_need_it.html
Copyright © 2005 - Bob Rankin - All Rights Reserved