Windows XP: Game Over?
| | |
| --- | --- |
| A reader asks: 'I have read that Microsoft will drop support for Windows XP on April 8th. Does this mean my computer will stop working? Will I need to buy a new PC?' If you're still clinging to Windows XP, you DO need to take action. Here's what you need to know about this looming deadline... | |
Windows XP Support Ends April 8, 2014
For those still using Windows XP, it's time to get serious about upgrading to another operating system. The date Microsoft has set to end all support for XP is just two weeks from today. Here's a Q&A that will answer your questions about the end of XP, and my advice on where to go from here.
Q: "Will my XP computer stop working on or after April 8th, 2014?" -- NO. Your computer will still function. You'll just be taking a much bigger risk by continuing to use XP on your current PC. Read on to learn why, and what you should do.
Q: "Why should I care if Microsoft stops supporting XP?" -- The end of support means the end of security patches. Hackers and cybercriminals have had the date 04-08-2014 circled in red on their calendars for a long time.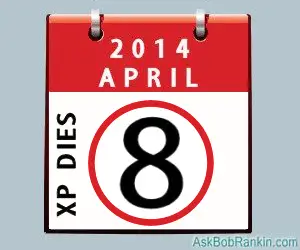 There's no doubt they have already discovered a trove of XP security holes and vulnerabilities, and they're eager to exploit them. But they're not stupid... they'll wait until AFTER Microsoft stops releasing security patches. Not only will you be unprotected, you will become ever more vulnerable and attacks on your systems will increase.
Q: "Why is Microsoft dropping support for XP?" -- Windows XP was released in 2001, and although it's been a solid performer for over a dozen years, that's a long time for an operating system to hang around. Even though Microsoft released Vista in 2007, Windows 7 in 2009, and Windows 8 in 2012, XP still runs on about 20% of all computers worldwide.
It's tempting to think that Microsoft just wants you to buy a newer version of Windows. But it's expensive to provide support for an aging operating system. And it's a fact that even with the latest security patches and top-shelf anti-malware protection, XP is MUCH more vulnerable to viruses and other exploits than Windows 7 or Windows 8.
Q: "Got any clever metaphors to help explain this?" -- Actually, yes! Think of XP like an old car that's slowly rusting, and requiring frequent repairs to keep it running. Hardware and software technology both change rapidly, and the security landscape even more so. XP's mainstream support phase ended in 2009, and the product has been in extended support ever since. That means no new features have been added since 2009, and only serious bugs or security fixes have been addressed since then.
Application software for XP will also deteriorate. There will be few updates to existing applications and certainly no new ones. From the moment XP support ends, your productivity will fall further behind at a faster rate. Home users may think they can get by with XP even after support ends. But that's as dangerous as thinking that you can drive on bald tires or squealing brakes. It's a matter of WHEN you will have a serious problem, not if.
Q: "Are businesses especially vulnerable?" -- Yes, business users who cling to XP will face increased legal liabilities as well as diminished competitiveness and security risks. Customer data stored on XP systems will be more vulnerable to theft, and customers damaged by such thefts will have very good cause to sue. Even before breaches occur, businesses may find themselves disqualified from many contracts if their systems do not meet security requirements.
Q: "Won't I be safe with a firewall and a good antivirus progam?" -- I've heard some people say they'll continue using XP until their computer gives up the ghost. They reason that a good anti-virus program will protect them, even in the absence of continuing Microsoft security updates. But some exploits, such as security holes in browsers, buffer overrun issues, or other flaws in Windows components, can't be mitigated by your anti-virus or firewall protection.
Q: "What about Malwarebytes Anti-Malware Premium and other security products which claim they can identify malicious software by its behaviour?" -- Some anti-malware products use heuristics (behavior analysis) instead of (or in addition to) virus signatures to identify malicious software. Will they protect you from all threats that your XP system may encounter going forward? To quote Billy Joel, "You may be wrong for all I know, but you may be right." It all depends on your tolerance for the potential of data loss and/or identity theft. Personally, I would not count on any security tool to do the job.
Q: "I don't visit any sketchy websites, or download from CNET. Will I still be vulnerable?" -- Yes. Your web browser is just one of many attack vectors when your computer is connected to the Internet. (Wondering why I mentioned CNET in this question? See DOWNLOAD ALERT: Foistware Warning)
Q: "Are there ANY exceptions?" -- I'll give one caveat here, with hesitation. Let's say you have an XP system that's NOT connected to the Internet -- perhaps it sits it a corner and is only used for word processing, or video games, or a legacy database program. If you have a really good reason for not wanting to upgrade, there's not so much urgency to do so, because almost all of the dangers involved come from the online world. You'll still have to deal with the possiblity of a virus infection that enters via an infected flash drive or CDROM.
Moving Away From XP - What's the Path?
If you've heard horror stories about Windows 8, don't worry. It's really not that hard to tweak a few things that make it look and feel like Windows 7. See
Switching to Windows 8 Made Easier
.
Migrating a business to a new operating system is complicated and fraught with peril. Business users are advised to engage a Microsoft-certified consultant with expertise in such migrations. Home users may be able to work through the migration process on their own. It's best to start with the WindowsXP.com website Microsoft has created to help with the transition. There are also these two tutorials from Microsoft: Upgrading from Windows XP to Windows 7 and Upgrade to Windows 8.
Both tutorials have links to "Upgrade Assistants," free software tools that analyze your Windows XP system to determine (a) whether your hardware will support an upgrade, and (b) what existing XP application software will be compatible with the new operating system. Armed with this information, you can decide what you will need to buy in order to upgrade to each OS.
Whichever new OS you choose, you will be able to transfer your XP system's data files and settings to the new system automatically. However, you will have to re-install all your software one package at a time. And that can be a pain. But Microsoft is also offering a free tool, Laplink PCmover Express for Windows XP, which will help users transfer files and settings from their current PC to a Windows 7 or Windows 8 computer. It will also transfer up to three installed programs.
If you have additional programs to move, Laplink's PC Mover Professional For XP is a $24 utility that will do the job. It saves you the trouble of finding all the software installation media and license codes. You can even selectively choose which folders and applications you want to move to the new system.
Of course, you are not limited to Windows 7 or 8. You could switch to Ubuntu Linux on your existing PC hardware, or cross over to the Apple world. But one thing is certain: if you stick with XP beyond 8 April 2014, you'll be putting yourself (and everyone who comes into contact with your computer) at risk.
Are you still running Windows XP? What's your plan to move forward? Post your comment or question below...
 

Ask Your Computer or Internet Question



  (Enter your question in the box above.)

---

---

| | |
| --- | --- |
| | Check out other articles in this category: |

| | |
| --- | --- |
| | Link to this article from your site or blog. Just copy and paste from this box: |
This article was posted by Bob Rankin on 25 Mar 2014
---
---
---
There's more reader feedback... See all 32 comments for this article.
Post your Comments, Questions or Suggestions
---
Article information: AskBobRankin -- Windows XP: Game Over? (Posted: 25 Mar 2014)
Source: https://askbobrankin.com/windows_xp_game_over.html
Copyright © 2005 - Bob Rankin - All Rights Reserved