7 Good Reasons to Trash Your Fax Machine
| | |
| --- | --- |
| One annoyed AskBob reader says: "I am amazed at how many professional offices still insist on sending and receiving documents by fax. It's like they've never heard of computers, email or the Internet. I'd love it if you could give me a list of reasons why people should stop using old fashioned fax machines. I'll e-fax it to my doctor, banker, accountant and lawyer!" Good idea... here's my list of reasons why fax machines should be relegated to the recycle bin. | |
Let's Stamp Out Fax Machines in Our Lifetime!
Fax machines are mechanical dinosaurs in a high-tech world. They are highly inefficient, expensive and wasteful, compared to the digital alternatives that exist. So why do so many offices still use them? It's a mystery to me.
If you're still clinging to an analog fax machine, here's a newsflash... the 80's are over! It's time to join the Internet fax age, which started about 25 years ago. Here are SEVEN good reasons to give that old fax machine the boot:
Cost: Consider the up-front price of the fax machine, a place to put it, a dedicated phone line, paper, ink, other supplies, and periodic maintenance. Not to mention replacing it every few years. (Want to save even more by printing less? See my related article Do This Instead of Printing (you'll save time and money).)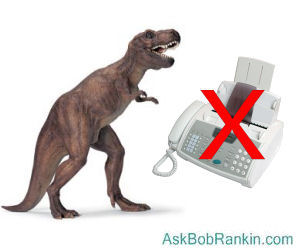 Inconvenience: How much time is wasted on trips to and from the fax machine; paper jams; having to request re-transmissions? Sending a long document by fax is frequently problematic. Lost carrier, missing pages and garbled text can be maddening. And how many annoying junk faxes do you get? Fax machines don't have spam filters.
Security: Yikes, do you really want all those confidential faxes sitting in the paper tray where any passersby can read them? Even if you have a secure fax line, it has to be decrypted at the receiving end, and printed on a piece of paper.
Archiving and retrieval: Paper faxes take up space and organization time. It can be hard to find an old fax when you need it. They get lost and deteriorate, especially if you use a machine which spits out faxes from that shiny rolled paper. I've worked in offices where the secretaries routinely made a photocopy of incoming faxes, just to have it on "real" paper. And remember that anything physical can be lost, stolen, folded, bent, spindled, mutilated or burned. (That list of destructive actions reminded me of another phrase: "Do Not Fold, Spindle or Mutilate". I searched for that and found an interesting 100-year history of the punch card. You might enjoy reading Do Not Fold, Spindle or Mutilate: A Cultural History of the Punch Card.)
Portability: It can be difficult to receive faxes when you are on the road. Someone at home base must re-transmit a fax to you at a borrowed fax machine.
Readability: Every time you run a document through a fax machine, the quality of the text (and especially images) is decreased. Documents that were originally in color become black and white, which can make some parts of the text invisible or unreadable. The same thing happens on the other end when it's printed, photocopied, or re-faxed by the recipient. How many times have you seen faxes like this, and needed to contact the sender to clarify the text?
Environment: With so much emphasis on "going green" to protect the environment, it's intuitively obvious that faxing is more like black than green. All that paper means that trees must be cut down. Toner used by fax machines is a chemical brew that can be carcinogenic. And then there's the issue of disposal of the plastic toner cartriges.
Internet Faxing to the Rescue!
Internet fax services do away with all of these headaches. See my article No Fax Machine? No Problem! Send a Free Fax to learn about various online faxing alternatives, and how to send a fax for free. You can even get a free INBOUND fax number that others with fax machines can dial to send you a fax. See my article [HOWTO] Inbound Faxes Without a Fax Machine to learn about that.
If you only send and/or receive a few faxes a month, these free services will do just fine. If you're going to be sending and receiving a lot of faxes, consider using one of the commercial online fax services. Here is how Internet faxing works:
To use an Internet fax service, you only need Internet access, an email account, and an account with the Internet fax service. You don't need any special hardware or software. When you register with an Internet fax service, you receive a fax phone number at which people can send you faxes. The number delivers fax transmissions to the service's servers, where faxes are stored as digital images.
Your faxes are delivered to your email inbox in one of two ways. A fax may be a digital image file attached to an email message, or the email may contain a link to the fax image file on the service provider's website. Either way, you are able to view your fax easily, even if you are traveling with a laptop, tablet, or smartphone. Fax services store your received faxes for varying periods of time, allowing you to search for old faxes by sender, date, and other criteria. Of course, you can also download the fax files and save them on your local computer. Some wille even use OCR (optical character recognition) to convert the fax into text, which is then searchable.
Sending an E-Fax
Sending a fax is as simple as sending an email. Attach a file in one of the service's supported formats such as Word, Excel, PDF, JPG, etc. The service transmits your attached document to the recipient's fax machine via its fax servers. Some online faxing services make it even easier, with a simple web form where you can enter the fax number and type your message (or upload a document) to be sent.
If you need to e-fax a photo or an already-printed document, you'll need to convert it into digital format. An all-in-one printer with a scanner is best for that, but your smartphone camera will also work in a pinch.
Commercial Internet fax services typically offer a trial period of up to 30 days. After that, they charge as little as $5 to $10 per month to send and receive hundreds of pages. But don't forget the free alternatives! See my links above.
Excuses, Excuses...
With all the advantages of paperless, portable Internet faxing, it's hard to imagine why traditional fax machines are still around. The obvious question is "Why not just do away with faxing, and send attachments via e-mail?" It's free and encryption is available if needed. You can even sign documents digitally now, with services like DocuSign.
Of course, there are still some professional offices that have yet to enter the electronic age. One of my doctors has a secretary that uses only a pencil and a typewriter. No fax machine, and of course, no computers! I think she also has a slate and a hunk of charcoal in a drawer for really important memos. Only the passage of time will bring those offices into modernity.
But the next time your doctor, lawyer, banker or anyone else asks you to send or receive a fax, tell them you'd prefer to use e-mail. Maybe we can get the dinosaurs marching in that direction. Do you have something to say about faxing, e-faxing and going paperless? Post your comment or question below...
 

Ask Your Computer or Internet Question



  (Enter your question in the box above.)

---

---

| | |
| --- | --- |
| | Check out other articles in this category: |

| | |
| --- | --- |
| | Link to this article from your site or blog. Just copy and paste from this box: |
This article was posted by Bob Rankin on 11 Sep 2020
---
---
---
Post your Comments, Questions or Suggestions
---
Article information: AskBobRankin -- 7 Good Reasons to Trash Your Fax Machine (Posted: 11 Sep 2020)
Source: https://askbobrankin.com/7_good_reasons_to_trash_your_fax_machine.html
Copyright © 2005 - Bob Rankin - All Rights Reserved