[HOWTO] Receive Faxes Without a Fax Machine
| | |
| --- | --- |
| A reader asks: 'Occasionally I need to receive an inbound fax, but I don't have a fax machine. Going to Staples or the local print shop to pick up a fax is a nuisance, and nothing is private there. Is there some way to get incoming faxes on my computer, but still have a real phone number that people can use to send faxes to me? Oh, and free is nice...' The answer is YES -- and here's how to get your own free fax number... | |
Get Your FREE Inbound Fax Number and Receive Faxes for Free
Ever since the invention of email, fax machines have been a messy, wasteful nuisance. In some cases, the law requires old-school faxing for medical, legal or financial documents. But some offices stubbornly cling to this obsolete technology for exchanging documents, in spite of digital alternatives that are free. (If you deal with someone like that, send them my article 7 Reasons to Trash Your Fax Machine.)
Yes, you can get inbound faxes delivered to you electronically, for free, without a fax machine in your home or office. There are several ways to get a free fax number that will forward incoming faxes to you via email or web, and the senders will never know you don't have a real fax machine. Fax machines are so 1985... free online faxing (both inbound and outbound) is the way the cool kids do it now. :-)
FaxBetter offers a free toll-free fax number to anyone. No credit card is required to sign up. Faxes are received in your email inbox as a PDF attachment. That's pretty standard, but what separates FaxBetter is that all faxes received are OCRed. This means the actual text from the fax is extracted by Optical Character Recognition software and is then embedded into the body of the email, thus making the email searchable in your email program (Gmail, Outlook, Yahoo, etc.). The free service has some limitations: 20 incoming pages per month, and enough online storage space for around 1,000 pages. The OCR feature is only free for 30 days. You also must receive a fax every 7 days to keep your free toll free fax number. But you can still retrieve your incoming faxes on the FaxBetter website. You could send yourself a fax once a week to keep the free service alive, but that's kind of a nuisance. A paid FaxBetter account ($5.95/month) gives you a number that never expires, and also the ability to send outbound faxes in Word, Excel, JPG, PDF, HTML, or text format.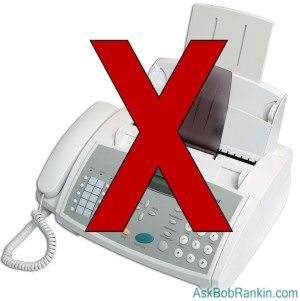 ---
FaxBurner gives you a free fax number that forwards incoming faxes to your email. It can also direct inbound faxes to your iPhone or iPad. Yes, your inbound fax number is free. But it goes POOF! after 24 hours. You can upgrade to a premium plan to keep your number, or just request a new free fax number whenever you need one. Because of that, I'd recommend this service only for people who need to receive a fax on rare occasions. On the upside, FaxBurner's free service lets you send a fax as well, using email or their iPhone app.
If you're looking for a free OUTBOUND faxing service that's free and requires no fax machine, check out my companion article
Send a Free Fax
for the scoop on free Internet faxing.
eFax is another well known free fax service online. They offer three different account types. The eFax FREE account, also referred to as their Limited Account, will provide you with a non-local fax line and up to 10 incoming fax pages. But be aware that they call it "Limited" for a good reason. If you receive more than 10 fax pages in any thirty day period, eFax may terminate or suspend your account if you do not upgrade to a paid subscription service. The eFaxPro package will let you receive 200 faxes a month and will allow you to send faxes from your email for less than $20 per month. The eFaxPlus program is a few dollars cheaper per month and will let you receive up to 150 faxes per month, as well as send faxes through your email account. You can also bring an existing number to eFax, if you want to junk your dinosaur fax machine and go digital.
NOTE: Lots of people write to me and say eFax is not free! But it really is. You just have to be sure you click the red "Start Faxing" button for eFax Free, instead of signing up for a trial version of eFax Plus or Pro. One more point about eFax. When you receive a fax by email, the attachment has a ".EFX" extension, but it's actually in standard TIF format. Just change the file's extension back to ".tif" and open the file with Windows Photo Viewer. Then you won't have to install the eFax Messenger software. You can also change your Windows settings to associate EFX files with Photo Viewer, or another image viewing program, to eliminate the need to rename the files each time.
---
Finally, I should mention that Windows has a Fax and Scan app that lets you to send and receive faxes. You can use it to send documents directly from Word or other Windows programs. Incoming faxes are displayed on screen, and can be filed or printed. The downside is that your computer must have a dial-up fax modem, and your computer must be connected to a phone line. You also have to make sure the Fax and Scan app is running when your inbound fax arrives. So obviously it's less than ideal.
Almost Free, But Maybe Better
My favorite inbound fax service is Faxaway. This company has been in business since 1995 and despite their "Web 0.9" website, the service is rock solid. Sign up for a Faxaway account and it will allow you to receive faxes and voicemails via your email account. The only catch is that it's not quite free, but it is really cheap. There is a small account maintenance charge of $1 monthly, which you pre-pay in $10 increments. But here's why I think that's a bargain: Unlike the other free inbound faxing services listed here, there's no limit to the number of inbound faxes you can receive, and your Faxaway number will never expire.
Like the other services, Faxaway gives you a real fax number that you can give to anyone who wants to send a fax to you. When that fax number receives an inbound fax, Faxaway answers the call, saves the fax as a TIF image, and forwards it on to your email address. I don't care if they do it with computers, pigeons or monkeys -- it just works every time. The only downsides are no OCR capability, and you probably won't get a local fax number. Mine is in a Seattle area code, and I'm in New York, but that's never been a problem for me. I've had a Faxaway account for many years, and have always enjoyed the service without any interruptions.
---
I live out of my inbox, so it's nice to be able to search and refer back to faxes I received a while ago. Oh, and I get to choose whether or not they are printed. If you've ever come home and found 100 junk faxes piled on the floor beneath your fax machine, unplug that beast and make the switch to email-based incoming faxes.
In addition to Faxaway, eFax and the others mentioned in this article, there are other fax-to-email services, some of which offer free trials. I can't personally recommend any of those because I have not used them. If you've found one that you like, feel free to post a comment below...
Ask Your Computer or Internet Question



(Enter your question in the box above.)

---

---

| | |
| --- | --- |
| | Check out other articles in this category: |

| | |
| --- | --- |
| | Link to this article from your site or blog. Just copy and paste from this box: |
This article was posted by Bob Rankin on 24 Jul 2018
---
---
---
Post your Comments, Questions or Suggestions
---
Article information: AskBobRankin -- [HOWTO] Receive Faxes Without a Fax Machine (Posted: 24 Jul 2018)
Source: https://askbobrankin.com/howto_receive_faxes_without_a_fax_machine.html
Copyright © 2005 - Bob Rankin - All Rights Reserved