[ALERT] Fake Tech Support Scammers Are Calling
| | |
| --- | --- |
| Have you received an unexpected phone call from someone claiming to be a helpful customer service rep for Microsoft? It happened to me yesterday, twice! Many others are receiving calls from scammers posing as tech support reps, warning that their computers are infected with malware and offering help to fix the purported problem. Read to see how I handled the situation, and what you should watch out for... | |
Fake Tech Support Scams
I've been hearing more and more cases of this tech support phone scam lately. The caller typically says he's calling on behalf of Microsoft, and tells you that there's a serious problem with your computer. The supposed "fix" usually involves configuring your PC to grant the caller remote access to it, or downloading a program that will fix the problem. And of course, they'll want to ding your credit card for a couple hundred bucks. That's exactly what my callers tried to do, before I called their bluff.
What usually happens is that the scammer walks you through a set of steps to "prove" that your computer is infected. Sometimes they'll have you download a program that runs a fake scan which shows all sorts of problems. In one case, my caller had me open a command prompt, and issue the "assoc" command. He then read me a string of digits and asked if they matched one line of the output. Bingo, it matched! I knew that string of digits was just the class identifer of a program that appears on all Windows computers, so it proved nothing. But out of curiousity, I decided to let him continue.
I asked my caller the name and location of his company. He said he was from "PCUSA" in Plainview, NY. I quickly googled that, and found that he was either a Presbyterian, a Communist, or a scammer. Maybe all of the above, but definitely a scammer. He next transferred me to a supervisor who asked me to enter the MSCONFIG command, and proceeded to try and convince me that critical system drivers were stopped.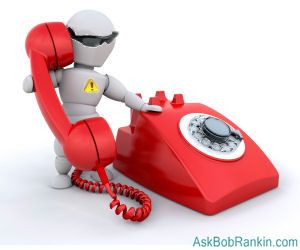 I should have played along further, but I was so annoyed, I asked him "How can you sleep at night, when you lie, cheat and steal all day?" After a moment of stunned silence, Mr. Supervisor angrily cursed me out for "wasting his time" and hung up on me. I didn't feel bad about wasting a criminal's time, if it meant he had less time to scam others. Next time, I'll try to have a little more fun with the caller, maybe ask some personal questions about his family, or tell him about an amazing opportunity in multi-level marketing.
The goal in all of these scenarios is to scares the victim into paying for a solution or a subscription to worthless "security" software. In other cases, the scammer's goal is to steal the victim's financial data or install botnet software that enslaves the victim's computer.
This scam has been around since 2010, and even though the Federal Trade Commission has shut down some instances of it, there seems to be no end in sight. Apparently, that's because it continues to be both successful and lucrative.
How Big is the Phone Scam Problem?
A Microsoft survey of 7,000 users found that 22 percent of those who received fake tech support calls followed the instructions they were given. And of those who fell for the scams, 79 percent reported some sort of financial loss; $875, on average. Seventeen percent had money taken from their accounts. Nineteen percent reported compromised passwords. Seventeen percent more were victims of identity theft. Fifty-three percent said they had "computer problems" following the fake tech support calls.
According to a 2015 Harris Poll survey, 27 million Americans got taken by phone scammers the previous year, resulting in an estimated $7.4 billion in losses. That includes all sort of phone scammers, not just the rogue technicians. You might think that seniors would be the most likely to get scammed. But actually it appears that the younger generations, who grew up with tech and don't view it skeptically, are more likely to fall for a phone scam than their elders. Male millennials (age 18-34) had the highest rate of gullibility, with 38% reporting they'd lost money to phone scams in the past twelve months.
Why, you may ask, do scammers call potential victims instead of sending their pitches via email, which is a much cheaper and faster way to troll for victims? There are several reasons. Anti-phishing protections are everywhere these days, on email servers and users' desktops. The computing public is constantly warned about the dangers of phishing emails, but more rarely told that a phone call might be phony. The immediacy of a phone call leaves little time to think, "Wait, can this be real", especially when the caller is trained to press hard for immediate action.
If It Happens To You...
Treat any unsolicited phone call as a probable scam, even if it supposedly comes from a firm you trust. Microsoft does not call Windows users; it distributes security fixes only via Windows Update.
Never reveal sensitive information, such as a credit card number, to any unsolicited caller.
Do not visit a website, install software, allow remote access, re-configure Windows, or follow any other instructions at the insistence of any unsolicited caller.
Write down the caller's name, company, and contact information. It may very well be fake, but at least you'll have something to give to the police or other authorities.
If you fall for a fake tech support scam and later realize your mistake, treat the incident as a serious security breach. Immediately change all of your passwords. Uninstall any software that you installed at the caller's behest. Disable remote access if you enabled it. Call your bank and ask them to remove the fraudulent charges from your account.
Run a full anti-malware scan, with one of these free antivirus programs. See my related article System Restore, and follow the instructions there. Monitor your bank and credit card accounts closely and consider closing them if you detect any unauthorized transactions.
If you're concerned about identity theft, see my Ten Tips for Identity Theft Protection.
Have you or someone you know been victimized by fake tech support scammers? Post your comment or question below...
 

Ask Your Computer or Internet Question



  (Enter your question in the box above.)

---

---

| | |
| --- | --- |
| | Check out other articles in this category: |

| | |
| --- | --- |
| | Link to this article from your site or blog. Just copy and paste from this box: |
This article was posted by Bob Rankin on 24 Jan 2018
---
---
---
There's more reader feedback... See all 64 comments for this article.
Post your Comments, Questions or Suggestions
---
Article information: AskBobRankin -- [ALERT] Fake Tech Support Scammers Are Calling (Posted: 24 Jan 2018)
Source: https://askbobrankin.com/alert_fake_tech_support_scammers_are_calling.html
Copyright © 2005 - Bob Rankin - All Rights Reserved