[ANSWERS] More of Your Windows Questions
| | |
| --- | --- |
| Yesterday I gave a summary of your responses to my Windows ebook survey, and answered some of the most common questions that were raised. Thanks again to the 5142 people who participated. Today, I'll answer more of those questions, and share some best practices for keeping your computer running in top condition. Read on... | |
Everything You Need To Know
When you buy a computer, it doesn't come with a manual for securing, optimizing and customizing your Windows experience. That's why I wrote "Everything You Need to Know About WINDOWS" over 5 years ago. I'm just putting the finishing touches on the 4th Edition, which covers everything from XP to Windows 10.
I created the survey to make sure I understood your most common Windows questions and frustrations, and cover those issues in the book. Some of you have mentioned that you missed the survey. It's still open, if you want to chime in. Click here to take the survey.
I heard loud and clear in the survey results that many AskBob readers are concerned about privacy and security, especially as it relates to the new Windows 10. Here's a paraphrase of one very common question: "How can I prevent Microsoft from tracking all my online activities, invading my privacy, and selling my personal data?"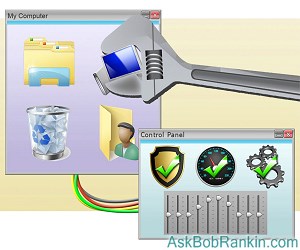 There's a lot of FUD (fear uncertainty and doubt) being spread about Windows 10 and privacy. Everything I've learned (from Microsoft's privacy policy, and well-connected industry experts) tells me that rumors of Microsoft watching everything you do while using Windows 10, and selling your private information to the highest bidder are unfounded. The "telemetry" feature in Windows 10 does collect information that helps Microsoft find and fix problems, but that data is scrubbed of personally identifying information and encrypted before being sent.

There's also the accusation that Cortana, the voice-enabled personal assistant built into Windows 10, is listening all the time and dutifully reporting all that you do to Microsoft HQ. Again, that's overblown. Cortana does collect some usage data, and notes your habits to personalize how it behaves. But no personally identifying information is sent to Microsoft. Most importantly, Cortana and the telemetry feature can be turned off, and other privacy-related settings in Windows 10 can be tweaked as desired. (I go into greater detail about Windows 10 privacy in my book.)
---
Another question: "I've heard that Google Chrome is not compatible with Windows 10. If I upgrade, will I be forced to use the new Microsoft Edge browser?"
Google's Chrome browser works just fine on Windows 10, as do Firefox, Opera and other alternative browsers. Edge is Microsoft's replacement for Internet Explorer, and you can choose to use it or ignore it. In fact, even Internet Explorer is still available on Windows 10 if you prefer it. Edge is fast, but there's a bit of a learning curve, and some things that could be improved in the user interface. One of the biggest complaints about Edge is that it doesn't support popular extensions that are available in Chrome and Firefox. Bottom line: You still have the ability to choose your browser.
---
Here's a great question, because it applies to ALL versions of Windows:
"What ongoing routine maintenance should I be doing in Windows that I can safely do myself?"
No matter what version of Windows you have, my first recommendation is to make sure Windows Update is turned on, and is set to automatically install critical updates. Next, make sure you have an anti-virus program (I recommend several excellent freebies here) and that it stays updated. For additional security and peace of mind, I recommend occasional scans with the free MalwareBytes Anti-Malware (MBAM) tool.
One oft-neglected aspect of computer security is your software. I recommend the Secunia Personal Software Inspector to scan your installed programs, and apply any needed security patches. Related to that, remove unneeded or unwanted or software. If the Windows Control Panel doesn't get the job done, RevoUninstaller will remove stubborn programs, and clean up any cruft that's left behind.
And finally, take a load off your hard drive, with the built-in Disk Cleanup tool, then use JdiskReport to find and zap large files you don't need. Finally, use Privazer and/or CCleaner to clean and optimize your system. Perform these tasks at least once a month to keep your Windows computer running optimally.


---
And I couldn't resist including this one: "How do I get my computer to stop making these clickety sounds?"
No offense to the person who left this comment, but it perfectly illustrates the most common problem I have in trying to help people with computer problems. And that's lack of context. Is the clickety sound coming from your keyboard, mouse, or speakers? Is it emanating from an external hard drive, or somewhere deep inside the system unit? Are the clicks random, constant, or related to some action you take?
Some clicking sounds are harmless, and can be controlled or turned off by using the Hardware and Sound option in Control Panel. If it's random, and coming from the speakers, I would advise a virus scan to be sure that's not the problem. It's also possible that your speakers are picking up interference from a nearby electrical device. If the problem started recently, it might be something you can undo with System Restore. More serious would be a clicking sound from a hard drive, which usually indicates impending failure.


But I'm Not a Techie!
In my experience, you can't just "set and forget" when it comes to keeping Windows running smoothly. My ebook "Everything You Need to Know About Windows" covers issues like this in greater detail, and in plain English. Even if you have no technical skills, you'll learn how to secure, maintain, optimize, and customize your Windows environment.
When something goes wrong, you won't need to call a geek. You'll learn to fix it, tweak it, or upgrade it yourself - for FREE, or at least on the cheap. Whether you run XP, Vista, Windows 7, 8 or the new Windows 10, the tips, tweaks and tools in my ebook will help you solve the most common and annoying Windows problems on your own, and give you confidence to help others too.
I need to add a few finishing touches, and I'm planning to announce the availability of the 4th edition of ""Everything You Need to Know About Windows" over the weekend. Stay tuned!
 

Ask Your Computer or Internet Question



  (Enter your question in the box above.)

---

---

| | |
| --- | --- |
| | Check out other articles in this category: |

| | |
| --- | --- |
| | Link to this article from your site or blog. Just copy and paste from this box: |
This article was posted by Bob Rankin on 31 Mar 2016
---
---
---
Post your Comments, Questions or Suggestions
---
Article information: AskBobRankin -- [ANSWERS] More of Your Windows Questions (Posted: 31 Mar 2016)
Source: https://askbobrankin.com/answers_more_of_your_windows_questions.html
Copyright © 2005 - Bob Rankin - All Rights Reserved