Battery Low? Extend Your Laptop Battery Life
| | |
| --- | --- |
| Uh oh... "Your battery is running low. You might want to plug in." We take electrical outlets for granted; they're everywhere -- until they're not. If you forget your laptop's charger at home, or get stuck far from a power outlet (quite common if you use your laptop in a coffee shop, airport, plane, train or car) follow these tips to maximize battery life of your PC or Mac laptop. Read on... | |
Tips For Longer Battery Life
Do you know what drains the most power in your laptop? You might have guessed the CPU, but in most laptops, it's the screen. Your display consumes about 43 percent of normal operating power. Under the hood, it's the chips for your video, audio, math coprocessor, etc. that eat another 22 percent combined.
Surprisingly, the CPU accounts for just 9 percent of power consumption, while a graphics processor takes another 8 percent. The hard drive takes only 5 percent, and network adapters consume only 4 percent. So obviously, power conservation efforts should focus first on the display. Here's how to tweak your settings to save that precious battery juice.
Windows has a Power Options section in Control Panel that can help you optimize your laptop's performance vs. power consumption trade-off. You can use one of the pre-defined Power Plans that kick in, depending on whether you're operating on battery or wall power. The plans control how bright the display is; when to turn off the display during periods of inactivity; when to turn off the hard drive to save power; and what CPU performance level to use when on battery power. Mac OS X users can use the "Energy Saver" option found on the System Preferences screen, to control when to when to power down the display or hard disks.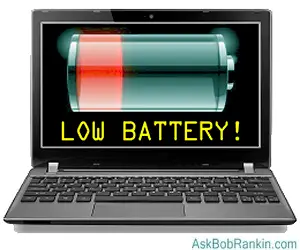 Tweaking these plans to fit your computing habits and performance needs can extend battery life significantly. To "wake up" your computer if the screen is off, move the mouse, or press a key on the keyboard.
You can also manually adjust the display brightness to suit the environment; you don't really need the brightest setting in a dim coffee shop. On most Windows laptops, you can change the screen brightness by holding down the Fn button and pressing one of the function keys on the top row of the keyboard. On my Toshiba laptop, Fn+F6 reduces the brightness, and Fn+F7 will make it brighter.
On a MacBook, you can use the Brightness keys on the top row , or the "Displays" option found on the System Preferences screen to adjust brightness. If your Mac has an ambient light sensor, you can enable the "Automatically adjust brightness" setting. Open Apple menu, then System Preferences, click Displays, then click Display.
Bottom line, when power is low, turn screen brightness down as much as possible. And of course, the same tips about screen brightness apply equally to your tablet or smartphone.
On a related note, I don't know if the f.lux app will extend battery life, but it will adjust the color of your computer's display adapt to the time of day, warm at night and like sunlight during the day. f.lux is available for Windows, Mac, Linux, iPhone and Android. Windows 10 has a similar feature -- click Start > Settings > System > Display > Night light settings.
To further stretch your battery time, avoid video games, listening to music, watching videos (especially high-resolution videos) and other graphics-intensive applications while on battery. Turn off the wifi adapter if you don't need to access to the Internet, and Bluetooth if you don't need connectivity to other devices. And of course, don't try to charge your cell phone or other gadgets via the USB port, if your laptop's battery life is dwindling.
Sleep or Hibernate?
It's worth noting the difference between Windows "sleep" and "hibernation" modes here, as either can be set in the Power Options plans. Sleep mode stores your laptop's current state, including all open apps and data files, in RAM before shutting down virtually all of your system. A bit of power is used to maintain the state of RAM so it isn't lost during sleep mode. Hibernation saves the laptop's state to the hard drive, allowing the laptop to shut down completely when it is not in use. Your desktop is restored from either mode, but restoration is faster from Sleep mode because everything is already in RAM. Restoring from hibernation takes a bit longer, depending on the speed of your system. Hibernation is also safer, because power might be lost during sleep mode and all your data would be lost too.
Hybrid Sleep (a combination of Sleep and Hibernation) is available on some laptops running Windows Vista and later Windows editions. This mode saves the contents of memory to hard disk, just like hibernation, but then goes into sleep mode, rather than hibernation. You get the benefit of fast resume from sleep, or if power is lost, the ability to resume from hibernation. To turn on Hybrid Sleep, open the Power Options on the Control Panel, then click the "Change Plan Settings" link next to the selected power plan. Next, click the "Change Advanced Power Settings" link. Click the plus (+) sign next to the "Sleep" item, then click the plus sign next to "Allow Hybrid Sleep." If you don't see the Hybrid Sleep option, your laptop doesn't support it.
Every battery wears out eventually. The number of times you can recharge a battery depends on many factors, but just a couple of rules will help maximize your battery's service life. Do not fully discharge your battery deliberately. Old nickel-cadmium batteries had to be fully discharged from time to time, but modern lithium-ion batteries' life spans are actually shortened by full discharges.
I'm often asked if it's good or bad to keep your laptop plugged into A/C power for long periods of time. I've researched this, and the consensus seems to be that it's (usually) okay to do so. When your laptop's battery reaches 100% the battery stops receiving energy, so you can't overcharge it. However, heat is the enemy of all electronics, and batteries are no exception. If your laptop gets too hot, it can shorten battery life. Use a free temperature monitoring utility to keep tabs on your temps, and if the CPU or hard drive typically runs over 50 degrees Celsius, it's a good idea to remove the battery while running on A/C power. Of course, don't yank the battery while the laptop is running, though. Shut it down first, remove the battery, and store it in a cool, dry place until you need to go mobile.
When your battery will no longer hold sufficient charge to get you through the day, it's probably time to buy a new one. Consider extended-life batteries with more cells (and weight), and look into refurbished laptop batteries that can save you 50 percent or more vs. the cost of brand-new ones.
Do you have laptop battery tricks to share? Post your comment or question below…
 

Ask Your Computer or Internet Question



  (Enter your question in the box above.)

---

---

| | |
| --- | --- |
| | Check out other articles in this category: |

| | |
| --- | --- |
| | Link to this article from your site or blog. Just copy and paste from this box: |
This article was posted by Bob Rankin on 17 Aug 2023
---
---
---
Post your Comments, Questions or Suggestions
---
Article information: AskBobRankin -- Battery Low? Extend Your Laptop Battery Life (Posted: 17 Aug 2023)
Source: https://askbobrankin.com/battery_low_extend_your_laptop_battery_life.html
Copyright © 2005 - Bob Rankin - All Rights Reserved