Speed Tips for Your Laptop
| | |
| --- | --- |
| An AskBob reader wonders: "How can I speed up my laptop? It's so much slower than my desktop for most tasks, and it bogs down when I try to open more than one program. Should I replace the hard drive, add more memory, or take some other actions?" Check out my advice on how to improve the performance of your trusty laptop. Most of these tips will help if you have a desktop, too! Read on... | |
Speed Up Your Laptop
Before we begin, here's the bad news: laptop computers are generally slower overall than desktops, unless you spend thousands of dollars on one of the highest-performance "desktop replacement" laptop models. Portability is lovely but speed definitely matters, too. The good news is that there ARE some things you can do to speed up your laptop, even if it's fairly new.
As you guessed, you may need to spend a few bucks on a new hard drive, add some RAM memory, do some cleanup, or tweak some system settings. Let's start by taking inventory of your hardware. For that, see my article A Look INSIDE Your Computer (no tools required). As the name implies, it will show you what kind of hard drive, the amount of memory, the speed of the CPU, and other facts about your laptop. And you don't even have to pop the hood -- it's all done with free software programs. Even if you have a desktop, it's worth your time to do this. You'll learn something interesting about your computer.
Many laptops, especially the lower-cost models, come standard with a 5400 rpm magnetic hard drive. They're reliable and have sufficient storage, but not very fast when it comes to launching programs, opening large files, or managing resources when multiple programs are open. Replacing a standard 5400 rpm hard drive with a faster drive is one of the best investments you can make to speed up your laptop.
Disk read/write operations are the biggest bottleneck in all but the cheapest, underpowered laptops. Replacing a laptop's hard drive is much easier than the same upgrade on a desktop machine. A 7200 or 10,000 rpm drive will be 33 to 50% faster, and an SSD (solid-state drive) will give an even bigger boost, albeit with a higher cost.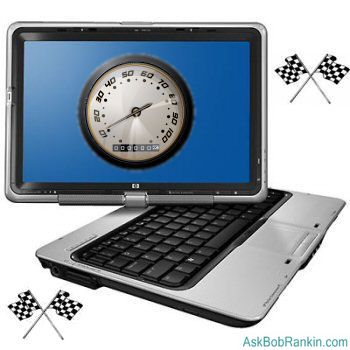 There's usually just one screw to remove the bottom of the laptop. Then you pull of the drive bay cover; pull out the hard drive; slip in the new one; format the new drive and install all your software and data. The restoration of programs and data is easier if you made a disk image copy before removing the old drive. See my article Here's How to Upgrade or Replace Your Hard Drive for some additional information on replacing a hard drive.
Adding more RAM memory will improve laptop speed, up to a point. Going beyond 8 GB yields only small performance increases so it's seldom worthwhile. However, if you use your laptop to manipulate large databases, video files, or graphic files, you may want additional RAM to avoid "paging." That happens when your computer is low on memory, and needs to swap information between memory and disk. The combination of low memory and a slow hard drive can result in frustrating delays. See [SILVER BULLET] Add Memory to Speed Up Your Computer? to assess your memory needs, find out what kind of memory you need, and where to buy it.
Defragmenting your traditional magnetic hard drive can provide noticeable laptop speed increases, particularly if your hard drive is running 75 per cent full or more. A file that is all in one piece can be read much faster than one that lies scattered all over the drive in several fragments. Windows has a built-in defragger that runs automatically, but there are third-party tools that promise to do a better job of optimizing your drive's performance. You'll find links to some of those in my article Need a PC Tuneup? Free PC Maintenance Tools. (SSD drives don't need to be defragmented -- another good reason to upgrade.)
Maybe the problem isn't your slow laptop. If the slowdowns are most noticeable when accessing websites, downloading files, or streaming video content, your Internet connection might be the cause of poor performance. See my article
How to Get a Faster Internet Connection
for some tips and tools that can help you go faster on the information highway.
Keep your hard drive free of unneeded files, so that the operating system has fewer files to index and search when one is needed. Empty your Recycle Bin and delete temporary files regularly. Uninstall programs and delete old pictures and videos that you haven't used in a long time. Don't be a packrat. See Here's How to Clean Computer Clutter for help cleaning digital clutter. That article also covers how to get rid of "bloatware," the trial software that comes pre-installed on new computers.
By default, Windows uses the power conservation features built into modern laptops to save battery life at the expense of some performance. You can change these settings in Control Panel > Power Options to use maximum performance all the time, but you should be prepared for shorter battery life. This may not matter if your laptop is plugged into an electrical outlet most of the time.
Hidden processes and startup programs can steal resources and make your laptop run slower. You can use the Windows utility MSCONFIG to control which programs load at startup. My article on Startup Programs will help you tune your startup settings, and improve the laptop startup time as well as overall performance.
Don't Try THESE at Home...
Overclocking a laptop is not advisable. Overclocking involves setting the computer's CPU to a higher frequency than its factory default setting. Overclocking does speed up some operations but it makes the CPU generate more heat. Desktop computers can be equipped with supplemental cooling systems to compensate for overclocking, but laptops have just one fan and it is not up to the job. You are likely to experience sudden shutdowns and data loss with an overclocked laptop, as the computer turns itself off to prevent overheating from damaging the CPU.
You might be wondering why I didn't mention just replacing the CPU with a faster model. That's an option, but in most cases, it's just not cost effective. And as far as do-it-yourself projects go, replacing the "brain" of a laptop can be tricky, because it's not always easy to gain access to the innards of the machine. If you have an old clunker of a laptop, and these tips don't get you into the fast lane on the Internet, your best bet for better performance may be to replace it.
Do you have something to say about speeding up a laptop? Post your comment or question below...
speed up laptop, improve laptop speed, faster laptop performance, faster hard drive, adding RAM memory
 

Ask Your Computer or Internet Question



  (Enter your question in the box above.)

---

---

| | |
| --- | --- |
| | Check out other articles in this category: |

| | |
| --- | --- |
| | Link to this article from your site or blog. Just copy and paste from this box: |
This article was posted by Bob Rankin on 3 Jun 2022
---
---
---
Post your Comments, Questions or Suggestions
---
Article information: AskBobRankin -- Speed Tips for Your Laptop (Posted: 3 Jun 2022)
Source: https://askbobrankin.com/speed_tips_for_your_laptop.html
Copyright © 2005 - Bob Rankin - All Rights Reserved