Disqus: Bad for Public Discourse?
| | |
| --- | --- |
| Anonymity is mainly to blame for the decline in online civility; people tend to act more irresponsibly when they believe they can get away with it. But a popular website plugin designed to solve that problem may also compromise your privacy. Here's what you need to know about Disqus... | |
What is Disqus?
The comment sections of blog posts and online news articles can be more interesting and informative than the articles under which they appear. When readers help each other by answering questions and posting helpful links, everyone wins.
On the other hand, comments can be nasty personal attacks or irrelevant (and sometimes offensive) spam posted by software bots. Many an online community has been destroyed by overwhelming volumes of negative comments, as civilized readers leave the site in disgust.
On this website, no logins are required to post a comment, and all comments are moderated by yours truly before being published. I only ask for your first name, and you can fudge if you like. Software filters out the incoming spam, and for the most part, people here are very thoughtful, considerate, and helpful. So thanks for that!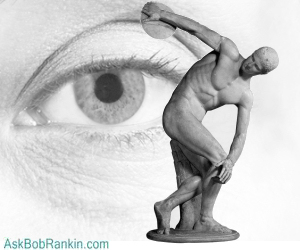 But on high-volume sites, human moderation can be quite a chore. To hold users accountable for what they say, many sites – news sites especially – require users to register under their true names. But verifying the identity that a user provides is problematic. Registering one's identity with multiple sites becomes tediously repetitive, and managing passwords gets burdensome.
Enter the third-party commenting system: a single service at which a user can register one online ID that is valid on multiple independent Web sites. When you log in to comment on a newspaper's Web site, you're really logging in to the third-party service provider. You can stay logged in to that service provider and not have to log in on every site where you wish to comment. Commenting becomes easier so people leave more comments. Commenters are not anonymous so comments are more constructive and civil.
The commenting service provider verifies each user's identity; maintains and improves the software that manages comments; and provides participating Web sites with HTML code that, when embedded in a Web page, displays the service provider's commenting system. It's not much different from embedding a YouTube video in your Web page.
But how can users be forced to provide their true identities, or at least encouraged to do so? One method is to require a popular social media account such as Twitter or Facebook. Presumably, people use their real IDs on social media because they want old friends, family, and potential employers to be able to find them. Of course, it is possible to create a fake Facebook account, but the odds that the ID you get is a person's real ID are increased when you require a Facebook ID.
Third-party commenting systems do work. Incivility and spam drop dramatically after "real names" are required to leave comments. The level of discourse improves. Web site moderators have less work to do deleting spam and offensive or defamatory comments. It's no wonder that third-party commenting systems are rapidly spreading among news sites from CNN to local TV stations and newspapers.
The Downside of Being Yourself
But there are disadvantages to being known by your true name, and to posting all of your comments through a single service provider. The most widely used commenting service provider illustrates virtually all of these disadvantages.
Disqus.com was founded in 2007 by Daniel Ha and Jason Yah while they were computer engineering students at UC Davis. Its basic commenting system costs Web site operators nothing, so it is readily adopted (optional fees provide enhanced analytics and other services). Disqus is now used by more than 500,000 sites ranging from small blogs to major news organizations such as CNN. If you have tried to leave a comment on a news site lately, you have probably run into Disqus.
There are two ways to create a new Disqus ID. First, you can enter a username of your choice, an email address and password. Respond to a confirmation email sent to the address you provide and Disqus considers your identity "confirmed." The second method is even easier: enter your desired username and click an icon for Twitter, Facebook, or Google. Any of those three services will authenticate your identity to Disqus. But that's not all that happens.
Using Twitter for authentication gives Disqus permission to read all of your Tweets and post Tweets to your public Twitter feed. Similarly, using Facebook to create a Disqus ID gives Disqus permission to post your comments to your Facebook timeline; from there, your comment may show up in your friends' timelines as well, and in the timelines of their friends.
That doesn't mean that Disqus will post random comments on your Facebook or Twitter feeds. The ostensible benefit of this permission is to allow you to post to multiple social media sites while leaving a comment on another site, without having to click an extra "post to social media" icon.
That's Disqus-ting!
But... if you don't want a comment posted to your friends, followers, and people you don't even know, you must remember to uncheck the "post this comment" box on the site where you're commenting. It's an opt-out system that is easy to overlook. By default, Disqus assumes that you don't want privacy, and is designed to ensure that you have none.
And incredibly, Disqus makes all of the comments that you post on participating sites available to anyone on the Internet. Each Disqus user gets a public page at http://disqus.com/[YourDisqusID] on which your comments and links to their sources are published. You cannot delete or hide any comments on "your" Disqus page.
Disqus makes cyberstalking and bullying easy and unavoidable. Any Disqus user can follow any other's comments, receiving notifications when the target posts a new comment somewhere. The stalker (and there may be many) can then leave abusive replies or down-vote the target's comment so that it is buried. There is no way to block unwanted Disqus followers, as there is on Twitter or Facebook. Disqus disclaims all responsibility for interactions between its users.
Disqus mines the content of your comments in order to send you ads targeted to your inferred interests. Of course, so do Facebook, Google, Twitter, et. al. But comments that you make via Disqus are stored on Disqus' servers indefinitely, even after you "delete" your Disqus account. Disqus makes no promises about when or whether it might delete stored comments.
Even if you log out of Disqus, it still tracks you across the Web using cookies installed on your device. Every visit to a Disqus-powered Web page triggers a Disqus widget embedded in that page, whether you comment or not. Your IP address, Web browser version, browser extensions info, and other "non-personal" data are transmitted back to Disqus for analysis and sharing with marketers.
Given these hazards, you may want to avoid using Disqus for your commenting needs. If you really want to leave a comment on a website that uses Disqus, I recommend that you do not login with Facebook, Twitter or Google. Use the private browsing feature of your browser (or a separate browser just for commenting). In addition, the email login option, with one or more throwaway webmail addresses will provide even more privacy protection.
Your thoughts on this topic are welcome! Post your comment or question below...

 

Ask Your Computer or Internet Question



  (Enter your question in the box above.)

---

---

| | |
| --- | --- |
| | Check out other articles in this category: |

| | |
| --- | --- |
| | Link to this article from your site or blog. Just copy and paste from this box: |
This article was posted by Bob Rankin on 17 Jun 2013
---
---
---
There's more reader feedback... See all 31 comments for this article.
Post your Comments, Questions or Suggestions
---
Article information: AskBobRankin -- Disqus: Bad for Public Discourse? (Posted: 17 Jun 2013)
Source: https://askbobrankin.com/disqus_bad_for_public_discourse.html
Copyright © 2005 - Bob Rankin - All Rights Reserved