Do You Have Tech Support Rage?
| | |
| --- | --- |
| If you own any modern appliance or electronic gadget, you've probably suffered the dreaded agony of calling for "Tech Support." Even the most even-tempered human quickly experiences alarming symptoms: sharply increased blood pressure, trembling fingers, reddening face, rising voice, and colorful language. Is it possible that tech support services are in fact *designed* to elicit such a response from you? Read on for the full story… | |
Is Tech Support Designed to Enrage You?
This condition even has a name among mental health professionals: "tech support rage." And in many cases, it's also quite deliberately induced by the companies you call for tech support.
There's an old proverb: "Never attribute to malice what is adequately explained by stupidity." But the companies that design devilish tech support systems are not stupid; they know exactly what they're doing and what effects it has on customers.
They analyze every call to see what buttons you press, how long you wait on hold, and what you say to the interactive voice response system, including the naughty words. They seek, quite successfully, to strike an optimal balance between losing customers and avoiding the unprofitable expense of talking to them.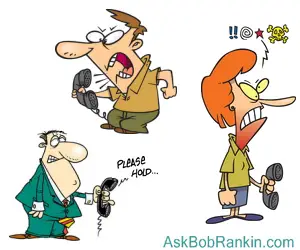 Then, if you persist and finally get a live human being on the line, "the system" is designed to make your interaction with him or her as painful and unhelpful as possible. The International Customer Management Institute (ICMI), conducted a survey of its members, all customer service managers. It found that 92% of them think their agents could be more effective, and 74% said their companies' procedures prevented agents from being more effective.
That bears repeating: three out of four customer service managers say their companies' carefully designed and precisely documented procedures prevent you from getting satisfaction. They are well aware of it, and no one is doing anything to change those policies.
Why is Tech Support So Frustrating?
The reason is "money," of course. Most tech support is provided free of charge, so companies want to provide as little of it as possible. Rather than make products that work as advertised, are easy to figure out, and don't break, they do all they can to make customers go away with their problems.
This is not just my own little conspiracy theory. Justin Robbins, who was once a tech support agent himself and now oversees research and editorial at ICMI, told the New York Times in an interview: "Don't think companies haven't studied how far they can take things in providing the minimal level of service. Some organizations have even monetized it by intentionally engineering it so you have to wait an hour at least to speak to someone in support, and while you are on hold, you're hearing messages like, 'If you'd like premium support, call this number and for a fee, we will get to you immediately.'"
In my experience, this treatment isn't limited to the world of computers and tech gadgets. I called Sears, wanting to schedule a service appointment for our broken dishwasher. Even though we have a pre-paid service contract, the rep started asking ridiculous questions, in an attempt to "help me" diagnose and fix the problem myself. He then put me on hold, allegedly to find the service manual, and when he returned, he offered to email me some helpful do-it-yourself instructions.
No thanks, I'm not going to stick my head in there and fiddle with the whatchamacallits. Just send a technician, please! I eventually got so frustrated that I hung up on the guy. Which is probably just what they wanted me to do. I called back, and got a different rep. And oddly, he was amazingly friendly and helpful. My service visit was scheduled right away. But the cynic in me thinks this is all part of a plan to minimize the expense of sending techs on service calls.
This strategy works best when customers cannot switch to another company. Unsurprisingly, the ICMI survey found that managers in monopolistic markets, such as cable TV or public utilities, reported "agents could be more effective" and "procedures prevent agents from being more effective" at much higher rates than managers in competitive markets. Startups are also more eager to please than incumbents, as anyone who has dealt with a big company and a newcomer can confirm.
The First Line of Defense
Paid services don't want you to cancel your account, and often have "retention agents" who will argue with you rather than let you cancel your subscription. Some even use software bots to put roadblocks between you and the Cancel Button. But services like
AccountKiller
provide the necessary directions for deleting accounts on many social networks and websites.
If you persist and finally get a live human being on the line, don't expect him or her to solve your problem. The first person you speak with probably knows less about the product and its vagaries than you do. The ICMI survey also found that 73% of managers report tech support calls are getting "more complicated," as customers are increasingly sophisticated and solve simpler issues on their own (or with the help of online forums and sites such as mine).
The "procedures" that companies inculcate into customer service agents emphasize minimizing phone time with each customer, not solving problems. So when your call approaches the magic two-minute mark, you are going to be put on "terminal hold" while the agent moves on to other calls, or transferred to "escalated" support to wait forever for someone who actually knows the product.
I recently spent over an hour on the phone with an Optimum tech support person, trying to diagnose a problem with my cable modem. We never got beyond "power it off, and then back on again." I repeatedly asked the rep if they could confirm that my modem had an assigned IP address. That seemed to flummox him/her, and we kept going back to the most basic troubleshooting steps. When it became clear to me that the tech rep had no technical savvy, and was just reading from scripts, I hung up.
Who wouldn't totally lose his temper after an hour of such treatment? It's deliberate, it's cunningly contrived, and it's pervasive throughout the customer support industry. It's not just you.
There are exceptions to this dastardly convention. Amazon's customer service reps get high marks for actually solving problems, and doing it swiftly and efficiently. They are empowered to do things for customers like send out a replacement product immediately, or issue a refund.
I've also had consistently good experiences over the years with Verizon tech support, for both billing and technical issues. When a rep can't help, they pass you on to a "Level 2" or "Level 3" support person who specializes in the specific problem you have. But in most cases, when you call tech support for a large company, you are going to be driven to the verge of murder. So be prepared.
How to Make Friends and Influence Tech Support People
Do whatever it takes to avoid losing your temper with an agent; that won't get your problem solved, it will just get you put on terminal hold faster. Take a deep breath. Meditate. Take a chill pill (or something stronger if you have a prescription). Moreover, you may actually get an agent to work for you if you try honey instead of vinegar.
Remember the agent's name and use it often; this establishes a personal relationship, and most agents are starved for personal recognition. Try (and I know it's hard) to find some humor in the situation. If you can make an agent laugh, which he or she probably hasn't done since accepting the job of "tech support agent," you'll get the best service that canned scripts and limited authority can provide. It's better than terminal hold.
Here's an idea for avoiding the hell of navigating those interactive voice response (IVR) systems: use social media to contact tech support. Posting your plea for help on a company's Twitter feed or Facebook account may well get attention much faster than a phone call, and at least you're not waiting on hold until attention is paid.
Another tactic is to choose the voice-menu option for "sales" or "place an order" instead of "technical support." Those callers are answered faster because they mean money. They're usually answered by people in your country, too, while tech support calls are answered by foreigners in who-knows-where.
You can also consult sites such as DialAHuman and GetHuman, which are repositories for the collective knowledge of many customers. They include tips for navigating specific companies' IVRs as painlessly as possible, and direct phone numbers of key customer service staffers at many companies. Another option is FastCustomer which eliminates waiting on hold. You place a request for support, hang up, and then wait for the rep to call you.
Have you experienced tech support rage? Tell me which companies have offered you the best and worst tech support experiences. Your thoughts on this topic are welcome. Post your comment or question below...
tech support, service calls, support reps, IVR systems, customer satisfaction
 

Ask Your Computer or Internet Question



  (Enter your question in the box above.)

---

---

| | |
| --- | --- |
| | Check out other articles in this category: |

| | |
| --- | --- |
| | Link to this article from your site or blog. Just copy and paste from this box: |
This article was posted by Bob Rankin on 23 Oct 2020
---
---
---
There's more reader feedback... See all 36 comments for this article.
Post your Comments, Questions or Suggestions
---
Article information: AskBobRankin -- Do You Have Tech Support Rage? (Posted: 23 Oct 2020)
Source: https://askbobrankin.com/do_you_have_tech_support_rage.html
Copyright © 2005 - Bob Rankin - All Rights Reserved