Free Online Research Tools
| | |
| --- | --- |
| The Internet is at once a gold mine and a cesspool, so how can you find the helpful, authoritative information you need? Check out my list of the best free online reference and research tools... | |
Desperately Seeking Something?
There are plenty of websites with dubious experts, opinionated blowhards, and others who would lead you in a particular direction that benefits them more than you. So where do you turn when you have a problem and you need to find reliable answers from true experts, researchers, and the recognized leaders in a particular area?
I've got a list of websites that I have personally found to meet those criteria. Most of them have been around for over a decade, proving their worth by their longevity. Check out my long list of FREE online reference tools, covering more than a dozen areas of expertise.
General Reference Tools
In a library, if you don't know where to look for a reference book, you go to the Reference Librarian. On the Internet, if you don't know where to look for answers, you go to RefDesk.com. At first glance, the sheer amount of useful links on the Refdesk home page can be overwhelming. But it's really quite well organized and useful.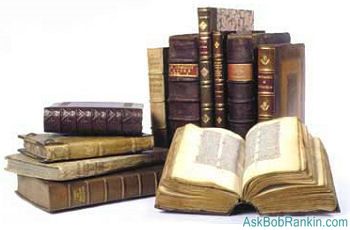 Encyclopedia.com gives you credible answers from published reference works. Enter you search words and it will search 40+ encyclopedias, as well as 70+ dictionaries and thesauruses.
The Britannica Online Encyclopedia is another very credible source.
At Dictionary.com, you can look up a word in either a dictionary or Roget's Thesaurus (to find synonyms and antonyms). The site also offers Ask Doctor Dictionary (for questions about words or grammar), the Word of the Day, daily crosswords & word search puzzles, and a huge list of links to other online dictionaries, including hundreds of non-English ones.
LibrarySpot.com Offers convenient links to popular online Almanacs, Calculators, Dictionaries, Directories, Encyclopedias, Historic Documents, Quotations, Statistics, and Thesauri.
At the Infoplease Homework Center, students will find useful information by subject area, develop better writing, note-taking and study skills, and search through previous questions and answers from other students.
WordReference offers free online translation dictionaries. Enter a word and it will first translate it into
Spanish, French, Italian, German or Russian, then it will display the dictionary definition for that word in the chosen language.
Need a synonym, antonym, or related word? Try this RhymeZone.
The Farmers' Almanac is filled with entertaining short stories, good cooking, fun, facts, forecasts, timely household tips, calendars for fishing and of course gardening.
The CIA World Factbook, published by the United States Central Intelligence Agency, has data on every country in the world, including maps, background, geography, people, government, economy, and military.
Medical Questions

WebMD
is one of the leading medical reference websites. This authoritative website contains thousands of articles on medical conditions, diseases and how to stay healthy.
More Medical Advice Online - For a larger collection of trustworthy online medical websites, alternative medicine, support groups, and online drug stores see http://askbobrankin.com/medical_advice_online.html
Business and Financial Research

Hoover's Online
provides company capsules and profiles that give comprehensive company, industry, and market intelligence to investors and business professionals.
EDGAR - The SEC requires public companies to file registration statements, periodic reports, and other forms electronically through EDGAR. Now you can access and download this information for free.
Zack's Investment Research has tools that enable individuals to research, select and track their investments more effectively. Company news, profiles, stock prices and more.
QUOTE.com offers free stock quotes, charts and news from the financial markets.
Weather

In addition to local weather maps and forecasts for thousands of cities around the world,
The Weather Channel
website offers many other useful features such as the free Desktop Weather software for Windows, Inbox Weather (e-mails you the forecast daily) Pollen Reports, Air Quality Forecast, and the Interstate Forecast planner.
For the weather junkies, Weather Underground has everything you'd expect from a weather site, including yesterday's forecast.
Check the BBC Weather Centre for weather forecasts for the UK and cities around the world.
Movies

The
Internet Movie Database
(IMDB) lets you search for a movie or video by its title, and tells you everything you could ever want to know about that movie and its actors.
Ever wonder if a movie is appropriate for your family? ScreenIt has detailed reviews for movies and videos. You'll know just how much language, violence, sex, and other potentially offensive material you'll be exposed to.
Rotten Tomatoes is a site for both casual movie-goers and film buffs alike. Millions each month use Rotten Tomatoes as a dependable resource and objective coverage of movies and videos. With more than 100,000 titles and 360,000 review links in its ever-gro wing database, Rotten Tomatoes offers a fun and informative way to discover the critical reaction on movies from the nation's top print and online film critics, neatly summarized via the TomatoMeter.
Music and Lyrics Research

Try
Lyrics.com
if you want a searchable database of song lyrics covering many different genres.
Kiss This Guy is a website devoted to misheard or misunderstood lyrics. Finally, you can find out why Manfred Mann had a boulder on his shoulder in the song "Blinded by the Light."
US Government

Visit
THOMAS
and find up-to-date information on who's really saying what on Capitol Hill. THOMAS is a service of the U.S. Congress to make legislative information publicly available. It contains full text of legislation (both House and Senate bills searchable by keyword or by bill number) and full text of the Congressional Record. No spin, bias, or sound bytes here... Just the raw data from which you can draw your own conclusions.
USA.gov is the U.S. government's official web portal, a guide to finding government info and websites on a wide variety of topics, including Benefits and Grants, Consumer Guides, Environment, Energy, and Agriculture, Health and Nutrition, Money and Taxes, Public Safety and Law, Science and Technology, and Voting and Elections.
Language Translation

BabelFish
does computer-assisted translations from English to Chinese, French, German, Italian, Japanese, Korean, Portuguese, Spanish and Russian -- and back again, sort of.
Find more language translation resources at http://askbobrankin.com/free_online_translations.html
Maps, Topography and Astronomy

Google Earth
lets you virtually fly to any point on Earth and view streets, houses, buildings, and terrain, from satellite imagery. The built-in Google Sky component lets you zoom out into outer space to view planets, stars, constellations and galaxies.
Microsoft's WorldWide Telescope turns your computer into a telescope. This jaw-droppingly cool tool blends images and data from ground and space-based telescopes to allow for seamless panning and zooming across the night sky. You can also take guided tours, narrated by astronomers, featuring interesting places in the sky.
CitySearch helps you explore city life, from Las Vegas hotels to New York restaurants, Chicago events to Seattle coffee houses. Find recommendations, ratings, reviews, tips and more.
You can find several Online Maps and Driving Directions at http://askbobrankin.com/maps_and_driving_directions.html
Genealogy

Cyndi's List
is a comprehensive index to over 100,000 genealogical resources on the Internet. You'll find a list of links that point you to genealogical research resources in many different countries, all categorized & cross-referenced. It's like a "card catalog" to the genealogical collection in the immense library that is the Internet. Over 1000 new links are added each month!
More Genealogy resources at http://askbobrankin.com/genealogy_research.html
Urban Legend Research

Snopes
- Snopes is one of the best urban legend debunking sites on the Net. Before you forward that crazy story to all your friends, check it out on Snopes.
David Emery's Urban Legends and Folklore site also has a wealth of well-researched and common sense information on urban legends.
Air Travel
Use
FBOweb
to see the real-time flight path and current location of the flight in progress, overlaid on a map. You can also track flights in 3D, with FBOweb's ultra-cool Google Earth interface.
See how time you have to spare before arriving at the airport. The Federal Aviation Administration's Air Traffic Control Center tracks Arrival & Departure Delays.
Miscellaneous Research Tools

BIBLE SEARCH -
Bible Gateway
is a tool for reading and searching the Bible online, covering over 100 languages and translations. It provides advanced searching capabilities, which allow readers to find and compare passages based on keywords, phrases, or scripture reference.
FAQ SEARCH - At FAQs.org you can peruse over 3500 Frequently Asked Questions files from Usenet discussion groups. Find (possibly) expert answers to all your questions from Artificial Intelligence to Zoroastrianism.
FINANCIAL AID - FinAid is the most comprehensive collection of information about student financial aid on the web. FinAid is free and has a stellar reputation in the educational community as the best Web site of its kind. Make it your first stop on the Web when looking for ways to finance an education.
HOUSE VALUES - Zillow.com offers free automated house valuations on more than 80 million homes across the United States. You can see the estimated value of your house, your neighbor's house, or just about any other home in the country -- whether it's for sale or not. Zillow pulls information from public real estate records, tax rolls and other sources to compute a house value. Zillow also offers a forum where you can chat with pros, as well as other home buyers and sellers.
PEOPLE FINDERS - Need to find someone's phone number, address, website, profile or other personal info? Check out my long list of people finders at http://askbobrankin.com/free_people_search.html.
SPECIALIZED GOOGLE SEARCHES - Just visit Google and type in a phone number, stock symbol, or Fedex tracking number, and see what happens. Learn more about Google's secret search tools at http://askbobrankin.com/specialized_searches.html.
Got a favorite online reference, research or search tool? Post a comment below and tell us about it...
Ask Your Computer or Internet Question



(Enter your question in the box above.)

---

---

| | |
| --- | --- |
| | Check out other articles in this category: |

| | |
| --- | --- |
| | Link to this article from your site or blog. Just copy and paste from this box: |
This article was posted by Bob Rankin on 8 May 2009
---
---
---
Post your Comments, Questions or Suggestions
---
Article information: AskBobRankin -- Free Online Research Tools (Posted: 8 May 2009)
Source: https://askbobrankin.com/free_online_research_tools.html
Copyright © 2005 - Bob Rankin - All Rights Reserved