Here's How to Clean Computer Clutter
| | |
| --- | --- |
| A computer is like a car in one respect: both tend to accumulate junk in hard-to-reach places. Cleaning out your car can be a messy, sweaty job with plenty of opportunities for back injuries. Cleaning out a PC is a more civilized affair. Here are some free tools to clean up your hard drive, improve system performance, and make sure your backups run smoothly... | |
Hard Drive Cleanup and Maintenance
Are you running out of space on your hard drive? Does it take forever to do backups? Or maybe you feel there's just a lot of junk on your computer. Chances are, there's a boat-load of unnecessary and/or duplicate files on your hard drive that can be deleted. Windows 10 and 11 make it easier to find unneeded and unwanted files clogging your computer. Let's take a look at those built-in tools first, and then some handy third-party utilities to help with the hard drive cleanup.
There are many sources of wasted disk space. Windows creates some when it is installed, including updates, rollback files, hibernation and paging files, and multiple Restore Points. Some apps create temporary files during installation and uninstallation, and fail to clean up after themselves. Apps also generate log and data files that may not be necessary. Temporary download files tend to become permanent, unless occasional pruning is done.
If you upgraded from a previous Windows version, Windows saved a copy of your old operating system and its settings in a folder named Windows.old. This file can be several gigabytes in size. If you have decided to fully commit to the upgrade, here is how to recover that space:
Type "cleanup" in the search box and click on "Disk Cleanup" in the results. Select the drive you want to clean up (usually your C: drive). On the next screen, click the "cleanup system files" button in the lower-left corner. After the disk scan, a list of items you can remove is shown. Check the box next to "previous Windows installation(s)". Before clicking "OK" to start the cleanup, review the whole list of items that can be removed. Check the box next to any other item(s) you wish to remove. Then click "OK."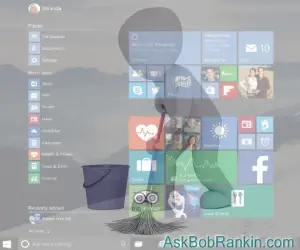 Windows 10 and 11 have Storage Management features that can help you see where all your disk space has gone and recover some of it. To access this tool, enter "storage" in the search box and click on "Storage Settings (system settings)." Note the "Storage Sense" button on the Storage main menu. When enabled, it automatically deletes temporary files and empties the Recycle Bin. Click the "Configure Storage Sense" link to fine-tune what gets deleted and when. The default is to jettison the detritus only when storage is very low. But I like a more aggressive approach, so I chose the run Storage Sense "every week" instead of "during low free disk space" and to delete files in my Recycle Bin if they are more than 14 days old.
The Storage app categorizes the types of files on your system drive, and shows how much storage each category is consuming. Click on a category to see what specific files are in it and how much space they consume. For example, in the Apps and features category, when you click on a specific item, buttons appear next to it: "Modify" and "Uninstall" or "Move" and "Uninstall." If a button is greyed out, you can't perform that function on this file. In general, the apps built into Windows 10 and 11 cannot be uninstalled, i.e., the Camera app. The Modify button will open the installer for that app, and the Move button lets you move an app to another disk. (I found that the Move button was always greyed out, even though I have multiple disks on my PC.)
Clicking on some of the other categories, such as Temporary Files, Documents, or Pictures, may reveal some large files that can be deleted. Don't delete files if you're not sure what they are. Photos, music and video files can take up a lot of space on your hard drive. Open the Pictures folder, switch to the Details view, then sort by size to find the biggest files. Then you can review and delete the ones you don't need.
Drilling Down for Space Hogs
As soon as I typed that heading, I couldn't help but think of "Pigs in Space," a recurring feature on "The Muppet Show" in the 1970s. So of course I did a quick search and found that not only are the old episodes available on Youtube, there are also some new ones! This has nothing whatsoever to do with the topic at hand, but that's how my brain works. You're welcome, and I'm sorry.
Another space-hog is pagefile.sys, the file in which Windows temporarily stores parts of apps and data files when the whole things won't fit in RAM. Generally, you should let Windows manage the amount of space devoted to pagefile.sys; it will grow and shrink as needed. But if you are really tight on disk space, you can adjust the maximum size of pagefile.sys or even delete it entirely (not recommended). Here is how to manage pagefile.sys:
• Click Start and search for "advanced system settings."
• Select the Advanced tab on the resulting screen.
• Click on the "Settings" button in the Performance section of the Advanced screen.
• On the Performance Options screen, click "Advanced."
Finally, there is "Total paging file size for all devices." Click "Change" to see your options. "Automatically manage…" is the default option. Uncheck it to manually adjust things. You can set custom initial and maximum sizes; let the system manage the pagefile.sys size; or do without a pagefile.sys file altogether (not recommended). Whatever you change, you'll need to reboot before the changes take effect.
Other Hard Drive Cleaner Uppers
Computer housecleaning should really start the day you turn on a new PC. Most computers come loaded with unnecessary and often unwanted programs. The software developers pay computer vendors to install their trialware on new PCs, hoping that new buyers will try and purchase some. Among experienced users, such programs are known as "crapware". Revo Uninstaller and Bulk Crap Uninstaller are two advanced uninstallers that can remove even the most stubborn program. AppZapper is a similar program for Mac users.
Web browsers generate a ton of digital clutter. Browsers store images, cookies, download histories, and other temporary files that they might need again. These files are handy but not strictly necessary. They don't get cleaned up automatically, either. Utilities such as CCleaner and Privazer sweep up browser clutter as well as other traces left on your computer by Windows.
Duplicate files are another form of digital clutter. Duplicates are especially common among music and image files. Utilities such as Auslogics Duplicate File Finder (FREE) use metadata to identify duplicates, or do a byte-by-byte comparison of files that have common names and sizes. EaseUS CleanGenius is a duplicate file finder for Mac OS X users.
Here are some other tips that should work on any system to reduce the load on your hard drive:
• Delete photos and movies you no longer need. These files can be HUGE sometimes.
• Use Media Player and/or iTunes to delete any music, video or podcasts you no longer need.
• Look through your Documents folder for old or unwanted word processor and spreadsheet files.
• Clean up your email folders - Inbox, Sent, Trash, Junk, etc.
Here's my secret weapon when it comes to really cleaning up a hard drive. JdiskReport is a disc usage analyzer for Windows, Linux and Mac OS X systems that visually represents the space taken up by various files and folders on your hard drive. You can use it to find large files, overstuffed folders, and other hard-to-find junk. WinDirStat (for Windows only) is similar, but displays the information about large files and folders in a "treemap" format that some people find very helpful. Mac users may want to check out GrandPerspective, which does a similar job.
Do you have something to say about hard drive cleanup? Post your comment or question below...
 

Ask Your Computer or Internet Question



  (Enter your question in the box above.)

---

---

| | |
| --- | --- |
| | Check out other articles in this category: |

| | |
| --- | --- |
| | Link to this article from your site or blog. Just copy and paste from this box: |
This article was posted by Bob Rankin on 17 May 2022
---
---
---
Post your Comments, Questions or Suggestions
---
Article information: AskBobRankin -- Here's How to Clean Computer Clutter (Posted: 17 May 2022)
Source: https://askbobrankin.com/heres_how_to_clean_computer_clutter.html
Copyright © 2005 - Bob Rankin - All Rights Reserved