HOWTO: Boost Cell Phone Battery Life
| | |
| --- | --- |
| There are two kinds of mobile device users: one rants constantly about the uselessness of the battery in his phone, tablet, laptop, etc.; the other kind shrugs and says, "Mine's not so bad." The difference is partly one of temperament; some mobile users take simple steps to extend the time between recharges. Here are some simple ways to conserve a battery's charge and extend the life of the battery itself... | |
Extend Your Mobile Phone's Battery Life
Oh, no... you're in the Red Zone again. Your mobile phone seems to drink battery juice like a thirsty man in the desert who just found water. But did you know, most of the factors that affect battery life are things you can manage or control? Here are a bunch of tips you can use to make your cell phone battery last longer.
About 30 percent of a battery's power is consumed by a device's display, so that's a good place to start saving. Adjust the inactivity time-out interval of your display – the number of seconds that it remains brightly lit when there is no user input before shutting off. If possible, set the brightness of the display lower, increasing it only when necessary. Most phones include an auto-brightness feature that automatically adjusts screen brightness depending on ambient light conditions.
WiFi adapters also consume a large percentage of battery power. I have talked with iPhone owners who said they needed new batteries because theirs would not hold more than a couple of hours' charge. In every case, examination of the iPhone revealed the WiFi adapter was left on permanently. Turn it off when you're done with WiFi.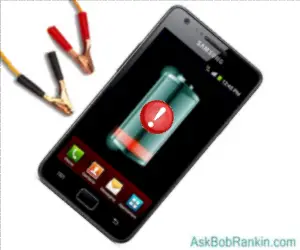 The same goes for Bluetooth. Turn off Bluetooth when you don't absolutely need it. Even when you are not talking on your Bluetooth headset, the radio in your phone is still burning electricity listening for Bluetooth signals. Enable Bluetooth only in your car, for hands-free chatting, or when you are expecting a call for which you need to use that dorky-looking headset.
GPS service is another big battery sucker. Most people don't want GPS turned off entirely, and many modern devices don't make you wander about clueless. On the iPhone and other makes, you can selectively disable GPS on an app-by-app basis, leaving it on only for mapping and other important services. Uninstalling unused apps that may be using GPS is another battery-saver.
That Syncing Feeling...
Apps that are always syncing your data may also drink deeply of that precious nectar we call battery juice. Sure, you want your email on your smartphone, you want your calendar in sync with your desktop, and your Facebook updates in timely fashion. You want your weather and news ticker to be current. And "live wallpaper," really? Most of these apps let you control how often the sync takes place. Setting it to a higher number of minutes will help to conserve battery life. You can also turn off syncing and just get your email (or other data) on demand.
Of course, watching videos, playing games, and data-intensive activities all drain the battery faster, too. You'll want to minimize those activities if your next chance to plug in might be hours away.
Don't buzz or vibrate. A battery only has to move a tiny diaphragm to play a ringtone, but it must shake your whole phone to give you a vibrating alert of an incoming call or email notification. If you don't want to be disturbed (or disturb your neighbors), disable vibrating notifications and leave the phone where you can see the screen light up as new call comes in. Similarly, consider turning off the "haptic feedback" feature that makes your touchscreen vibrate on keypresses.
Here's a tip I learned while staying with friends in their rustic wilderness cabin. When cell phone signals are very weak, your phone will go crazy trying to connect to a cell tower. After watching my battery life drop like a rock, I realized what was happening. If you are in an area with a weak or spotty signal, you can turn on Airplane Mode, which stops your phone from connecting to cellular networks.
Apps to Monitor and Improve Battery Life
Android phones have a built-in Battery Use screen that will show you exactly what hardware and software features are using the most battery power. You can find this under Settings. Use this info to improve the battery life in the ways that will benefit you most, without compromising features you need to use often. Also under Settings, you can look for Power Saving Mode, which will limit CPU and screen power. I don't think this is part of the iPhone operating system, but you can use Carat on iOS devices to see what's hogging the battery.
There are apps that automatically manage battery power. JuiceDefender is one such app for Android phones. In the Apple Store, a similar app called Battery Saver claims it can double battery charge life "when used properly." It's one of the most popular iOS apps.
When will they make a battery that lasts as long as a tank of gasoline? Probably never. For one thing, you wouldn't want to carry a tank of gasoline or a battery that lasts as long. Also, physics imposes certain hard limits on the amount of electrical energy that can be stored in a given substance, and battery engineers are pretty close to that limit. A radical new type of battery technology is needed and such things arrive in their own sweet time.
Lithium-ion is the state-of-the-art in batteries now. Some enhancements have come along to improve Li-on's storage capacity, but it's pretty much maxed out. The next generation battery material may be grapheme, a single layer of graphite (carbon) molecules. Vorbeck Materials Inc. is working on grapheme battery technology right now.
Do you have other battery extending tips? Post your comment or question below…
 

Ask Your Computer or Internet Question



  (Enter your question in the box above.)

---

---

| | |
| --- | --- |
| | Check out other articles in this category: |

| | |
| --- | --- |
| | Link to this article from your site or blog. Just copy and paste from this box: |
This article was posted by Bob Rankin on 13 Dec 2013
---
---
---
Post your Comments, Questions or Suggestions
---
Article information: AskBobRankin -- HOWTO: Boost Cell Phone Battery Life (Posted: 13 Dec 2013)
Source: https://askbobrankin.com/howto_boost_cell_phone_battery_life.html
Copyright © 2005 - Bob Rankin - All Rights Reserved