No Bars, No Signal? Try a Cellular Signal Booster
| | |
| --- | --- |
| Sometimes your mobile phone can't pick up a good signal inside your home, a building, on the road, or in remote areas. In some cases, a cell phone signal booster might help. Here's the scoop on which ones work and which to avoid... | |
Try These Cell Phone Signal Boosters
Cell phone boosters can help improve the signal you can pick up on your cell phone. The boosters work sort like of a TV antenna. It gives you more range, and more power is put into amplifying the signal, to give you a better connection to the cell phone signal outside of your house, car or building. Some boosters do actually work, depending on the circumstances. Some boosters absolutely don't work. Here's the scoop…
Most cell phones usually work better while you're on the road, or outside in most cities. Cell phones were designed to be the tool you use while you weren't able to call on a landline phone. Most people have grown so accustomed to using their cell phones; many have dropped their landline phones. So the need for a cell phone to work in additional areas is of high interest.
Boosters, in general, won't increase your cell phone signal to super strength, as advertised on some products, but they can improve it enough to make it usable on the fringes of a coverage area, or where the signal is weak. Many reviews suggest that the quality boosters will improve signal by at least a full bar or two. If you're in a cement basement, or a metal structure, you probably won't see these results, but if you want to be able to walk away from your window and further into your house or apartment, these devices might be useful. In some cases, the boosters also improved the sound quality of the call.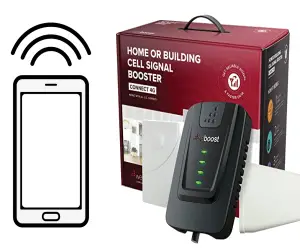 The WeBoost Home Room Cell Phone Signal Booster Kit ($379) is designed for residential spaces up to 1,500 square feet, and promises improved indoor cellular reception, fewer dropped calls, better voice quality, and faster data speeds. It works with all U.S. mobile carriers (Verizon, AT&T, T-Mobile, Sprint and others). The Home Room has two antennas, one inside and one outside antenna that can easily mount to a deck railing or other surface.
Weboost is a brand of Wilson Electronics, one of the leading manufacturers of cell phone boosters. Wilson has been making cell phone booster products for many years, and their products reliably boost cellular signals in home and business settings.
Wilson also makes mobile signal boosters that include an antenna which can be mounted on your car's window or roof. The antenna captures the signal and feeds it into an amplifer, which can be directly connected to your cell phone via a special cable. The in-building amplifiers come in two forms. The first includes a roof-mounted antenna connected to an amplifier, which beams the amplified signal wirelessly into a certain area of the home or building. No physical connection to your phone is required and the signal can be used by multiple phones and/or laptop cellular data adapters. The second type is very similar but in this case the amplifier has a built-in antenna, and can be mounted outdoors (on a pole or wall) or indoors on a window.
More Cell Phone Booster Products
Another option is the SureCall Fusion4Home Cell Phone Signal Booster ($298) which covers up to 2000 square feet and boosts weak cell signals. Both voice and data signals (4G, LTE, 3G) can be amplified. The Fusion4Home is compatible with all North American carriers and is FCC approved. Like the WeBoost product, this one also has one inside and one outdoor antenna. The outdoor antenna is omnidirectional, so you don't have to worry about which direction to point it.
SureCall sells a full line of cellular signal boosters for home, office, and in-car settings. Their products receive good reviews from customers, and tend to be a bit less expensive than Wilson models.
Cell phone providers like Verizon and AT&T also offer similar products as well. Contact your cellular provider to check into these offerings, and compare with the products mentioned above.
For the boosters that work, the prices can range from $279 to $500 or more. Most also require that you do your own installation, or if you want someone else to do it for you, expect to pay more. While the systems are generally easy to install, you may need to climb into your attic or onto your roof in order to install the antenna.
Your signal might improve by only a bar or two, but that improvement seems to be worth the price, according to people who have these systems. However, it is highly recommended that you work with a dealer that offers different types of boosters, and that they have a return policy available. Try a couple of different devices to find the one that works with your phone, your cell phone provider, and in your area, etc.
Scam Cell Phone Boosters - The Ones That Don't Work
There are many products that have come out over the years that simply didn't work. You might remember a product where a sticky strip was applied to the cell phone battery, and that was supposed to improve your cell phone signal. There were many complaints about the product that it didn't function as advertised. In fact, one study showed that the sticker simply did nothing, and in some cases weakened the signal. I bought one at a Radio Shack store several years ago and found that it didn't help to boost my celluar signal.
Other boosters that offer a simple antenna attached to your cell phone, or perhaps other gimmicks more than likely do not work. Bottom line, to get a better mobile phone signal, you need something that will reach outside and bring the signal to your phone.
Some systems that do include an antenna might work well, until you leave the room where the base is located. Different products operate in different ways, depending on your environment. Factors affecting the usefulness of signal boosters include your location, cell phone signal availability in your area, which mobile phone company you use, the phone you use, and even the weather.
Do you have a cellular signal booster? Tell me how it works (or not) by posting a comment below…
 

Ask Your Computer or Internet Question



  (Enter your question in the box above.)

---

---

| | |
| --- | --- |
| | Check out other articles in this category: |

| | |
| --- | --- |
| | Link to this article from your site or blog. Just copy and paste from this box: |
This article was posted by Bob Rankin on 20 Jan 2020
---
---
---
Post your Comments, Questions or Suggestions
---
Article information: AskBobRankin -- No Bars, No Signal? Try a Cellular Signal Booster (Posted: 20 Jan 2020)
Source: https://askbobrankin.com/no_bars_no_signal_try_a_cellular_signal_booster.html
Copyright © 2005 - Bob Rankin - All Rights Reserved