Is Bittorrent Downloading Illegal?
| | |
| --- | --- |
| A reader asks: 'I have been told that I can download music, movies and even popular software for free using Bittorrent. Sounds too good to be true... What exactly is Bittorrent, is it legal, and safe to use?' Here's the scoop, and my advice... | |
What is Bittorrent?
BitTorrent is two things, depending on how many pencils you have in your pocket protector. In technical terms, BitTorrent is a peer-to-peer (P2P) platform designed to deliver large files over the web.
The BitTorrent file distribution protocol was created by programmer Bram Cohen to distribute large amounts of data by relying on an ad-hoc network of individual users (peers) instead of expensive servers and bandwidth resources. In a nutshell, BitTorrent speeds up the download time by getting smaller chunks of large files from many different sources. A more popular file can be downloaded faster, because many people will be downloading it at the same time, while also uploading the data to other users.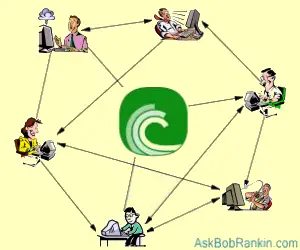 BitTorrent is also a software program that provides Internet users with downloadable digital content such as films, music, games, ebooks, podcasts and software. To use BitTorrent, one needs to install a BitTorrent client, a free software program that implements the BitTorrent protocol. The client has the capacity to prepare, request and transmit any type of computer file over a network.
Downloading BitTorrent Software
Based on your operating system and computer horsepower, many BitTorrent clients are available for download. Some clients are laden with obnoxious adware, but here are two that work well and are malware-free.
µTorrent is the most widely used BitTorrent client outside of China, where a client called Xunlei reigns supreme. Owned by Bittorrent, Inc., the company that developed the BitTorrent protocol, µTorrent runs on Windows or Apple platforms and is ad-supported.
BitComet is a multi-protocol downloading client for Windows. It does BitTorrent, FTP, and HTTP downloads, incorporating various features that make it easier to download lots of files from many different sources simultaneously.
How Does BitTorrent Work?
While sharing the large files over the internet, the usual problems faced are bandwidth constraints, upload limits and other problems peculiar to the internet. To tackle this problem, BitTorrent breaks a large file into number of pieces, or torrents. To recognize each piece, the software tags it with a checksum (sort of a digital fingerprint) and records it in the torrent file. When the file is being downloaded, the checksums in the original files are compared with the checksums in the received file to make sure that the file is complete and error-free.
A typical BitTorrent file will contain an 'Announce' section, which specifies the file names and length of each individual piece. The person wishing to make a file available can place a link to the file on a website. Users who want to download a specific file can browse or search the web, then click the download link, which opens the BitTorrent client to begin the download. While downloading a file, the BitTorrent program connects not only to the link, but also to other peers who have the same file. This way, sharing of network resource is maximized and the download becomes faster and more reliable.
One criticism of BitTorrent is that the benefits of the P2P sharing can break down as more and more people have the beginning of a file, and no one has the end. Download speeds can slow to a crawl in such a situation. And for files that are not often downloaded, it can actually take much longer than a direct download because BitTorrent is optimized for downloading in a many-to-one environment.
Is Bittorrent Safe and Legal?
There are also reports from Internet service providers that BitTorrent and other P2P traffic is consuming 60 percent or more of all Internet bandwidth. Granted BitTorrent is just a protocol, and as such is neither good nor evil. But it stands to reason that most BitTorrent traffic is illegal downloading of copyrighted materials. Couple that with the high costs of bandwidth, and you can understand why some ISPs are banning or throttling P2P usage.
You should also be aware that illegal downloading of copyrighted music, movies or software can get you into financial or legal trouble. Copyright owners (for example, the Recording Industry of America, and the Motion Picture Association of America) have teams of lawyers, and sneaky ways of detecting when people are downloading or sharing their content.
I've heard from readers who have received letters demanding payment of royalties, or threats that their Internet service might be terminated. One high-profile case involved college student Joel Tenenbaum, who took his case to trial, was found guilty, and ordered to pay $675,000! He's been fighting legal battles since 2003, but none of his appeals have been successful.
And there's also the problem of getting malware disguised as the music or other content you thought you were downloading. Hackers and othercyber-criminals have no compunction about taking advantage of people who are looking to get "something for nothing." The result could be a nasty virus infection, unwitting enslavement in a botnet, or even identity theft.
BitTorrent Search Engines
To find the files they want to download, users turn to Bittorrent search engines. These sites do not host the desired files themselves; they serve only as indexes, providing the torrent files that contain the information necessary to locate and download the pieces of a desired file.
Bittorrent.com is such a search engine. The infamous Pirate Bay is another, and perhaps the most popular. There are many mirrors (real-time copies) of The Pirate Bay's index on independent servers all over the world. This helps to ensure that TPB (as it's abbreviated) will always be available even if the parent site is offline due to technical or legal problems. A list of TPB mirror sites can be found here: http://proxybay.info/
Torrent search engines have been shut down for facilitating copyright infringement; Torrentspy.com and ISOHunt.com are two examples. By providing the information that illegal downloaders need to commit their crimes, these sites were deemed to be accomplices and co-conspirators in many copyright crimes.
So to answer the original question, there's nothing illegal about Bittorent, per se. Just like a knife, it can be used to do both good and evil. But realistically, there aren't very many people using Bittorrent software for legal purposes. My advice is to avoid using Bittorrent, unless you're 100% certain that the content you're downloading is 100% legal.
Your comment or question about Bittorrent is welcome, post below...
 

Ask Your Computer or Internet Question



  (Enter your question in the box above.)

---

---

| | |
| --- | --- |
| | Check out other articles in this category: |

| | |
| --- | --- |
| | Link to this article from your site or blog. Just copy and paste from this box: |
This article was posted by Bob Rankin on 3 Mar 2014
---
---
---
Post your Comments, Questions or Suggestions
---
Article information: AskBobRankin -- Is Bittorrent Downloading Illegal? (Posted: 3 Mar 2014)
Source: https://askbobrankin.com/is_bittorrent_downloading_illegal.html
Copyright © 2005 - Bob Rankin - All Rights Reserved