Laptop Batteries: Replace or Revive?
| | |
| --- | --- |
| Sooner or later, you will need to replace your laptop battery. Every battery degrades with use, even rechargeable ones. When your laptop battery no longer keeps a charge or the battery life is too short, there are several things you can do... | |
Can I Revive My Laptop Battery?
Laptop batteries are not forever. You can expect them to last up to 5 years, or roughly 1000 charging cycles. Why? Well first you have to understand that a charged battery is not in its natural state. Charging a battery is like filling up a tire with air. Both the battery and the tire want to return to their natural discharged (deflated) state. Secondly, the chemical reactions that happen inside a laptop battery slowly degrade over time, reducing the ability to fully charge, as well as the maximum run time.
In some cases, you can try to revive or revitalize your laptop battery. There's a story floating around that freezing a NiCd or NiMH laptop battery overnight in a refrigerator freezer will restore its ability to absorb and hold a nearly full charge. It's important, say those who have tried this technique, to let a recently used and hot battery cool down to room temperature before putting it in the freezer in a sealed plastic bag. It is equally critical, they say, to let the battery thaw and warm up to room temperature fully before attempting to charge or use it again. After fully charging, run your laptop until the battery is drained, then repeat this cycle a few times for maximum effectiveness.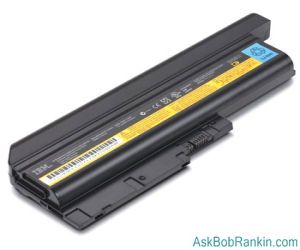 I haven't personally tried this technique, and there are those who say it's a myth. But if your battery is at the point where it will only hold a charge for a few minutes, it can't hurt to try it before buying a replacement laptop battery. Note that this applies only to the older style NiCd or NiMh batteries, and NOT the newer lithium batteries. Lithium batteries can actually be damaged by freezing, so don't leave your laptop in a cold car overnight.
I've also read stories about people who have taken apart their battery packs, and tried to replace the internal circuit board and/or the lithium cells. I can't say strongly enough what a BAD idea this is. If a lithium cell explodes, you don't want to be anywhere near it, trust me. You should only attempt this if you are a trained electronics technician and you have all the necessary safety gear to protect your eyes, face, hands and other body parts you want to keep.
Another helpful thing you can do is occasionally re-calibrate your laptop battery. Sometimes the power meter on your laptop gets out of sync with the battery, and your computer will shut down prematurely. See my related article Calibrate Laptop Battery for more info on how that works.
Buying a New Laptop Battery
Should you buy an OEM (original equipment manufacturer) battery, or a third-party aftermarket battery? OEM laptop batteries are painfully expensive. There is really nothing terribly proprietary about a battery except the shape of its case. If it supplies the right voltage and current to your laptop, any maker's laptop battery should be satisfactory. But there are unscrupulous aftermarket manufacturers who sell batteries that tend to leak, don't take a full charge, or don't last as long as they should. Aftermarket batteries are an unknown gamble but much cheaper, often half the cost of OEM batteries. Research an aftermarket brand carefully to see what customers have to say about its longevity, performance, and the vendor's service.
Also, know the difference between recycled and refurbished batteries. A recycled replacement laptop battery is one that has been salvaged from a discarded laptop. It's used, and there's no telling how much life is left in it. A refurbished replacement laptop battery has been taken apart, had its chemical cells replaced with new ones, and restored to OEM specifications. Some refurbished batteries even last longer than OEM batteries of older model laptops, because their chemical cells are of newer technology that holds more charge. Unfortunately, you can't tell a recycled battery from a refurbished one by sight; so again, check the maker's reputation with a Google search before buying.
Oh, and before you spend your money on a new battery for your laptop, check to see if your battery is still under warranty, or if there are any recalls for it. A shiny new free battery from the manufacturer beats paying for one any day of the week! And of course, don't throw that toxic battery in the trash. Most stores that sell batteries or electronics will accept them for recycling.
Laptop Battery Longevity Tips
You can make your laptop battery last longer by following a few simple energy conservation tips:
Don't let your battery drain completely. Old NiCad batteries needed to be "deep discharged" now and then to maintain their capacity. But modern lithium batteries area actually harmed by deep discharge. Lithium batteries in laptops, mobile phones and tablets perform best when they are topped-up frequently.
Recharge your battery fully. If a battery is repeatedly only partially recharged before being used, it may never again be able to hold a full charge.
Use appropriate power management profiles. The power management features of modern laptops and operating systems give you great control over the power consumption of a laptop's display; audio system; networking adapters; disk drives, even CPU clock speed. Become familiar with the power management features of both your operating system and the laptop's BIOS (basic input/output system). Tweak these settings to optimize performance versus battery life.
Play DVD movies from your hard drive, or even better, a USB flash drive. It takes more battery power to spin a DVD disc drive than a hard drive, and a USB drive is more energy efficient than either. Rip your DVD discs to other media using free ripping software like Handbrake for Mac, Linux, or Windows.
See my related article Extend Laptop Battery Life for more tips on squeezing extra run time from your battery.
If your laptop spends most of the time plugged into an AC power outlet, here's what I recommend for lithium batteries. Charge the battery to about half full, then remove it from tha laptop. Every month or so, reinstall the battery, and run the laptop on battery power until it's ready for recharge. Recharge fully, then allow it to drain back to half, and repeat the process.
Do you have a comment or question about replacing a laptop battery? Post your thoughts below...
 

Ask Your Computer or Internet Question



  (Enter your question in the box above.)

---

---

| | |
| --- | --- |
| | Check out other articles in this category: |

| | |
| --- | --- |
| | Link to this article from your site or blog. Just copy and paste from this box: |
This article was posted by Bob Rankin on 12 Apr 2012
---
---
---
There's more reader feedback... See all 21 comments for this article.
Post your Comments, Questions or Suggestions
---
Article information: AskBobRankin -- Laptop Batteries: Replace or Revive? (Posted: 12 Apr 2012)
Source: https://askbobrankin.com/laptop_batteries_replace_or_revive.html
Copyright © 2005 - Bob Rankin - All Rights Reserved