Mac OS X Leopard
| | |
| --- | --- |
| Apple's newest operating system, released in the Fall of 2007, is Mac OS X Leopard. Like it's feline namesake, this OS is slick and sleek and features all the multimedia bells and whistles Apple users have come to expect. Since its release, OS X Leopard has been scrutinized, dissected and reviewed by technology pundits. Let's take a quick look at some of the new features of Leopard, the pros and cons, and see how it compares to the competition... | |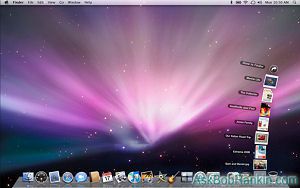 Stacks and Spaces in OS X Leopard
Although the Dock feature is not new within the Mac OS world, Dock now contains a new feature, Stacks. Stacks is a feature that allows you to quickly access files on your Dock. Stacks not only allow quick access to files but it will list the files in an aesthetically pleasing, well-organized fan or grid layout. By default, Leopard has two ready made Stacks; the Downloads stack, which will save files downloaded from the Internet, from e-mail and from iChat, and the Documents stack, which is where you can store word processing documents, spreadsheets, presentations and files of that sort.
As many users are beginning to realize, the Stacks functionality already exists in older versions of Mac OS, like Tiger. Dragging a folder onto the Dock in older versions of the OS provides that same quick access that Stacks touts. But Stacks does look nifty, especially when files are presented in the fan-like layout.
Turn on the Spaces feature by clicking an icon on the Dock, and you can create separate "rooms" for work, play, or special projects. Then you drag the apps you want to use into each space, and cut back on clutter on your desktop. I don't think this is built into Vista, although there are third-party apps to implement virtual desktops in Windows XP and Vista. But Ubuntu Linux has a slick rotating desktop-on-a-cube which just might be cooler than Spaces.
New Leopard Desktop Look
Leopard's desktop interface is based on the same crispy, shininess of the iTunes interface. Because so many more users are familiar with navigating in iTunes than the Mac desktop, this will make transitioning over to Leopard easier for Windows users. The Dock has a 3D look, and the menu bar is transparent. Active applications cast a shadow, and even icons have a glossy reflection to them. It's a very eye-pleasing, futuristic desktop look.
But of course beauty is as beauty does. The new desktop interface sports a fancy, fresh look, but not much new functionality to speak of. Windows Vista also offers a translucent Aero 3D desktop environment. The 3D effect seems to be more pronounced and sharper in Leopard though. Not surprising, since Apple, the darling of the artsy set, has always offered a snazzy, hip GUI.
64-Bit Architecture
Not a feature discernible to the eye, like a transparent Dock, but an improvement under the hood never the less. Leopard can run either traditional 32-bit or 64-bit applications. The benefit of this is in performance. When Steve Jobs demonstrated Leopard at last year's World Wide Developers' Conference, the 64-bit version of the OS was able to open large files quickly and efficiently and was able store more data in memory than the 32- bit version.
The downside of this isn't just limited to Apple; it's extended to any 64-bit OS. Most developers are still writing 32-bit apps. While it is agreed that 64-bit code is the wave of the future, most programs aren't there yet, even though Windows and Linux both have this capability as well. It renders the capability of a 64 bit OS moot if applications are running at 32-bit. To analogize, it's rather like having a car with 300 plus horsepower engine, and being restricted to drive 30 mph in the slow lane.
Time Machine
No, it won't let you journey back to the Jurassic period and see a live Stegosaurus. But Time machine will backup and restore in a quick and easy manner. The reality is that a lot of users are not doing regular back ups. The ease of using Time Machine may change that. Time Machine backs up data in a seamless, continual way to a non-bootable volume designated on a HDD, or even to an external hard drive. You can control what gets backed up, the entire disk or just particular files. You can also choose from which point in time you want to restore from. You can also use Time Machine in conjunction with Migration Assistant to migrate your files to another machine. All of these tasks are done from the user-friendly Time Machine interface.
There are some grumblings about the stability of Time Machine. Computerworld magazine ran an article a month after Leopard's release reviewing complaints about Time Machine. Apple's answer is that many of these users are backing up data to drives that are not properly formatted to work with Mac OS. Because it is still a relatively new feature, business customers are leary about abandoning their existing robust backup and restore strategies for mission critical data. At this point, it's primarily a technology geared for home users. Still, citing the fact that only about 25% of home users are backing up at all, Time Machine is a step in the right direction in terms of preventing critical data loss. Just keep in mind that it won't help you in case of hard drive failure, unless you backup to an external drive.
Some Additional New and Noteworthys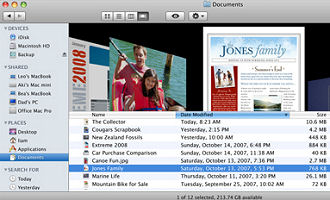 The Finder window has also been revamped. Finder now features Quick Look, which lets you look inside a file without launching that file's associated application. Cover Flow allows you to look at thumbnails of files (like the thumbnail view in Windows), useful when you are sifting through image files. Leopard also comes installed now with Boot Camp. Boot Camp is not a new product; but it is new in the sense that it comes as part of the OS. Boot camp allows you to run multiple OSs on one machine.
Safari has been souped up, Apple claims it is the fastest web browser on the Mac. Security has also been improved, allowing for the 256-bit encryption of disk images. Apple claims the Safari browser will render pages and execute JavaScript code 2-3 times faster than Firefox v2. There are also new controls in Safari for PDF viewing -- zoom in or out, save a PDF file, or open in preview mode.
I should also mention that the new Parental Controls feature allows you to set bedtime and time limits for using the Mac, so you can go to sleep and not worry about your teens staying up all night on Myspace or Youtube. You can even have different schedules for weekdays and weekends. Even better, the systems logs will track which websites your kids have visited, and who they've chatted with. If you have a home network, you can access the parental controls and monitor those Big Brother logs from the den while your kids surf in the family room.
Apple reports there are over 300 new features in Leopard. Some of them are quite noticeable, some more subtle, and some arguably are just re-packaging of older features. But overall, it's a compelling, complete and robust OS -- a worthy contender to Vista, Ubuntu and other challengers. Have you upgraded to Leopard? Tell us about your experience with Leopard...
 

Ask Your Computer or Internet Question



  (Enter your question in the box above.)

---

---

| | |
| --- | --- |
| | Check out other articles in this category: |

| | |
| --- | --- |
| | Link to this article from your site or blog. Just copy and paste from this box: |
This article was posted by Bob Rankin on 7 Jan 2008
---
---
---
Post your Comments, Questions or Suggestions
---
Article information: AskBobRankin -- Mac OS X Leopard (Posted: 7 Jan 2008)
Source: https://askbobrankin.com/mac_os_x_leopard.html
Copyright © 2005 - Bob Rankin - All Rights Reserved