[OUTBID?] Here's How to Win on eBay!
| | |
| --- | --- |
| If you've ever participated in an eBay auction, you've probably suffered the agony of seeing defeat snatched from the jaws of victory. Do you want to find out how they keep outbidding you at the last second, every time? Would you like to start WINNING some eBay auctions? Read on to learn the secret to success with eBay auctions... | |
What is eBay Sniping?
An auction is ending in just a few seconds... you've been the high bidder for hours or days, indicating that everyone else has given up. You watch the seconds tick down into single digits. 5… 4… 3… and the anticipation of winning swells in you.
And then suddenly, the screen refreshes and you see, "You have been outbid – bid again before it's gone!" But there's not enough time to enter a new bid before the auction ends. You lose, and you don't know what happened.
A "snipe" is what happened, most likely. Someone deliberately waited until the last second to place one bid exceeding the auction's high bid, giving you no time to respond with a higher bid.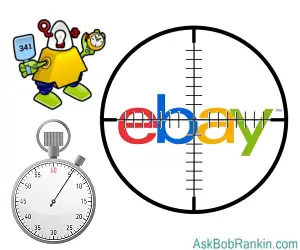 Sniping can be done manually, by placing a bid in the usual way and sitting there, finger hovered over the mouse key that will send the final "confirm bid" acknowledgement and place your bid in eBay's system. Sniping is so popular that eBay actually changed its bid-submission protocol to make it easier. But manual sniping is crude and unreliable.
As the clock winds down, a crash in the kitchen and a toddler's wail may distract, and you miss the end of the auction. Your Internet connection may choose that exact moment to stall or be lost completely. Your phone may ring. Someone may knock at your door. Lots of things can interfere with a manual snipe.
eBay Sniping Software
Software can handle this problem. While you go deal with distractions, or just go about your life normally, a bid sniping program can sit there waiting for the precise moment before the auction's end to submit your bid for you. Software can synchronize your computer's clock to "eBay time," which is really just National Time Service atomic clock time, so there is no win-ruining discrepancy between your PC's clock and eBay's.
The catch is that you must give the software your eBay ID and password; otherwise, it cannot place a bid for you. Here we reach the big fork in the road: do you trust your eBay login information to a remote server, or only to software running on your local machine?
It really doesn't matter from a security standpoint. A program running locally can transmit your eBay login info to anyone, anywhere, and you will never know it. So the notion that "local is better" is an illusion.
The advantages of using a remote service to place your snipes are real. Typically, a sniping service runs on a high-reliability server in a data center well designed to prevent downtime. It has a faster Internet connection than your consumer or small-business grade connection. It's just more reliable than a locally running program.
Google the phrase "eBay sniping service" and you will get a bewildering, large set of results. One says it's totally free, but near the bottom of its laundry list of unfamiliar benefits like "multi-win group bidding" and "contingency group bidding" it says you'll pay six bucks a year for "mirror service." If you're a casual eBay bidder, or brand-new to sniping, it can all get a bit bewildering.
Some Advice From an Expert
I talked to an expert who has been using eBay for many years. Here are some highlights from our conversation about sniping:
Q: How long have you used sniping services?
A: Over ten years; when you trade actively, with many different buy/sell transactions going on all the time, it's essential to have a sniping service take most of the load off of you on the buying side.
---
Q: What sorts of things do you trade in?
A: Since I started on eBay in April, 2002, I have dealt in everything from cloth diapers to high-end gems. I've even sold intangibles, like a PDF file containing woodworking plans for a rubber-band Gatling gun; that one was popular with grandpas, shop teachers, and Scout leaders.
---
Q: Sniping services have some confusing jargon, such as "contingency bidding" and "multi-win". What do those terms mean, and are they of value to the casual bidder?
A: A "contingency bidding group" is a group of snipes to be placed on identical or similar items that end at different times. If one snipe fails to win, the later snipes remain poised to place their bids. But as soon as a snipe wins, the remaining snipes are canceled. This allows you to set a group of snipes in which your maximum bid is pretty close to the starting bid. You – or rather, the sniping service – just keep trying to low-ball auctions until you succeed. It helps you pay the least you can.
Using a "multi-win group" can help you win two or three of the same item; a multi-win group will not cancel remaining snipes until all of the auctions have been won.
---
Q: What is "mirror service" and is it worth paying for?
A: It's not worth paying for, in my opinion. "Mirror service" means that your snipe is placed from two physical locations simultaneously, supposedly decreasing the chance that a snipe will fail due an Internet outage or server crash. But the risk is so small it's not worth buying insurance against it.
---
Q: Do you have a favorite sniping service?
A: Bidrobot.com has been around since 1998. It has won awards for its reliability and customer service. It does contingency group bidding but not multi-win groups. But how often do you need three identical cameras? Its interface is pure HTML, no Flash or Java or other jazzy but unnecessary frills. I like simple when I'm doing business; if I want bling, I can find that elsewhere. Another nice thing about BidRobot is that it can delete your pending eBay bids with no penalty, which you can't do when bidding manually at eBay.
---
Q: Any final advice for our eBay buyers and sellers?
A: Yes, there's a bit of irony in the auction business. I like to say "The winner of an auction is the one who pays more than anyone else thinks a thing is worth, for a thing the seller didn't think was worth keeping." Your mileage will vary.
I agree with our expert's recommendation to use BidRobot, and that's not just because I personally know Chuck Eglinton, the guy who has run it for over two decades. The service has helped more than 100,000 users win millions of auctions at eBay. BidRobot isn't free, but it's been proven that buyers pay less for the items they win simply by bidding only in the final moments of an auction. The basic "Unlimited Bidding for 3 weeks" plan costs $7.99 and comes with a $500 win guarantee. If you don't win that much, your account stays open until you win the amount promised!
There are other sniping services you can try. Gixen is free for the basic service, which has some limits. The Gixen Mirror service costs $6 a year, offers mirror bidding, contingency group bidding, multi-win group bidding, unlimited snipes and promises 100% reliability. eSnipe offers 30 free bids for new users, and charges 1% of the winning auction's price (minimum 25 cents, maximum $10). They claim to have saved eSnipe users over $7.2 billion since 1999.
Some people think that sniping is cheating, but eBay has not shown any inclination to ban the practice. If you want to shop on eBay without the worry of being outbid, you can skip the auction process and use the Buy it Now option, which is available on many listings.
Your thoughts on eBay buying, bidding and sniping are welcome! Post your comment or question below…
 

Ask Your Computer or Internet Question



  (Enter your question in the box above.)

---

---

| | |
| --- | --- |
| | Check out other articles in this category: |

| | |
| --- | --- |
| | Link to this article from your site or blog. Just copy and paste from this box: |
This article was posted by Bob Rankin on 24 Nov 2020
---
---
---
Post your Comments, Questions or Suggestions
---
Article information: AskBobRankin -- [OUTBID?] Here's How to Win on eBay! (Posted: 24 Nov 2020)
Source: https://askbobrankin.com/outbid_heres_how_to_win_on_ebay.html
Copyright © 2005 - Bob Rankin - All Rights Reserved