[SELL IT] Tips for Ebay Seller Success
| | |
| --- | --- |
| Have you tried to sell some unwanted items to make a little extra money, but your attempts to sell on eBay have not worked out very well? Check out my power tips for eBay sellers to help you succeed. Read on... | |
Tips and Tricks for eBay Sellers
Looking to make some extra cash? eBay provides a number of ways for you to sell products or services quickly. It's become one of the largest online marketplaces for several reasons. First, almost anyone can use it, making it an even playing field for the small, one-person seller as much as it is for a big corporation. Second, eBay helps you promote your items, and you can take advantage of certain eBay features to control and predict your success. Third, it saves on the cost of owning a website, marketing, and much more. You pay only the minimal fees eBay states on the website.
You can take advantage of this great opportunity by doing several key things. You will probably want to sell the item fast, and probably you want to sell the item at the highest price you can get for it. Here are some eBay seller tips to get you started.
Check Your Timing
If you were selling a used car, you'd be more likely to sell it, and get a good selling price, if you parked it on a busy street. Likewise, if you're an eBay seller, you want your auction to end when the greatest number of people are browsing and bidding against each other at eBay. So, to get the highest prices when selling your items at eBay, schedule your auctions so that they appear on the first page of eBay at the busiest times at eBay.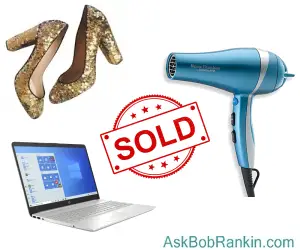 There are some exceptions, but in general you'll get the greatest number of bids and the highest selling prices if you schedule your auctions to end during the peak eBay traffic periods on Saturday and Sunday evenings.
Research Is Key
Research can come from looking at eBay itself. Don't just look at current products and see what similar products are selling for now. You can check with eBay to see what products have sold for in the past, as this is a more accurate look. Just because something is up for sale, doesn't mean it's selling. Just because someone placed a bid for $10 on a pair of jeans, doesn't mean it sold for that.
You can get a more accurate idea of how to price your items when you use the Completed Listings check box feature in the advanced search features. To learn more about advanced search options, visit: this page. I used this method to price and sell an IBM PC Jr computer that had been gathering dust in my closet for years. Looking at completed listings for similar items also helped me determine the correct shipping rate for a heavy item such as this. (More on shipping below...)
You should also think about optimizing your title and keywords when listing your item. Populate your title with as many relevant keywords as possible, so that people searching on eBay will find your listing. For example, don't make your listing title "Apple iPhone." Instead, go with something keyword-rich like "Apple iPhone 11 Pro Max - 512GB - Space Gray (Unlocked) A2161 (CDMA + GSM)".
In your listing text, give an honest and detailed description of your item. Be sure to include the condition (new, like new, refurbished used, for parts, etc.), size (length, width, height, weight) color, and any flaws. Ebay's Item Condition by Category page will help you choose the correct condition codes for collectibles, books, electronics, clothing, auto and other items.
According to Good Housekeeping magazine, three iPhone-related items sell on eBay every minute. Other popular items are home decor, TVs, fitness gear, collectibles, and clothing. These articles lists the Top Selling Items on eBay in 2023, and which items you should probably just toss, recycle, or donate.
Sell Quickly
If you need money quickly, you can change the number of days your bids are up. You can place the bid date as low as a couple of days. This encourages bidders to act now. You can also put up a Buy It Now button with a set price. This feature allows you to set an ideal price, and people can purchase the product outright instead of having to wait until the bidding is over.
Photos Are Everything
No matter how beautiful your description is, more products are sold based on pictures. Take plenty, at different angles, close up, and make them clear. Use a white background for dark objects and plenty of light. Use a dark background for a white object, etc. All eBay sellers know that if you want to sell anything, the photo is the most important part of it. Even eBay offers assistance on how to take better pictures on their website. Be sure not to hide any flaws in the product when providing photos, or you'll be dealing with returns and getting bad seller reviews.
Start Small, Build a Reputation
If you're a new seller, many bidders might not give you their trust yet. Sell a few items at low prices and give your all to quality when you first start out. Offering lower prices on a few of your products at first will encourage bidders to purchase.
Be honest with what you have. It's better to be honest about it in the notes about dents or damages, than to have it come out in the rating and comments section. People reading such things in the review section will be glad you were honest, and they will praise you even more if it was better than described.
Buyers will appreciate if you put measurements in the listing, especially for clothing and other articles that may be hard to judge from a photo. Use a ruler, yardstick or other reference item, and lay on or near the item before taking pictures. Include those measurements in the description as well.
Especially if you are a new seller, consider Ebay's Promoted Listings option, which lets you pay a small fee to boost the visibility of your items in EBay's search results.
And be sure to respond quickly to messages from potential buyers. That will help you generate positive feedback and a good seller rating.
Forget the Small Stuff
Don't bother with products that sell for less than a few dollars. Also, do research on every item that you own. If people aren't buying what you're selling, don't bother putting it up for bid. You'll pay a lot in eBay fees when you list items that aren't selling, and you'll lose money on a deal if you sell stuff for only $1.
Ship Smart
And finally, be smart about shipping. Accurate shipping rates are often what bidders are looking for. Smart bidders know that it doesn't take $10 to ship a paperback to the next state. Offer alternative, lower cost shipping if possible, offer to let the buyer pick up if local, and get approximate, realistic shipping costs. If you don't know, buy a metered scale from your local post office. This will help you save time and your customers will be happy knowing they aren't getting ripped off on shipping charges. Consider the free shipping option, because there is some evidence that EBay promotes listings with free shipping.
You might also think twice about offering shipping for heavy items, which would require expensive shipping. Local pickup is a good idea for large items. USPS offers a tool to help customers figure out their shipping costs.
The Facts of Life
As a seller, you must accept three facts of life. First, that all shippers will throw packages around, even if the word "FRAGILE" appears on the box. Your packages need to be sturdy enough to survive being dropped from the second story. Add the optional insurance when shipping an expensive or fragile item.
Second, understand that eBay is a buyers market. If an item goes missing in transit, the seller is responsible. If the buyer is fickle and wants to return an item for refund, the seller is accountable. High-volume eBay sellers that I know, tell me that glitches like this are rare, but you must be prepared to handle them if they do happen.
Speaking of returns, successful eBay sellers have found that offering free 30-day returns seems to boost listings in eBay's search results, and gives buyers more confidence as well.
And third, there's the potential tax liability issue. Prior to 2023, online payment processors were required to issue a Form 1099-K to sellers with more than 200 transactions, or total sales of more than $20,000 in a year. But as of January 1, 2023, new IRS rules require eBay to issue a Form 1099-K if your sales exceed $600 during the tax year. Bottom line, if you get the 1099-K, be sure to report it when filing your tax returns.
Starting out selling on eBay takes research, patience and keeping a cool head. Find out what products are selling for, and offer accurate shipping prices. Respond quickly to questions left by bidders, ship quickly, and provide the type of customer service you'd want if you were the buyer.
Got any hot tips for selling stuff on eBay? Your thoughts on this topic are welcome. Post your comment or question below...
 

Ask Your Computer or Internet Question



  (Enter your question in the box above.)

---

---

| | |
| --- | --- |
| | Check out other articles in this category: |

| | |
| --- | --- |
| | Link to this article from your site or blog. Just copy and paste from this box: |
This article was posted by Bob Rankin on 8 Sep 2023
---
---
---
Post your Comments, Questions or Suggestions
---
Article information: AskBobRankin -- [SELL IT] Tips for Ebay Seller Success (Posted: 8 Sep 2023)
Source: https://askbobrankin.com/sell_it_tips_for_ebay_seller_success.html
Copyright © 2005 - Bob Rankin - All Rights Reserved