See My Tips For Online Shopping
| | |
| --- | --- |
| Every online shopper loves a bargain, but how can you tell when you really have one? The games that sellers play with prices are as old as commerce itself. Bargain-hunting is particularly confusing online, where prices from all over the world are available. And do you know how to spot a fake review? Here are some tips for sorting bogus bargains from trustworthy transactions, and some tools to help you find the best prices online... | |
"Only Suckers Pay List Price"
My first shopping tip, whether it's online or in a store, is to ignore "list prices," "retail prices," "MSRP," and anything else that purports to be the standard price that only suckers pay. Once upon a time, "list price" meant something; but now it's just a number that sellers pull out of thin air to make their actual, everyday selling prices look good.
Many shoppers compare online prices (plus shipping cost, if any) to what brick-and-mortar stores charge (plus sales tax). Too often, they ignore the cost of going to and from a store: gas, vehicle depreciation, and the value of one's time. The main value of inspecting goods in person lies in subjective evaluations of quality. "Showrooming," the practice of shopping in stores and then buying online at lower prices, is the bane of retailers' existence. (Here's an interesting video which discusses the ethics of visiting a retail store to inquire about an item you know in advance you'll purchase elsewhere.)
Store prices may well be lower than online prices now and then, particularly when you are shopping for mass market items at a mass marketer. Walmart in-store prices are generally lower for the same products than the prices of Amazon Marketplace sellers, who are mostly small businesses with small purchasing power. I believe it's important to support local merchants and small businesses, as they provide jobs for many in the community. I don't mind paying a bit more for certain items, when I'm shopping on Main Street in my home town.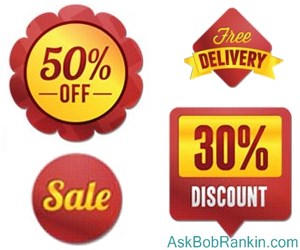 Price comparison services like Google Shopping seem ideal for bargain hunters. But sellers pay a fee or percentage of each sale for referrals from such sites, and that cost is likely factored into the price you pay. Comparison sites may not show you the lowest price first, instead filling the first search results page with sellers who pay the highest referral fees.
Whenever you see a comparison site offering a freebie if you buy through it, you can be sure you're paying for that gift in the form of higher prices for goods. That doesn't mean you shouldn't use price comparison sites -- just keep your eyes open and shop around. Bizrate and Pricegrabber can be helpful tools, epscially if you're shopping for a high-ticket item.
Smoke and Mirrors?
Did you know that about 50% of all online purchases are handled by Amazon? Of course, there are alternatives. My article
Jet and Other Alternatives to Amazon Shopping
provides links to some of them. I do shop at Amazon, but I have to admit I'm a litle concerned about the concentration of that much power in one company.
You may have heard that Amazon sometimes shows different prices for the same product to different shoppers, based on factors such as the shopper's location, search history, and Prime membership. An item might be priced at $10 plus $4 shipping for non-Prime shoppers, and $14 plus "free" shipping for Prime members.
When I shop for the lowest price (which may not always be your top priority), I often start at eBay or another auction site. I want to know what bidders have actually paid for a product, so I look at "sold" completed listings. If I can find a price elsewhere that's comparable to the lowest winning bid on eBay, I'm pretty sure I have a good deal.
Of course, there's an old saying among auction losers: "The winner of an auction is the one who pays more than anyone else thinks something is worth, for something the seller didn't think was worth keeping." But that's just sour grapes, right?
Bonus Tips for Online Shoppers
TIP #1: Various tools are available to help you find lower prices when shopping online. See my article on Money Savers For Online Shoppers. One that I use often is WikiBuy, which automatically activates when you're browsing, and shops around for the seller with the lowest price and best discount codes. Recently I was about to make a purchase on Amazon, and Wikibuy pointed me to an Ebay seller that had the same item at a much lower price.
TIP #2: Online reviews can be helpful, but sometimes they're bogus. See Can You Spot A Fake Product Review? For tips on how to read product reviews.
TIP #3: Have you seen the commercials where people brag about how they bought a 55-inch HDTV for $30? See my article Penny Auctions: Scam or Legit? to see why these "Penny Auction" sites are to be avoided.
What's your strategy when going shopping online? Do you always head for the same website, or do you employ online tools to compare prices? Your thoughts on this topic are welcome. Post your comment or question below...