Terabyte Hard Drives
| | |
| --- | --- |
| I've been thinking about buying a terabyte hard drive. Right now I have a 500GB drive. Are the terabyte drives as fast and reliable as smaller drives? | |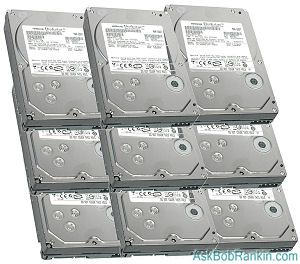 Should You Buy a Terabyte Hard Drive?
Hard drive storage is cheap and plentiful these days. Your typical desktop PC usually comes with at least 300 GB of hard drive space. Of course, hard drives that have a terabyte (1000 GB) or more of space are available as well, and prices seem to be falling every week. The average street price for a 1.0 TB drive is under $100.
Let's take a step back, and look at what a terabyte of hard drive space is. Hard drive space used to be measured in megabytes: roughly 1000 megabytes equals 1 gigabyte, 1000 gigabytes equals a terabyte. Large-capacity, multi-terabyte drives are becoming so cheap and popular that many technology pundits are dubbing current times as the "Tera Era". (See What is a Terabyte? to get an idea of how large a terabyte is.)
But do you really need that much disk space? It depends on what you want to stash on your hard drive. I've got a 2-year-old XP system with a 500GB drive and plenty of bells and whistles. Since I'm your typical geeky power user type, I download a lot of software. I've got an iTunes library with a couple hundred songs, and I store thousands of photo and image files. But when I checked my stats, I was surprised to see that I'm only using about 50GB of space!
Terabyte drives have increased in popularity because online entertainment and the Youtube generation means massive amounts of multimedia files such as music, video and images. With that said, your typical computer user would still be hard pressed to fill up an entire terabyte of hard drive space. But the past few decades have taught me that as computing power and storage capacity increase, operating systems, software and new technologies will spring up to consume them. As HD (high-definition) video becomes more common, and the convergence of television and computers continues, we may be filling up those terabytes with ease. Another excellent use for a terabyte hard drive is backup storage for all the computers on your home network.
Are there any another benefits of downsides to having large capacity storage? Used to be, larger drives had performance issues, in particular drives that used the older IDE/ATA interface standard. IDE/ATA in general refers to the type of connector, or interface the hard drive uses to attach to the motherboards. IDE drives took longer to write to the disk and are not hot swappable, meaning in case of drive failure, you couldn't simple swap one drive out for another working one without downtime and some configuration. IDE became more inefficient as the demand for storage space increased.
The latest iteration in hard drive interface is SATA, or serial ATA. The SATA interface gives better performance, and SATA drives are hot swappable, so drives can be replaced without a computer restart. Because of this new architecture and overall advances in hard drive technology, terabyte drives can be an efficient way to deal with large amounts of data.
Are Terabyte Drives Reliable?
While the consensus is that these new drive offerings have low failure rates, they're still relatively new. We don't have millions of consumers routinely juggling 1000+ gigabytes, so hopefully these monster drives will perform equally well when they're approaching 80 or 90 capacity. Hard drive manufacturers say "don't worry about it" but some may question if it's better to go with one single, massive hard drive, or is it better to have two smaller disks, for example two 500 GB drives?
I've heard some people caution that if you put your data on a terabyte drive (as opposed to having two or more smaller disks) then you have a single point of failure, and a larger disk would logically be more likely to develop a hardware problem. But I'm sure that people had the same qualms about moving from megabytes to gigabytes, and the reliability of computer hardware is always improving.
For users who want to beef up PC performance, or want to setup fault tolerance (ensuring data is protected in case of a system failure) having two smaller disks may be the better option. RAID (Redundant Array of Independent Disks) is a configuration option involving two or more disks to achieve better performance and data redundancy. For example, you could set up two of three 500 GB drives in a RAID array, and it will appear as a single large drive to the operating system. This can be done fairly easily through a disk management utility that comes with operating systems, and you can even configure it to enable a real-time backup of your data. (For more info on RAID, see my article What is RAID?)
Operating system support for terabyte drives seems to be solid. Latter day operating systems like XP, Vista, Linux and Mac OS X can handle a 1 TB drive with ease. The NTFS file system used by Windows-based computers can support drives up to 16 exabytes, which is 16 million terabytes. Tthere have been however, some issues reported with some flavors of Ubuntu and Vista 64-bit having problems with some of the 1.5 TB drives out there.
Another consideration when it comes to terabyte drives is the performance of disk utility programs, like Defrag. There have been countless horror stories of the length of time it can take for Windows to defrag such a large drive. This should still not be a deterrent to investing in a large-capacity drive; there are an abundance of third-party applications like Diskeeper, which can defrag a large drive in the background of a running operating system, with no intervention by the end-user. Even formatting, using the Windows Option for "Quick Format" can take no more than a few minutes when it comes to large capacity drives.
In other words, the negatives associated with terabyte hard drives are outweighed by the benefits of large, relatively cheap storage. The demand for high capacity storage is there, and it isn't stopping with just terabyte drives. It is anticipated that within the next ten years, cheap hard drives with a petabyte of space will be available. A petabyte is 1000 terabytes of space. To put that in perspective, the Library of Congress estimates that all of its collective data would fit on twenty terabytes of space!
Do you have a terabyte hard drive? Post a comment, tell us what you're doing with all that storage, and whether you've had any problems dealing with a terabyte of disk space.
 

Ask Your Computer or Internet Question



  (Enter your question in the box above.)

---

---

| | |
| --- | --- |
| | Check out other articles in this category: |

| | |
| --- | --- |
| | Link to this article from your site or blog. Just copy and paste from this box: |
This article was posted by Bob Rankin on 21 Jan 2009
---
---
---
There's more reader feedback... See all 21 comments for this article.
Post your Comments, Questions or Suggestions
---
Article information: AskBobRankin -- Terabyte Hard Drives (Posted: 21 Jan 2009)
Source: https://askbobrankin.com/terabyte_hard_drives.html
Copyright © 2005 - Bob Rankin - All Rights Reserved