The Lowest Price for Windows 10?
| | |
| --- | --- |
| Recently, I checked up on the two methods for getting Windows 10 for free that I described in a February 2017 article. Today, 13 months later, both methods are obsolete. So the next best thing, if you want to buy Windows 10, would be how to get the best price. Read on for the answer, and my warning about some sticky situations regarding the Windows 10 license key scam… | |
How to Buy Windows 10 (and how NOT to)
In my article "Can You Still Get Windows 10 For Free?", I outlined two loopholes that would enable you to get a free and legal copy of Windows 10. Unfortunately, both of those have been closed.
So if you did not upgrade to Windows 10 prior to December 31, 2017, you will need to buy a copy to upgrade now. Here is how Microsoft explains things on its "Download Windows 10" page:
"If you don't have a license to install Windows 10 and have not yet previously upgraded to it, you can purchase a copy here. If you previously upgraded to Windows 10 on this PC and you're reinstalling it, you don't need to enter a product key. Your copy of Windows 10 will automatically activate later using your digital license."
What does "previously upgraded to Windows 10 on this PC" mean? Recall that during Windows 10's launch period, and for more than a year thereafter, you could upgrade your existing Windows 7 or 8.1 installation to Windows 10 and then change your mind. You could undo Windows 10 and get your old, familiar operating system back.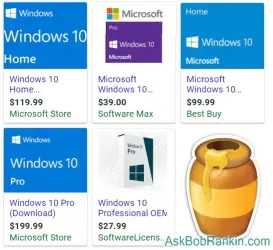 Now, if you did such a rollback, you can still upgrade to Windows 10 free of charge, permanently. (See the instructions on Microsoft's Download Windows 10 page.) But if you do, there is no going back to Win 7 or 8.1 again. And to the best of my knowledge, there is no other legal path to a free Windows 10 upgrade.
So if it's time to buy Windows 10, what's the best price we can find? Of course, I turn to Google first, searching for "Windows 10 retail price." But the results are somewhat disturbing.
The image accompanying this article is a screen capture of the Windows 10 deals that appeared at the very top of my search results. Microsoft's Home Edition's price is $119.99, and the Pro Edition is $199.99. Best Buy's Home Edition is $99.99. But what about the other two?
The Windows 10 License Key Scam
Windows 10 Pro for $39.00? That's 19.5% of Microsoft's price! What is a Windows 10 Professional OEM Software License, and why is it only $27.99? Can you really get Win 10 Pro for 14% of Microsoft's price?
No, of course you can't. At least not without certain complications. Both of these insanely low prices are bait for a "honeypot" - a trap laid for the greedy and hasty shoppers who scan search results for the lowest price, grab it, and get grabbed in return. There must a lot of such shoppers, or the scammers would not be paying top dollar for top billing in Google Shopping search results.
The $39 outfit looks like it's named "Software Max" at first, "America's Number One Online Software Store." Red, white, and blue all over that site gives Real Americans confidence; patriots are honest people, right? But look closely at this site's domain name.
"SoftwaresMax.com" - see the "s" before the "M?" That is British spelling. This outfit is passing itself off as "born in the USA" but it is not! Its owners might be in the UK, India, the British Virgin Islands, or any country where British ex-pats hang out. (You can verify that by doing a WHOIS lookup on the domain name.) If you peruse that site carefully, you will find the telltale "s" in several other places. It's very hard to break spelling habits you learned in elementary school and use every day except on your "made in the USA" site.
Even though you'll see a picture of a Windows 10 software box, both SoftwaresMax and the $27.99 outfit are selling Windows Product keys, those long strings of gibberish that you have to type in, often more than once, in order activate an official, legitimate license to use Windows. Big batches of keys are often provided to systems integrators who have to activate hundreds of Windows machines en masse. But those OEM keys are not supposed to find their way into the hands of individual end-users.
Yet they do. People who download pirated copies of Windows from peer-to-peer networks like Bittorrent love OEM keys and will pay - about $27.99 for one. Heck of a deal, and we just put one over on the Evil Corporation. Right?
But unauthorized use of an OEM license key violates the Digital Millennium Copyright Act, and that's a federal felony. There are no misdemeanors at the federal level. So before jumping on the lowest price, especially if it's a lot lower, wonder why it's so low and inspect the seller with a microscope. Even if you get what you pay for, you may not stop paying.
Avoid Sticky Situations
Scammers like these could just take your few dozen dollars and run, but they will probably stick to you just like honey - hence the term "honeypot." During your Windows setup experience, something may go wrong, so of course you call the seller's toll-free number for help. Now you're in the hands (or handset) of a smooth pro who knows exactly how to milk you for more money and personal info.
Out of curiosity, I clicked the "Shopping" link on the Google search results for "Windows 10 retail price," and then sorted by price. I found even more egregious examples of illegitimate sellers, with prices starting at US$5.95 for Windows 10 licenses. I checked out a few of them; they were all similarly sketchy, and located outside the USA. That means it's harder for US-based law enforcement to go after them.
Stay away from honeypots; it's very hard to get that stuff off. If you want Windows 10, buy it legitimately and sleep well at night.
I am really disappointed that Google did not flag those impossibly low prices and prevent those listings from appearing in Shopping search. It is not at all hard to do. Microsoft will gladly tell Google the lowest price for which Windows 10 can be sold to end-users. Heck, with all the machine learning and artificial intelligence at their disposal, they shouldn't even have to ask Microsoft.
Are you ready to move on to Windows 10? Your thoughts on this topic are welcome. Post your comment or question below...
 

Ask Your Computer or Internet Question



  (Enter your question in the box above.)

---

---

| | |
| --- | --- |
| | Check out other articles in this category: |

| | |
| --- | --- |
| | Link to this article from your site or blog. Just copy and paste from this box: |
This article was posted by Bob Rankin on 14 Mar 2018
---
---
---
There's more reader feedback... See all 27 comments for this article.
Post your Comments, Questions or Suggestions
---
Article information: AskBobRankin -- The Lowest Price for Windows 10? (Posted: 14 Mar 2018)
Source: https://askbobrankin.com/the_lowest_price_for_windows_10.html
Copyright © 2005 - Bob Rankin - All Rights Reserved