What Happens to Your Data When You Die?
| | |
| --- | --- |
| Benjamin Franklin famously said that nothing is certain except death and taxes. Sooner or later, we'll all kick the bucket, cash in our chips, or shed the mortal coil. Sure, you may have a will, but what happens to your digital assets – your data and online accounts? That's where digital estate planning comes into play. Think of it as having a backup plan to give those left behind, so they can access your data. Here's what you need to know… | |
What is Digital Estate Planning?
A few years back, there was a story about Steve Jobs being reincarnated in a parallel world. But I'm pretty sure that Steve won't be checking his email any time soon. You may not have thought about what happens to your data when you die, but one thing is sure -- you can't take it with you.
You may not be content to just let your Gmail or Facebook account go dormant after you pass on. You may have photos or documents in cloud storage. What if you have money in your Paypal account, or a cryptocurrency wallet? Will your surviving relatives have the password to your computer, and the keys to your online banking, ecommerce, subscriptions, or other accounts?
The simplest solution is to write down all of your accounts and their login credentials, then give that list to someone you trust. Of course, you'll have to remember to constantly update that document when you change passwords or create new accounts. Unless, of course, you use a password manager that keeps all your passwords for you. Then all you need to provide your attorney or next-of-kin is the master password to unlock the password manager. (See my article Here's the End of Weak Passwords for links to some of the best password managers.)
But what if you don't trust anyone with all of your digital keys, at least while you're still alive?
A few years ago, I found less than a handful of websites offering digital estate planning services. Now there are dozens of players; many are offered by established estate planning and legal firms. Much like Turbotax and other tax preparation software, digital estate planning sites walk you step-by-step through the complex process, holding your hand along the way.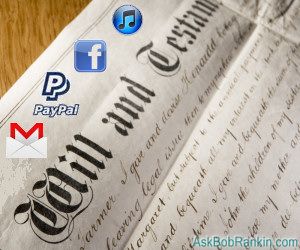 Essentially, all of these services help you make decisions and document them; give you secure cloud storage in which to keep your documents; and provide a mechanism for empowering the people you designate to access the documents and other information they need to carry out your wishes.
Everplans was co-founded by Abby Schneiderman, who experienced firsthand the frustrations of wrestling with her deceased brother's digital legacy when he died in a car accident in 2012. Everplans helps people document their wishes about everything from advanced medical care directives to who gets the pets and grandma's apple pie recipe. Everplans can hold your family photos and your obituary. You can provide information that you want family and friends to learn after you die, and specify who gets what information. Everplans charges $75 per year that your account and repository are active.
Will Your Data Outlive You?
You might live to 100, but a more immediate concern might be the longevity of your data. My article
[SHOCKER] CD and DVD Discs May Fail Sooner Than You Think
goes into detail on how long you can expect CD and DVD disks to remain readable, and one solution that promises to provide archival storage for the (very) long term.
FinalRoadmap gives special emphasis to end-of-life care instructions. Its planning protocol gets into details that are often omitted from paper-based advanced care directives and wills, right down to what specific medical interventions you want or don't want, and even who will be permitted in your presence while you're dying. Yes, the questions are uncomfortable, but it's better for you to answer them now than to leave family agonizing over what you would want them to do. FinalRoadMap charges a one-time fee of $249.
FinalSecurity offers a free online will builder, and an info vault where you can store your digital information, such as usernames and passwords, photos, and important documents such as a will, or a collection of information your beneficiaries will need. Optionally, you can have your phone or computer erased when you're gone, and social media accounts deleted. Accounts range from Free (100MB Vault Storage) to Plus ($24/year, 10GB Vault Storage, 4 Social/Cloud Accounts) to Life ($174.99 one-time fee, 10GB Vault Storage, 4 Social/Cloud Accounts, 2 Devices).
There's also Dead Man's Switch which lets you send emails after you die. An email to your executor, for instance, might contain a list of accounts and passwords or a full-blown digital will and testament. The service sends a check-in email to you every so often; you confirm that you're still alive by clicking on a reply link. If you don't reply within 60 days, you are presumed to be dead and your stored emails are sent. (If you're on a three-month tour of far-flung places with no Internet access, you can have your notifications delayed accordingly.) The free version supports up to two recipients. For a one-time fee of $50, you get up to 100 recipients and the ability to customize the check-in intervals and reply deadline.
For do-it-yourselfers, Google offers a free digital estate planning service dubbed Inactive Account Manager. It's intended to deal with your Google assets (Gmail, Drive, Photos, etc.) but you can also leave instructions about anything else in an email that will be sent to your trusted contact(s) if you don't log into your Google account for a specified period of time (3, 6, 12 or 18 months).
Final Wishes for Your Data
Generally, survivors are left to deal with the corporate policies of multiple online services when someone dies. There is no federal law empowering executors or designated representatives to access a decedent's digital assets. Many states have enacted such laws, and their provisions vary widely.
The Uniform Law Commission, which drafts model legislation that States generally adopt as-is for the sake of uniformity (e. g., the Uniform Commercial Code), approved the Uniform Fiduciary Act in 2014. One of its main provisions is that a fiduciary who has access to a tangible asset will have access to digital assets of a similar type. So if your executor is given control of your business, the online portions of that business and online records associated with the business would be available to the executor, too.
What do you want done with your email after you die? Many people want a relative to login and send a message to all contacts with their news of their passing. Should your Facebook page be closed or converted into a "memorial page"? How about your digital photos stored on Flickr? Do you have a blog or website that may need to be closed down? Any paid online services you need to cancel? A cryptocurrency wallet? These and many other questions are worth answering before you go. Have you made a digital estate plan?
 

Ask Your Computer or Internet Question



  (Enter your question in the box above.)

---

---

| | |
| --- | --- |
| | Check out other articles in this category: |

| | |
| --- | --- |
| | Link to this article from your site or blog. Just copy and paste from this box: |
This article was posted by Bob Rankin on 17 Jun 2022
---
---
---
Post your Comments, Questions or Suggestions
---
Article information: AskBobRankin -- What Happens to Your Data When You Die? (Posted: 17 Jun 2022)
Source: https://askbobrankin.com/what_happens_to_your_data_when_you_die.html
Copyright © 2005 - Bob Rankin - All Rights Reserved