What is RAID?
| | |
| --- | --- |
| I've heard that a RAID hard drive is the best solution for automatic backups. What exactly is a RAID, and what are the pros and cons of RAID systems? | |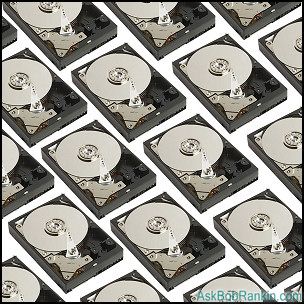 RAID - Hard Drive Arrays
You might think it has something to do with spraying your hard drive to remove nasty critters, but in the late 1980's, three researchers from the University of California Berkeley published "A Case for Redundant Arrays of Inexpensive Disks (RAID)" and the acronym was born.
In RAID systems, two or more inexpensive hard drives are linked together to form a single large capacity storage device that offers enhanced performance. Although it can provide protection against data loss due to hard drive failure, it's not really meant to be an end-user backup solution.
When RAID was first introduced, it was used mainly in large corporate settings where a large amount of data storage was needed. But in the last decade or so, due to the explosion in the usage of computers, this concept is increasingly being used in personal computer systems.
Software or Hardware RAID?
Based on the approach used, RAID can be broadly classified into hardware RAID and software RAID. In hardware based RAIDs, the storage subsystem is managed independently from the host computer, and appears to the computer as a single drive. The host computer doesn't even need to know that a RAID system is being used. Some systems implement RAID with a special hard drive controller card, or the RAID functionality can be built into the motherboard.
In software based RAID systems, the host computer manages the charade, making the disk array appear as one single drive to the user. The drawback to software based RAID is that it may decrease the overall performance because it uses system memory and CPU cycles. Also, the performance of software based RAID is totally dependent on the performance of the CPU.
Levels of RAID
Depending on the number of disks available, and the error detection that is implemented, RAID systems are classified into six levels. As the number of disks goes up, the ability to perform disk error analysis and protect agsinst disk failure also rises. Here is a brief overview of some RAID levels:
RAID 0 - requires a minimum of two disks, provides improved performance, but does not allow for data redundancy or fault tolerance. Data "striping" is used, so that each file or chunk of data is split up and written across multiple disks. The cost of this improved performace is that if any disk fails, all data stored in the RAID is lost.
RAID 1 - a mirrored set of two disks minimum in which the data is replicated onto separate physical hard disks in real time to ensure continuous availability, currency and accuracy. This level provides fault tolerance from disk errors and single disk failure. To store 100 GB of data using RAID 1, two 100-GB disk drives are needed.
RAID 3 & 4 - a striped set of three or more disks, in which one disk is dedicated for parity (error checking). If the parity disk fails, the array will continue without error checking. If any one of the "data" drives fails, the all data in the RAID is lost.
RAID 5 - a striped set of three or more disks, similar to level 3 or 4, but the parity data is distributed over all the disks. If more than one drive fails, the all data in the RAID is lost. A single drive failure can be masked from the end user, albeit with a loss of storage capacity.
RAID 6 - a striped set of 4 disks minimum, with dual distributed parity. This redundant error checking allows the array to operate with up to two failed drives. When a failed drive is replaced, the parity data is automatically reconstructed across the RAID.
The type of RAID system that you use will depend on the application. For example, video processing requires fast access to large amounts of information on disk, so a striped RAID system might be appropriate. With financial transactions, data reliability is more important than speed, so a mirrored RAID approach is required.
Implementing RAID
RAID is most often used in server environments, where data redundancy and fault tolerance are crucial to keeping data safe and a network of users operating with interruption. It's also a good solution for certain high-end systems that require large amounts of storage and enhanced disk performance. RAID solutions are available for Windows, Mac OS X, Linux and other platforms.
For further information, see:
Do you have comments or questions about RAID systems? Post your thoughts below...
 

Ask Your Computer or Internet Question



  (Enter your question in the box above.)

---

---

| | |
| --- | --- |
| | Check out other articles in this category: |

| | |
| --- | --- |
| | Link to this article from your site or blog. Just copy and paste from this box: |
This article was posted by Bob Rankin on 9 Nov 2007
---
---
---
Post your Comments, Questions or Suggestions
---
Article information: AskBobRankin -- What is RAID? (Posted: 9 Nov 2007)
Source: https://askbobrankin.com/what_is_raid.html
Copyright © 2005 - Bob Rankin - All Rights Reserved