What is Second Life?
| | |
| --- | --- |
| Some of my friends are really into Second Life, they say it's the future of the Internet. Looks like Sim City on drugs to me... What is the big deal with Second Life -- who is playing and why? | |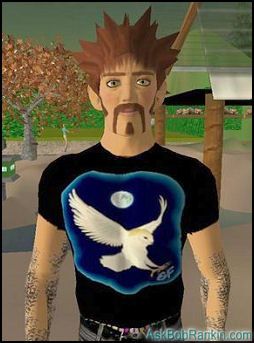 Get a Second Life!
Second Life is a sophisticated, online 3D digital world that could be the biggest thing in cyberspace since sliced electrons -- or the loudest dud since Pets.com. It's more than just another Massively Multiplayer Online Role Playing Game (MMORPG)... think MySpace meets AOL in a global 3D virtual reality environment.
Second Life is populated by customizable onscreen characters (called avatars) who represent individual members. There are no assigned roles. The avatars, with Star-Warsian pseudonyms like Trulia Fivestorm and Republikos Quisling, walk, fly or teleport through the Second Life Metaverse -- meeting, interacting, playing, building, dating, buying and selling. It's those last two, buying and selling, that have caught the imagination of the Internet's heaviest hitters, who see Second Life as the possible future of online commerce.
Because it is both network and graphics intensive, Second Life requires a high-speed Cable or DSL connection (satellite and wireless not recommended) and has somewhat rigorous hardware requirements: PC users need Windows XP/2000 or better, a 1.6GHz Pentium 4 or Athlon 2000+ processor with 512MB or more of memory. Mac users will need Mac OS X 10.4.3 or better, at least a 1.25 GHz G4 processor and 768MB or more of RAM. You'll also need an nVidia GeForce FX 5600, 6600, or ATI Radeon 9600, X600 graphics card. If you don't have adequate horsepower, memory, bandwidth and graphics card, Second Life will not perform well on your computer.
How is Second Life Different?
What makes Second Life unique among virtual reality worlds like World of Warcraft or EverQuest, is that it was launched as an undeveloped grid, an online wilderness. Second Life content is developed by it's members, who then own the protected intellectual property rights to their creations in the real world. That means that anything created in Second Life, from shopping malls and gaming platforms to fancy duds for avatars, can generate real world money.
Entering Second Life is easy and free, although Premium membership at $9.95 a month is necessary to buy real estate and create environments. Simple registration prompts guide you through the process of customizing your personal avatar (which can be anything from a lanky legged surfer dude to a top-hatted alligator), choosing your name and downloading the Second Life software. Need help choosing a Second Life name? Check out the Web 2.0 Name Generator.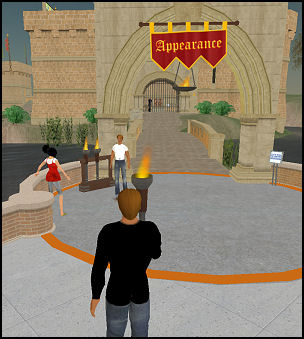 Once inside, residents can buy 16 acre real estate parcels, called islands, on which they develop homes, gathering places, stores, theaters, nightclubs, even brothels. Yes, a good deal of the goings-on in Second Life are in the adult realm, although mature events are rigorously separated from underage users. (The under-18 crowd is encouraged to use Teen Second Life.)
The in-world currency is Linden dollars, but there are systems for exchanging for real world US dollars. As of this writing, you can buy about 280 Lindens for one US dollar. The SL Exchange website is a place outside of Second Life which acts as a currency exchange.
The Second Life Environment
The environment in Second Life will be familiar to anyone who has played The Sims, Grand Theft Auto, visited Disney World or read Neal Stephenson's Snow Crash. But make no mistake. This isn't a game. It is potentially a whole new Net. Reuters has opened a news bureau in Second Life and interviewed such luminaries as Arianna Huffington there. Sundance held a screening of the movie Strange Culture simultaneously in the real world and in Second Life. The British Broadcasting Corporation broadcast a pop concert within Second Life. IBM CEO Sam Palmisano and 300 of his executives hold global virtual reality business meetings there - "I'll have my avatar call your avatar" - and serious political candidates like California congressman George Miller and Virginia Governor Mark Warner have established Second Life identities to hold political rallies and campaign for office.
The list of corporations doing business in-world as the residents call it, include Microsoft, Warner Brothers, Nike, Major League Baseball, Dell, Adidas, General Motors and Circuit City, all drawn by a new way to move product.
Second Life was created in 2003 by Philip Rosedale, the former top tech at RealNetworks. It's operated by his Linden Labs, a San Francisco boutique corporation that has a Who's Who of web heavies beating down the door to invest. Mitch Kapor, creator of Lotus, eBay founder Pierre Omidyar, Amazon's Jeff Bezos and Microsoft's technology architect Ray Ozzie all got in on the ground floor. You may encounter any or all of them in Second Life. Rosedale's avatar is easily recognizable by his leather chaps over pizza explosion briefs and the huge lips on his black tee-shirt.
About $900,000 worth of business is transacted a day among the more than 3 million residents. Most is done by major corporations but some 17,000 Second Life residents are reported to be making at least $1000 a month. Some have carved out full time jobs in Second Life as traders or designers. And Second Life is not a playground,
as analysts suggest that avid users skew to a median age of 30. Some people transition so often from Second Life to "Real Life" that when you mention meeting a friend, they'll say "SL or RL?"
Is Second Life For You?
Second Life is a somewhat chaotic if vibrant world and all is not always well. Rapid growth has strained its array of servers. There have been repeated hack attacks, called griefings, in which a grey digital goo swallows the landscape, or digital genitalia float across the sky. Residents responsible have been subjected to a digital incarceration but Linden Labs or individual victims may be forced to resort to real world legal remedies in the future. As members hail from 100 different countries, this could prove difficult. Linden Labs' decision to open the source code to developers could make Second Life vulnerable to further attacks and expose serious privacy concerns.
However, such problems are considered largely trivial by the 20,000 new members who enter Second Life for the first time every day. Some are looking to cash in on a digital gold rush, while others just want to escape from reality for a while. You may love the concept, or find it to be a time sink. This SL satire expresses how some feel. :-)
Got comments about Second Life? Post your thoughts below...
 

Ask Your Computer or Internet Question



  (Enter your question in the box above.)

---

---

| | |
| --- | --- |
| | Check out other articles in this category: |

| | |
| --- | --- |
| | Link to this article from your site or blog. Just copy and paste from this box: |
This article was posted by Bob Rankin on 2 Feb 2007
---
---
---
Post your Comments, Questions or Suggestions
---
Article information: AskBobRankin -- What is Second Life? (Posted: 2 Feb 2007)
Source: https://askbobrankin.com/what_is_second_life.html
Copyright © 2005 - Bob Rankin - All Rights Reserved