Will This App Get Your Traffic Ticket Dismissed?
| | |
| --- | --- |
| Getting a parking or traffic ticket is a nuisance, but a citation for speeding, running a stop sign, or driving while yakking it up on your cell phone can cost you big bucks. Most drivers just pay the fine because they don't understand the legal process. But there are some apps that can help you fight and win. Check out these apps and learn how you can use a bit of cyber to fight your ticket… | |
Fight Your Ticket? Yes, There's an App for That!
When politicians have trouble raising taxes, they often turn to traffic fines for more revenue. In New York City, 10 million parking tickets are issued every year, resulting in $600 million in fines. In California, traffic fines and court fees are the state's second largest source of revenue, right behind sales tax. Driving solo in a car-pool lane? That's $490 plus an assortment of additional fees, many of which have as much to do with traffic safety as the color of your house.
Those court fees are often just the beginning of the pain. The cost of traffic tickets can include higher insurance premiums, fewer opportunities to rent or own a home, and higher interest rates on loans. A significant number of traffic violation convictions may be interpreted as a sign of irresponsibility or poor judgment by lenders and employers.
Sometimes it's clear that you've broken the law. And although I have utmost respect for the men and women in blue, other cases involve the discretion of an officer who may be under pressure to meet a quota. I got pulled over once in a town that's notorious for "fishing expeditions" by the local police. The officer said he stopped me because "he thought he heard a noise." He poked around the outside of the car, checked the tread of my tires, and my turn signals. Finding nothing amiss, he sent me on my way. Although I had done nothing wrong, I felt lucky to escape without a ticket.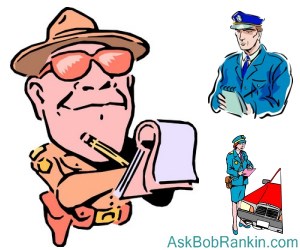 Most traffic tickets go uncontested; only 5% of U.S. traffic tickets are challenged. The cost of contesting a ticket includes a day off from work, at a minimum, and it may be necessary to hire an expensive lawyer. Most people figure they have little chance of getting a ticket dismissed so they just pay it.
A few years ago, I got a parking ticket in New York City. I parked next to a meter, fed it the required amount, and returned 15 minutes later to see a ticket on my windshield. It turned out I was in a commercial zone, but the sign was half a block away and obscured by construction scaffolding. I took pictures, and submitted a form to contest the $115 fine, but the judge said "Tough luck, buddy. You shoulda seen the sign." If I had known there was an app to help me fight the ticket, I might have had a different outcome.
Traffic tickets are a pain; where there's pain, there's an app for it. As the cost of traffic and parking tickets has risen, so have startups like GetDismissed, WinIt, and OffTheRecord. These firms offer to keep you out of court by fighting tickets for you, at a much lower cost than traditional legal representation. In fact, you never need to visit a lawyer's office.
Apps and Websites to Fight Traffic Tickets
To get started with any of the three services, you'll need to download a free app, or use a website to upload copies of your driver's license and citation. Each service does things differently thereafter.
OffTheRecord refers clients to local lawyers, and is available in most cities across the US. You snap a photo of your ticket, answer a few questions, and get matched to an experienced lawyer. No need to mail in your ticket, or show up in court. OffTheRecord says their goal is to get your ticket - and fine - completely dismissed. If that's not possible, your lawyer will attempt to get the ticket reduced to a non-moving violation that doesn't go on your driving record or impact your insurance premiums. If your ticket is not successfully resolved, in most cases you'll get a full refund. If a ticket is dismissed, the fee is 50% of the fine you would have paid.
OffTheRecord says they have a 97% success rate. The website isn't quite clear on what "success" means, but they do offer a list of possible outcomes, which include: Full Dismissal, Amended/Reduced to Non-Moving Violation, Ticket Points Reduced, or Deferral. In the latter case, deferring a ticket means that the court will expunge the ticket if you don't get another one for a certain period of time. If you're not sure if you should fight your ticket yet, you can call or email your ticket to them. They'll go over your options and help you decide whether it makes sense to fight the ticket.
---
WinIt specializes in both parking and traffic tickets and claims to have achieved a 40% dismissal rate. WinIt handles only New York City citations, but the app has been downloaded by people in 27 states, and the company claims that 50% of out-of-state parking tickets get dismissed.
You can start by taking a picture of your ticket, or use the app to search for a ticket associated with your license plate. Submit any evidence that may help your case, and the WinIt team will inspect your ticket for errors. From there, they will handle your dispute, and update you every step of the way. Winit won't charge a fee unless your ticket is totally dismissed. The fee is just 50% of the fine you would have paid.
---
GetDismissed, which launched in February, charges $99 to prepare a Trial By Written Declaration motion, an option that enables a defendant to challenge a traffic ticket by mail. California residents can use the app or website to download the completed forms, then mail them in to the court, along with a check for bail which is refunded only if you win. GetDismissed.com claims to have helped to dismiss "tens of thousands" of California traffic tickets over the past decade, but it doesn't advertise the success rate of its work.
---
DoNotPay is billed as The World's First Robot Lawyer, and offers to help humans "fight corporations, beat bureaucracy and sue anyone at the press of a button." In addition to fighting parking tickets, DoNotPay can help you cancel any service or subscription, help you negotiate a car lease, initiate chargebacks, create a power of attorney, fight robocalls and email spammers, deal with identity theft, reduce your property taxes, and a long list of other legal issues.
---
Often, the easiest way to beat a ticket is simply to show up in court. If the police officer who wrote the ticket doesn't show up, the case may be dismissed without you having to present a defense. Often you'll be given the option to plead guilty to a lesser offense. If you don't take the offer, you case will be continued to a later date, requiring another appearance. If you don't have good evidence to support your claim of innocence, a judge is not likely to take your word over the arresting officer.
If one of these ticket-fixing services can spare you a day in court, it may be worthwhile. Your thoughts on this topic are welcome. Post your comment or question below…
 

Ask Your Computer or Internet Question



  (Enter your question in the box above.)

---

---

| | |
| --- | --- |
| | Check out other articles in this category: |

| | |
| --- | --- |
| | Link to this article from your site or blog. Just copy and paste from this box: |
This article was posted by Bob Rankin on 24 Jan 2022
---
---
---
Post your Comments, Questions or Suggestions
---
Article information: AskBobRankin -- Will This App Get Your Traffic Ticket Dismissed? (Posted: 24 Jan 2022)
Source: https://askbobrankin.com/will_this_app_get_your_traffic_ticket_dismissed.html
Copyright © 2005 - Bob Rankin - All Rights Reserved