Are The Spammers Winning?
| | |
| --- | --- |
| It seems to be a given these days, as much as death and taxes -- spam (the email variety, not the canned meat product) is not going away. Back in 2004, Bill Gates predicted the death of spam in 2006. But today, studies show that 80-90% of all emails worldwide are junk email, and the tide is rising. What happened, and what can YOU do about spam? | |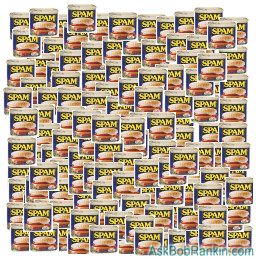 Spam is On The Rise
What about all the spam filters, the blacklists, the software and the ISPs who were supposed to lessen the amount of spam sent to your inbox? What about the state-of-the art Bayesian filtering that was supposed to eradicate spam? And what about CAN-SPAM, the U.S. legislation that was supposed to take a McGruffian bite out of spam? Postini, an online security firm, reported in November 2006 that 91% of all email was spam, and according to email security provider Ironport, the raw numbers are still going up.
2006 - (June) 55 billion spams sent per day
2006 - (December) 85 billion spams sent per day
2007 - (February) 90 billion spams sent per day
I asked Anne Mitchell, CEO of the Institute for Spam and Internet Public Policy (ISIPP) if she thinks the spam tide is rising or falling, and she had this to say:
"That really depends on who you ask. If you ask the average end user, they'll probably tell you that they don't see as much spam any more. So, as far as they are concerned, it's getting better (or at least not getting worse). And if they never check their junk folder, they may *really* think it's gotten much better! :-) But ask a power user, or any of the tech folks at the ISPs or spam filtering companies, and they will tell you that it has not gotten any better. Of course it fluctuates, and sometimes it's a bit better, and sometimes it's a lot worse -- huge spam runs often come in waves. And then there's the cycle of escalation. The anti-spam technology gets tweaked and stems a flow of spam, then the spammers find a way to end run the newest tweaks, and it's lather, rinse, repeat."
I then asked Mitchell if she thought that any specific email providers were doing a better job than others at protecting our inboxes. She replied:
I'd say that the top email providers are all doing about the same by their customers in terms of keeping spam out of the inbox - where they differ is in their false positives (good mail being thrown out with spam), and in how responsive they are to fixing that problem. What's happening now is that in the name of protecting inboxes, email providers are doing a worse job in that they are blocking lots of legitimate email. Some providers are *notorious* for junking legitimate, wanted (even *paid for*) email. I'd say that AOL is the best in terms of having the least amount of baby in the spam bathwater.
Annual Spam Drop-off?
Some spam watchers claim to see a discernible decrease in spam volumes every January. Why? The most reasonable explanation is that there is an increase in new computers given as presents for the holidays in December. These new machines typically have better anti-spam and anti-malware protection, which helps to thwart one of the most potent tools of spammers: botnets.
Botnets are ad-hoc networks of PCs on the Internet that have been infected by malware and (often unknowingly) compromised by spammers. By using these "zombie computer" networks, they can send spam that's virtually untraceable. (See Secure Your Computer for more info.)
Why is Spam Increasing?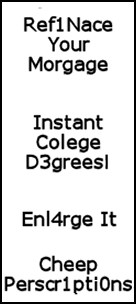 Why has spam become more, not less, prevalent in recent years? One reason is that spammers have gotten craftier. A few years back, spam email filters relied on a comprehensive database that compared words in incoming emails to keywords in databases that were instantly flagged as spam. Examples include words and phrases related to prescription medications, loans, "body enhancement" products, and variations in spelling of words like "v1agra" and "pr0n". But spammers have been embedding their advertisements and messages into graphics, making the detection of specific words in a body of email text near impossible.
Another method spammers have devised is to circumvent the Bayesian filtering. Bayesian filtering relies on the probability that certain words appearing a certain number of times, are most likely spam, and therefore not passed through an email server to a user's inbox (or are dumped into that user's Junk Mail folder). Spammers have gotten around this by sending emails with nonsensical, though legitimate words in the body of the email. How many times have you seen a cryptic email in your inbox with a jumble of meaningless words? If you have, that's an example of spammers trying to get around a filter.
Recently, ISPs have been relying more and more on blacklist databases in the war on spam. There are lists on the internet that contain information on suspected spammers, including IP addresses and domain names. ISPs use these blacklists to reject any emails originating from those addresses. Strong preventative medicine, but it does not always ferret out the guilty spammers and sometimes prevents legitimate businesses and individuals from sending or receiving emails. It's a delicate dance waged between the legitimate sender and the spammers, and one that is constantly in motion; each side trying to keep one pace ahead of the other.
And the CAN-SPAM Act of 2003 has failed miserably. Spammers have no interest in doing anything to HELP the Feds find and punish them, so they simply ignored the regulations -- as did most legitimate email senders. Enforcement of CAN-SPAM has been weak and sporadic at best, so most people consider it more of a dud than the anti-spam nuke that was hoped for.
What Can You Do To Stop Spam?
The war on spam is not simply a battle being waged between spammers, ISPs, Microsoft and other software companies. It is a battle that involves all of us. As everyday email users, we can all be vigilant to keep our inboxes free from junk mail. The first step is to make sure your anti-spam, anti-virus and firewall protection is adequate. Keeping your email address private is also a key factor. Entering an e-mail address into any kind of online forum or website exposes that address to discovery by spambots that harvest e-mail addresses. One good strategy is to get a free e-mail account from a webmail provider (such as Yahoo or Gmail) and use that e-mail address for all website forms and public correspondence.
And finally, NEVER buy anything from a spammer. Spammers are in business to make money, not because they like to annoy people. I believe that if nobody bought products advertised by spammers, the spam problem would go away (or at least be drastically reduced) within weeks.
Who's Winning the Spam War?
So... are the spammers winning? There's more spam now than ever before, and it seems to be trending ever higher. End users tend to see less of the annoying stuff in their inboxes, but more LEGITIMATE email than ever is NOT being delivered. So for now I'd say YES... the spammers are winning, or at the very least not losing. That doesn't mean, though, that I've lost hope, or that we should give up. Perhaps Bill Gates jumped the gun when he predicted the demise of spam a few years ago, but with a concerted effort from all of us, we can definitely hasten the day.
 

Ask Your Computer or Internet Question



  (Enter your question in the box above.)

---

---

| | |
| --- | --- |
| | Check out other articles in this category: |

| | |
| --- | --- |
| | Link to this article from your site or blog. Just copy and paste from this box: |
This article was posted by Bob Rankin on 16 Oct 2007
---
---
---
Post your Comments, Questions or Suggestions
---
Article information: AskBobRankin -- Are The Spammers Winning? (Posted: 16 Oct 2007)
Source: https://askbobrankin.com/are_the_spammers_winning.html
Copyright © 2005 - Bob Rankin - All Rights Reserved