Mad Enough to Report a Spammer? (Read this FIRST...)
| | |
| --- | --- |
| An exasperated AskBob reader says: 'Every morning I find a fresh, steaming load of unwanted spam emails have been dumped on my inbox. They advertise dubious nutritional supplements, fake watches, and political pitches. Some are worse, phishing attempts to steal my online banking passwords, or trick me into downloading malware. I have tried filtering them out, but they keep on coming. I REALLY want to report these crooks, but I don't know how or where. Can you help?' Yes, read on for my tips on dealing with spammers... | |
Get Mad, Get Even, or Just Press Delete?
Today I checked my spam folder and found some doozies. If I listed some of those subject lines, or even the keywords contained therein, you probably wouldn't have received this message. I'm just glad that the 150+ spam emails that arrived in the past 24 hours didn't land directly in my inbox.
I usually advise people to avoid spam by using filters to keep it out of the inbox as much as possible, and then just press Delete for the ones that sneak through. Maybe you're content with this approach, but sometimes the spammers can get under your skin, and make you want to do something more. If you want to proactively do something to reduce spam and/or help get spammers off the Internet, you can report spam and spammers to organizations dedicated to snuffing out this electronic menace.
Unfortunately, gathering the information you need to report spammers is not easy. You need the message's header information, which is hidden by default. Using the header info, you would need to identify each mail server and mail relay server through which the message passed on its way to you. You may need to discover the registrar of the domain of a server that sent the spam.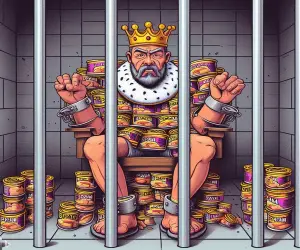 Then you have to find the spam-reporting email address or Web page of each entity to which you wish to report the spam message. Abuse.net may be able to help, but it does not include every contact for every domain on the Internet. You can't report spam or spammers to Abuse.net, but it can assist in correctly identifying the origin of an unwanted message, and help you direct your complaint to the right place.
Unfortunately, a lot of spam is sent from the computers of unsuspecting users who have been infected with malware. Millions of ordinary home computers are enslaved in botnets, remotely controlled by cyber criminals who hide in the dark corners of the Internet. You'll end up reporting some poor schmoe running Windows 98, instead of the actual spammer behind the curtain. So in most cases, retaliation against spammers just isn't worth the trouble. Hours of valuable time can be consumed to report one spam message. If you don't want to spend your entire waking life snitching on spammers, there are a few other options.
Spam Reporting Options
SpamCop is a spam tracing and reporting service that has been around since 1998. Currently, SpamCop is owned and operated by Cisco Systems, the giant networking hardware vendor. After registering as a SpamCop user (which costs nothing), you will be able to send spam messages and header information to SpamCop via email or by pasting the info into a Web form. SpamCop takes care of the gory details of identifying where the message came from and reporting the spam to the correct entities. SpamCop also uses your report to compile a database of spam sources that is widely used by ISPs to improve their spam-blocking filters.
"Beware of cheap imitators," warns SpamCop's home page. Yes, there are phishing sites that pose as spam-reporting services. They will collect your email address as part of the phony reporting process, and it will end up on even more spammers' mailing lists.
Spam Bully is a $30/year personal anti-spam program that not only filters your email for spam, but also reports spam to the servers through which it passed and to the Federal Trade Commission. Spam Bully works With Office 365, Office 2019 & Older, Outlook, Live Mail, Outlook Express, and Windows Mail.
Mailwasher is a front end to your inbox that helps you "wash" your incoming messages and ensure that only the good ones make it to your inbox. Mailwasher works with all email accounts and email programs, including GMail, Hotmail, Yahoo, and other web-based email services.
You can report a spam-based fraud to the FTC, but don't bother sending a copy of the spam message to spam@uce.gov -- that address was phased out in 2004. When you report fraud to the FTC, they will share your report with 2800 local, state, federal and foreign law enforcement partners. Just don't expect a reply. The FTC notes that they do not resolve individual complaints, but your report might be used to find patterns and investigate cases.
Perhaps the easiest way to report a spam email is to click the "Report Spam" or "Mark as Junk" button in your email program. Email providers are using behavioral cues to detect and zap spam. If for example, a majority of users ignore, delete, or "mark as spam" a particular message (or even open without clicking any links) that's pretty strong evidence that the email is unsolicited and/or unwanted. Reporting spam in this way won't help to find or punish the perpetrator. But armed with such data, Gmail, Yahoo, Outlook and other email providers can tweak their filtering algorithms and direct similar messages to the trash if they appear again. By making the spammers' efforts less productive, it should lessen the incentive to continue.
As maddening as the spam problem can be, it's very important NOT to become a vigilante. Back in 2005, a notorious Russian spammer was found murdered in his Moscow apartment. Not even the vilest of offenders deserves that. There are laws in place to deal with these miscreants, so if you want to do more than press "Delete" or "Mark as Spam", it's best to report any information you have, and allow the authorities to deal with the problem from that point on.
Have you ever reported a spammer? Post your comment or question below…
 

Ask Your Computer or Internet Question



  (Enter your question in the box above.)

---

---

| | |
| --- | --- |
| | Check out other articles in this category: |

| | |
| --- | --- |
| | Link to this article from your site or blog. Just copy and paste from this box: |
This article was posted by Bob Rankin on 30 Oct 2023
---
---
---
Post your Comments, Questions or Suggestions
---
Article information: AskBobRankin -- Mad Enough to Report a Spammer? (Read this FIRST...) (Posted: 30 Oct 2023)
Source: https://askbobrankin.com/mad_enough_to_report_a_spammer_read_this_first.html
Copyright © 2005 - Bob Rankin - All Rights Reserved