AskBob's Best of 2014 - Part Two
| | |
| --- | --- |
| Yesterday I published Part One of my Best of 2014. Today, I've got another batch of ten very popular articles, which have been selected using input from drones, robots, bio-feedback, eye-tracking and a secret gadget that I use to monitor the NSA. (Shhh!) I hope you'll read each one, leave your own comments, and share them with your Email, Facebook and Twitter friends. | |
More of the Top AskBob Stories of 2014
In AskBob's Best of 2014 - Part One I focused on productivity, online safety, and ways to save money. Looking at today, I see some of the same themes, but other key words that jump out at me are Phones, Maintenance, and Prevention. If you want to save on your phone bill, keep your computer running optimallly, and avoid costly mistakes both online and offline, you'll enjoy today's final Top Ten of 2014...
1. Five Low-Cost Mobile Phone Plans
If you have only occasional use for a mobile phone, it makes little sense to sign a two-year contract and pay high monthly rates. There are no-contract, prepaid phone plans that can provide anything from simple voice calls, to texting, to Internet access on a pay-for-use basis. And a basic phone doesn't cost very much. Here are some options to consider if you're looking for an inexpensive cell phone plan...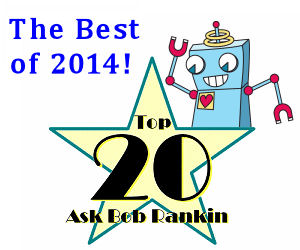 ---
2. Will Hybrid Phone Service Save You Money?
There's a new breed of mobile phone that routes your calls, texts and data usage over free wifi connections, and uses your expensive cellular minutes and megabytes only when necessary. Check out these three hybrid mobile phone service providers, and see if switching will save you money on your mobile phone bill. And what about saving $$$ on your home phone with Internet calling? Get some tips on that in Can VoIP Service Replace Your Landline?
---
3. 7 Free Windows Troubleshooting Tools
An operating system is an incredibly complex beast. If things go wrong with Windows, it can be difficult to track down the source of the glitch. But you can put away the chainsaw and sledgehammer, because there are plenty of free troubleshooters you can use to fix most problems. Here's my recommended list of free Windows problem solvers...
---
4. HOWTO: Clean Up Your Hard Drive
Digital clutter can clog your hard drive, slowing down normal operations and making it difficult to find the information you need. Unnecessary files accumulate every time you use a computer. It's good practice to clean out computer clutter every once in a while, especially if you're running out of space for your music, photos and videos. Here are some free tools to clean up your hard drive and make sure your computer is running smoothly...
---
5. Seven Free PC Maintenance Tools
And why stop with the hard drive? Just like a car, your computer needs regular maintenance to continue performing at its best. Waiting until accumulated minor problems make your computer run intolerably slow is bad for it. A neglected PC works harder than it should and then hardware can start to fail. You may experience a sudden catastrophic crash similar to a car engine seizing up because you never changed the oil. Here are seven free programs you can use to clean up and tune up your Windows computer...
---
6. Free Microsoft Office Online?
A reader asked: 'Can I really get Microsoft Office online for free? I bought a new computer that has no word processor or spreadsheet program, and I don't want to pay hundreds for Office if that's true. Is this online version the real thing?' It's true. For several years, Microsoft has been quietly offering a free online version of some popular Office products, including Word, Excel and PowerPoint. Here's what you need to know...
---
7. HOWTO: Detect and Defeat Keyloggers
It's a fact that many malware infections result in a vulnerability to keystroke logging, which can compromise your privacy and lead to identity theft. One news story tells how over TWO MILLION passwords were stolen by keyloggers. Learn more about keyloggers, how they work, and how to defend yourself from this growing threat...
---
8. The Seven Most Common Internet Security Mistakes
So you've got anti-virus protection but somehow got a virus anyway. How did this happen?' That's hard to say without knowing more, but chances are, you made one of the seven Internet security mistakes on my list. Any one of them can lead to malware infection or even identity theft. Are YOU vulnerable?
---
9. Downloading? Watch Out For These Danger Signs
Is it still safe to download? There are plenty of rogue sites on the Web, offering downloads that are either fake or malicious. But when we go looking for software downloads, we should be able to trust the big names like CNET, ZDNet, Adobe, Oracle and Tucows that have been around forever, right? Sadly, the answer is not always. Foistware (software that sneaks in during a download) is another growing problem.
---
10. 10 Stupid Things You Can Do To Mess Up Your Computer
Aside from actually drop-kicking it or smashing it with a sledge hammer, it's fairly difficult to actually break a computer. That said, there are a number of ways to render your computer just slightly more useful than a doorstop. Certain careless acts can cause crashes, freezes, painfully slow performance, loss of data or invasion of your privacy. Here's my list of ten stupid things you can do to really mess up your computer...
---
Hey, I ended my top ten list with another top ten list! Hope that doesn't throw you into an infinite loop. Please leave a comment, and don't forget to tell a friend about AskBobRankin.com, or share a link via Email or Facebook. Tomorrow I'll have something special to close out the year...

 

Ask Your Computer or Internet Question



  (Enter your question in the box above.)

---

---

| | |
| --- | --- |
| | Check out other articles in this category: |

| | |
| --- | --- |
| | Link to this article from your site or blog. Just copy and paste from this box: |
This article was posted by Bob Rankin on 30 Dec 2014
---
---
---
Post your Comments, Questions or Suggestions
---
Article information: AskBobRankin -- AskBob's Best of 2014 - Part Two (Posted: 30 Dec 2014)
Source: https://askbobrankin.com/askbobs_best_of_2014_part_two.html
Copyright © 2005 - Bob Rankin - All Rights Reserved