Avoid Cable and Phone Company Money Grabs
| | |
| --- | --- |
| Approximately 44 percent of U.S. broadband subscribers get their phone, TV or high-speed Internet from one of the top ten companies. Many, probably most of them, pay far more than they should for those services. Here's why, and how to avoid money grabs from your phone company or cable operator... | |
Save Money on TV, Phone and Internet Service
Telcos (and other large corporations; cable companies are no different) employ legions of MBAs and consumer psychologists to divine how best to pull the wool over people's eyes and tap them for as much money as possible. Regularly, they get together at conferences to "share best practices" on how to prove P.T. Barnum was right. They are totally awesome at fleecing sheep.
Don't blindly follow the "provisioning process" laid out by a large ISP or you will end up its dinner. A telco's Web site is the first place most people go when seeking Internet service. And they find it, prominently linked on the company's home page. When they click to enter the Internet service subsection of the site, they enter dangerous waters.
These sub-sites are designed cunningly to lead a visitor to the worst deal for him and the best for the telco. If you just follow its instructions you will get your Internet easily and quickly – you won't even feel the hand dipping into your wallet pocket.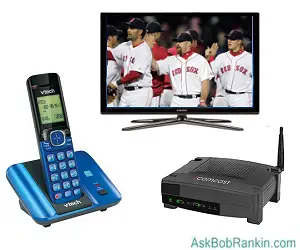 The first rule of buying Internet access online is: do not, ever, buy Internet access online. Use that sub-site only to gather information that you can use as ammunition. If you go through the online ordering process at CenturyLink, for example, you will end up with a bill that includes $99.95 for a DSL modem/router, and $14.99 for ground delivery in 2-3 business days.
Sheep shrug and say, "Well, if that's what it costs…" and click the button to buy. The Web site gives them no alternative; you can't question or argue with a computer. So exit that money trap and contact a live human being with whom you can negotiate. Online chat or toll-free talk will do equally well. The people on the other end are the telco's sales people, highly trained and very knowledgeable.
But beware; in addition to knowing all the options available to you, they are also highly trained in how to steer you to the options that are most profitable for their employer and unnecessarily expensive for you. You need to take control of the conversation immediately.
(Sweet) Talking to the Customer Service Rep
"I want Internet service and I want to use my own modem/router." Don't add anything like, "I don't want to (or worse, "can't") pay $115 for a modem/router. That will only ask the rep to volunteer the helpful information, such as "You know, you can lease a modem/router for only $6.99 per month." Leasing is like the lottery: both are for people who can't do math.
Instead, tell (don't ask) the rep to give you a link to the telco's list of modem/routers compatible with its service. You could also Google the list using "(telco_name) list of compatible modems" and it will probably be the first search result. CenturyLink's list (http://internethelp.centurylink.com/internethelp/modems.html) is very helpful because it shows the industry-standard protocols suitable for each class of speed (up to 20 Mbps, 40 Mbps, etc.) If you know that you want 20 Mbps service, you need only focus on modems whose maximum speed is 20 Mbps; that would be VDSL2-standard modems.
Now, off to eBay, where you'll find VDSL2 modems aplenty. Narrow your search to "auctions" and "used" items. Modems are not cars that wear out rapidly. They have no moving parts aside from their rarely used reset buttons and swivel antennas. As long as there is no obvious evidence of physical abuse, a used modem is almost 100 percent certain to be as good as a brand-new one – and much cheaper.
This very minute, I am looking at a used VDSL2 modem on eBay. It was used for only three weeks before the owner moved to a different telco's service area and had to buy a different modem. It includes a six-foot Ethernet cable and a power supply. There is no configuration guide (user manual) in the photo but I could download it right here (http://www.actiontec.com/support/doc_files/PK5000_Alternate_Configuration_Guide.pdf) This lightly-used modem has no bids and the auction ends in 2 days, 16 hours. Its $25 minimum asking price includes overnight delivery (versus CenturyLink's $14.99 for 2-3 day delivery).
In my opinion, it probably won't get any bids, even though it could save someone $90 off CenturyLink's exorbitant charges. Why? Because it's a "G" modem; it supports the WiFi protocols 802.11 a/b/g, but not the latest "n" standard. That means your device's WiFi connection to the router won't exceed 54 Mbps. Clearly, it's inferior, obsolete, and should be passed by, right? Wrong. CenturyLink doesn't offer Internet speeds greater than 40 Mbps. So there is no reason at all to be concerned about the WiFi speed of a modem beyond that limit. As for range and signal strength, a "G" modem covers a 2,000 square-foot house with 4 bars, at least, upstairs and basement.
As an example to the contrary, I should mention that Verizon's FIOS service comes with a free wifi router and "premium" installation. The Verizon tech spent several hours installing my FIOS service, which included running cables around my house, and drilling through the wall to get the set-top box where I wanted it. A few years later, I added a second box upstairs, and to my surprise the service tech ran the cabling up into the attic, crawled around up there, and found a way to drop the cable where it was needed, without destroying the ceiling or walls. No charge for any of that, but that's not the typical consumer experience when it comes to buying telecom services.
Avoid the "All You Can Eat" Buffet
Aside from the set-top box for your Internet service, there are plenty of other things that your phone, Internet or TV provider wants to sell you. Sheep tend to eat more than they need. People tend to buy more than they need, mainly because they don't stop to figure out exactly what they need. The sheep get fat while people's wallets get skinny. When you chat or talk with a live agent, be aware that he or she is paid bonuses for "upselling" customers: getting them to buy things they didn't plan to buy at first. The modem lease is one example; in two years at $6.99/month, that $100 modem will generate over $167 for CenturyLink, and the company will still own the modem.
Another example is Internet-connected devices insurance. "Only $4.95 for the first month and just $9.95 per month thereafter, you say? Full replacement value of anything connected to your Internet? Even if I drop my laptop in the bathtub?" I did ask that and the rep said, "yes." So I went a little farther. "How about I connect my car to the Internet and drive it into a bridge buttress? I could use a new one." Stunned silence; she hadn't been trained for that one.
I wasn't sarcastic or mean; we both ended up laughing out loud at the absurdity of what she had to try to sell me. Never be mean to service people. Instead, be kind. Give them the gift of laughter and they will be disposed to return the favor, as in this case. "Sir, I'm going to let you in on a secret: as your renewal date approaches they're going to try to renew you at the much higher 'regular' rate. Here's what to say to keep the low rate…" I'm sure she could have been fired for telling me that, but she was in such a good mood she forgot all about the "monitoring for training and quality purposes" thing. Unauthorized perks are the sweetest of all, and they usually go to someone who makes someone smile.
Here are some other ideas you can use to save a bundle on your TV, Phone or Internet service:
Don't buy super high speed Internet service (50 Mb/sec or higher) if your Internet usage is mainly for email, casual Web surfing and the occasional YouTube video. Most people will do just fine with an entry-level 5-15Mb/sec package. You can always upgrade later if your kid's online gaming is slowing your connection to a crawl.

Don't pay extra for phone service with 700, 1400, or "unlimited" minutes if you only talk a few minutes a day. Check your bill each month to see if any new or unnecessary services are listed. You might be paying for 3-way calling, call blocking or other upsells you'll never use.

Don't buy the 500 channel package with HBO/Showtime/Cinemax. You probably only watch 3 or 4 channels anyway. Check out Hulu to see all the TV shows you can get online for free.

Don't pay extra for "Multi-room DVR" or other optional set-top box features if you won't use them. These extra services can tack on $10-30 a month.

Don't "rent" movies on demand from your Internet provider. You'll almost certainly get a better deal and a wider selection by using a ROKU box to stream movies from Netflix or Amazon Prime. See my article Can Roku Replace Cable TV Service?

Check to see if you can combine your monthly landline and cellular bills. Some companies offer a discount for doing so.

Find out if there's a discount offered to employees of your company. You may be able to save 10 to 25% on your bill.


If you're near the end of your contract, tell the rep you're thinking about downgrading or cancelling your service. Sometimes those magic words will get you transferred to another rep that has more leeway to offer a better deal. If not, be persistent - ask for a manager, or the Cancellation Department. Have competitors' pricing info at hand, and quote it.
Got any other ideas for saving money on your TV, phone ot Internet service? Post your comment or question below...
 

Ask Your Computer or Internet Question



  (Enter your question in the box above.)

---

---

| | |
| --- | --- |
| | Check out other articles in this category: |

| | |
| --- | --- |
| | Link to this article from your site or blog. Just copy and paste from this box: |
This article was posted by Bob Rankin on 21 Oct 2013
---
---
---
Post your Comments, Questions or Suggestions
---
Article information: AskBobRankin -- Avoid Cable and Phone Company Money Grabs (Posted: 21 Oct 2013)
Source: https://askbobrankin.com/avoid_cable_and_phone_company_money_grabs.html
Copyright © 2005 - Bob Rankin - All Rights Reserved