Can You Control Ads On Facebook?
| | |
| --- | --- |
| Facebook has long faced withering criticism for bombarding users with ads in their news feeds, groups, sidebars, and anyplace there might be as scrap of white space. The ads are supposedly targeted to one's interests, but the volume, invasiveness, and what many believe is dirty, underhanded trickery makes the average person lose interest in all ads pretty quickly. Read on to learn what you can (and cannot) control when it comes to Facebook ads and privacy... | |
No, Mark, We Can't Control What Ads We See On Facebook
Facebook's CEO Mark Zuckerberg was grilled on Capitol Hill recently about ads and privacy issues. His response amounted to, "Hey, don't blame us, you control what ads you see!" That's a disingenuous answer, to say the least. There is no slider control I can switch to "show me NO ads," and there won't be as long as Facebook gets the vast majority of its revenues from ads.
The notion of user fees replacing ad revenues is being considered. The first problem is that it smacks of extortion. "Pay us or get smacked with ads." Apple co-founder Steve Wozniak is cool with paying, as I noted in my article, "What Price for Privacy?" but most of us can't afford to buy "protection" from all the online services we use that depend on ad revenue. That's the second problem.
Instead of a simple on/off switch for ads, Facebook provides a whole subsystem of settings that let you add and subtract "interests" that are used to target ads that you see, and even lets you specify that you do not want to see any ads from specific companies. Let's see how it works:
On Facebook, open Settings and scroll down until you can click on "Ads." Welcome to the rabbit hole! First, you will see the list of "Your ad preferences."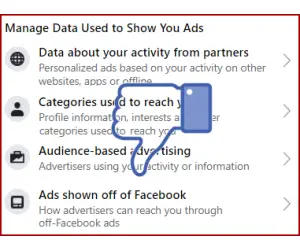 Click on the first topic, "Your Interests." Facebook says, "Choose an interest to preview examples of ads you might see on Facebook or remove it from your ad preferences." Interests are the labels on tabs at the top of this page; they run right off the right-hand edge into a bottomless dropdown list. Go ahead, click on just one interest; it's actually interesting and fun for the first half-dozen or so advertisers' icons.
You can banish a specific advertiser by removing its icon. You can eliminate all advertisers in a specific "interest" category by deleting that interest. What a glorious feeling of control and power!
But you will soon realize the awful truth: there can never be an end to reviewing ads or removing interests. You will not find the bottom of that list of interests in one lifetime or ten thousand. As soon as you give up and go back to your usual Facebooking, more "interests" will be added to your list each time you click on something, or even look at something. And if an interest exists, there are multiple advertisers pursuing it.
Facebook tells advertisers that its carefully selected "targets" (you and me) have expressed interest in things related to the keywords that advertisers specify. The more targets Facebook can claim match those keywords, the more money Facebook makes. That is a disincentive to raising the bar for what constitutes an "interest" to a level that means anything. Doing so would mean fewer users interested in "waffle," for instance, and fewer ad dollars from sellers of waffles, waffle irons, and waffle accessories.
What's the Definition of Interaction?
Let's go to the next topic, "Advertisers you've interacted with." Click on that one and see what Facebook says about these advertisers. In the tab of advertisers "Who have added their contact list to Facebook" you'll see: "These advertisers are running ads using a contact list they uploaded that includes your contact info. This info was collected by the advertiser, typically after you shared your email address with them or another business they've partnered with."
Yikes! That's just about every advertiser, marketer, list broker, and app developer on the planet, isn't it? Apparently this means the "The Mandarins Acibadem" (a condo complex in Istanbul, Turkey) somehow got my contact info. I've never been to Istanbul, I don't speak Turkish, and I've never "interacted" with this advertiser. Likewise, I've never had any interest in, or contact with the "Nevada Conservation League," the "Chumba Casino," or the campaign to "Elect Patrick Harris for Johnston County North Carolina Commissioner."
Other tabs/categories include advertisers "Whose website or app you've used", "Whom you've visited", and "Whose ads you've clicked." They may or may not have advertisers listed in them. Do not click the "Learn more" in those spaces unless you are being paid to do so; it's tedious and unhelpful.
Newsflash: "Your Information" is not YOUR Information
The third ad topic, "Your Information," is pretty simple. You can toggle on or off whether Facebook can target ads at you based upon your relationship status, education, employer, or job title. But the last line, in fine grey print, complicates things again:
"These settings only affect how we determine whether to show certain ads to you. They don't change which information is visible on your profile or who can see it. We may still add you to categories related to these fields (see Your categories above)."
"Your categories above" is right under the topic title "Your Information," in case you wondered too. Clicking on "your categories" reveals a list of personal factoids that Facebook has collected "to help advertisers reach people (you) who are most likely to be interested in their products, services, and causes." I'm not sure how it helps Facebook to know that I'm "Close Friends of Men with a Birthday in 7-30 days" or that I'm a "Close friends of expats".
That's enough gory details to give you a sense of how deep and treacherous this swamp of "ad controls" is. I will just list the other topics and comment briefly on them.
"Ad settings" -- I disallowed use of all three categories of data under this topic. I am especially offended by Facebook's use of data about my activities while I am not on Facebook or any of its properties. Yes, this means that as long as you're logged into Facebook, they are collecting information about your activities elsewhere online. And sure, you can disallow "Ads based on data from partners" but that doesn't mean that Facebook will delete any of that data. You'll still see the same number of ads, but they'll be based on things you do on Facebook, rather than outside of Facebook.
"Hide ad topics" -- Apparently, Facebook thinks I could only want to hide ads about alcohol, parenting, and/or pets.
"How Facebook ads work" is a gorgeous slide show, obviously the topic upon which the staff lavished the most love and effort. Its purpose is to tell Facebook's side of the ad story, not to reveal the subtle ways in which Facebook influences the way we think and behave, or our beliefs about reality.
"All Your Data Are Belong to Us"
In conclusion, "You own your data and have control of it" is a big, fat lie. It is impossible for any mere mortal to know all that Facebook knows about him, let alone keep track of constant additions to his or her dossier, and continually allow or disallow use of any or all of it.
Facebook is a runaway train. It needs to be stopped, and it's clear that no amount of "self policing" of their platform will have any effect. Legislation is the only option at this point. I encourage you to contact your congresscritters and urge them to take action on this matter.
Your thoughts on this topic are welcome. Post your comment or question below...
Ask Your Computer or Internet Question



(Enter your question in the box above.)

---

---

| | |
| --- | --- |
| | Check out other articles in this category: |

| | |
| --- | --- |
| | Link to this article from your site or blog. Just copy and paste from this box: |
This article was posted by Bob Rankin on 7 May 2018
---
---
---
There's more reader feedback... See all 27 comments for this article.
Post your Comments, Questions or Suggestions
---
Article information: AskBobRankin -- Can You Control Ads On Facebook? (Posted: 7 May 2018)
Source: https://askbobrankin.com/can_you_control_ads_on_facebook.html
Copyright © 2005 - Bob Rankin - All Rights Reserved