How to Control Facebook Ads (sort of)
| | |
| --- | --- |
| For years, Facebook has faced criticism from users for plastering ads in their news feeds, groups, sidebars, and any place there might be a scrap of white space. The ads are supposedly targeted to one's interests, but the volume, invasiveness, and what many believe is dirty, underhanded trickery makes the average person skeptical. Read on to learn what you can (and cannot) control when it comes to Facebook ads and privacy... | |
Is There Any Privacy on Facebook?
When Facebook's CEO Mark Zuckerberg was grilled on Capitol Hill about ads and privacy issues, his response amounted to, "Hey, don't blame us, you control what ads you see!" That's a disingenuous answer, to say the least. As you'll learn in today's article, there are some knobs and dials you can fiddle with, but it's not clear exactly how they affect the situation.
The notion of user fees replacing ad revenues has been considered. The first problem is that it smacks of extortion. "Pay us or get smacked with ads." Apple co-founder Steve Wozniak is cool with paying, as I noted in my article, "What Price for Privacy?" but most of us can't afford to buy "protection" from all the online services we use that depend on ad revenue. That's the second problem.
Instead of a simple on/off switch for ads, Facebook provides a labyrinthine subsystem of settings that let you add and subtract "interests", "categories", and "audiences" that are used to target ads that you see, and lets you specify that you do not want to see any ads from specific companies. Let's see how it works:
On Facebook, click the options icon in the upper right. On a desktop it looks like a little upside-down triangle, and on mobile it's three horizontal bars. Click "Settings and Privacy" then open Settings and scroll down the left-hand column until you can click on "Ads". Welcome to the rabbit hole! First, you will see the list of your "Ad preferences."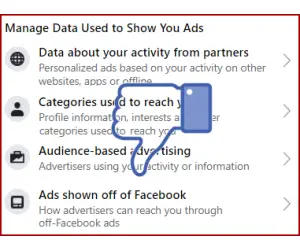 Click on the first item, "Advertisers" and you'll see a short list of "Advertisers You've Seen Most Recently". I must be good at ignoring ads on Facebook, because I don't remember seeing ads any of those advertisers listed for me. You can hide ads from a specific advertiser by clicking the "Hide Ads" button next to the name. What a glorious feeling of control and power! You can also see the list of Advertisers Whose Ads You've Clicked, and if desired, hide ads from them as well.
Let's go to the next item, "Ad Topics" and you'll be given the option to Manage Ad Topics. I'm not sure if this is true for all, but the only topics that I can "manage" are Alcohol, Parenting, Pets and Social Issues/Elections/Politics. You can't block ads here, but you can choose to see "fewer" ads about these topics. Click the "See Fewer" button if you like, but Facebook will decide if you're a bad parent, and if you need alcohol to cope with social issues with a disobedient pet.
The third item, "Ad settings" -- goes into detail on how Facebook decides which ads to display. Specifically, it says: "We show you ads based on information we have about you and your activity, such as Page likes on Facebook. We may also use information we have about others and their activity to show you more relevant ads. If personalized ads based on data about your activity from partners are allowed, we can also use data like your activity on websites off of Facebook to decide which ads to show you."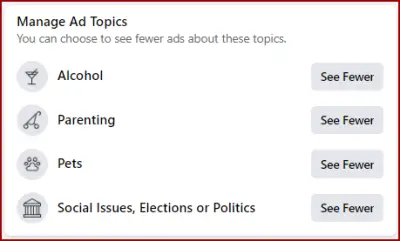 Okay, I'm fine if Facebook shows me ads for dog food if I "like" a post or page about dogs while on Facebook. But wow... Facebook will use my activity on websites OUTSIDE OF FACEBOOK and information they have about OTHER PEOPLE and THEIR ACTIVITY to show ME more relevant ads? I am especially offended by Facebook's use of data about my activities while I am not on Facebook or any of its properties. Yes, this means that as long as you're logged into Facebook, they are collecting information about your activities elsewhere online. And sure, you can disallow these ads by clicking "Data about your activity from partners" and "Ads shown off of Facebook" but that doesn't mean that Facebook will delete any of that data. You'll still see the same number of ads, but they'll be based on things you do on Facebook, rather than outside of Facebook.
Ready to even further down the rabbit hole? Click on "Categories used to reach you" and you have the option to turn off ad targeting based on your Employer, Job Title, Education, or Relationship Status. The sections under "Interests and Other Categories Used to Reach You" are where it gets interesting. Click on "Interest Categories" to see which categories have been assigned to your account. You can decide to remove yourself from specific categories that Facebook has tagged you with. In my case there are dozens and dozens; some that make sense, but many oddities such as Trousers, Joint, Frying Pan, Soup, Egypt, Zipper, and the BAFTA Award for Best Editing. And then there are "Other Categories", which I supposed are things in which you're not interested.
You can spend several minutes clicking the "Remove" button next to each of the categories listed there if you like. Have fun doing so. Because Facebook says "We may still show you ads related to these categories if we think these ads may be relevant to you." I actually laughed out loud when I read this!
The next item in the Ad Setings area is "Audience-based advertising". This one immediately reminded me of the old Colossal Cave Adventure game, which cautions those who dare to play: "YOU ARE IN A MAZE OF TWISTY LITTLE PASSAGES, ALL ALIKE." Here, you can view the advertisers whose audiences you have been included in based on your information or activity and decide whether Facebook can show you ads based on this data. My list contains hundreds of advertisers, many of which are completely foreign to me. To untangle yourself from any one of these advertisers requires eight clicks. Enjoy your afternoon.
And finally, there is "Social Interactions". Everyone wants all their Facebook friends to see what they're up to, yes? I mean, if you accidentally clicked "Like" on the "All About Hemorrhoids" page, you'd naturally want all your friends and family to know, right? Facebook says "We may include your social interactions alongside ads that your friends see. For example, if you like a Page that's running an ad, we might let your friends know that you liked the Page when they see the ad." If that's a bit irksome, change this setting to "Only Me".
"All Your Data Are Belong to Us"
In conclusion, "You own your data and have control of it" is a big, fat lie. It is impossible for any mere mortal to know all that Facebook knows about him or her, let alone keep track of constant additions to their dossier, and continually allow or disallow use of any or all of it. Attempting to do so is a perpetual game of whack-a-mole.
At best, you can make the ads you see somewhat less relevant to your interests or activity, but you can't reduce the number of ads. So use Facebook if you like, but disabuse yourself of the notion that you have any privacy while doing so.
Your thoughts on this topic are welcome. Post your comment or question below...
 

Ask Your Computer or Internet Question



  (Enter your question in the box above.)

---

---

| | |
| --- | --- |
| | Check out other articles in this category: |

| | |
| --- | --- |
| | Link to this article from your site or blog. Just copy and paste from this box: |
This article was posted by Bob Rankin on 8 Feb 2021
---
---
---
There's more reader feedback... See all 25 comments for this article.
Post your Comments, Questions or Suggestions
---
Article information: AskBobRankin -- How to Control Facebook Ads (sort of) (Posted: 8 Feb 2021)
Source: https://askbobrankin.com/how_to_control_facebook_ads_sort_of.html
Copyright © 2005 - Bob Rankin - All Rights Reserved