Is Everything Tracking You?
| | |
| --- | --- |
| Richard Dabate might have gotten away with murder if not for his wife's Fitbit exercise tracker. He told police that a tall, obese man who sounded like Vin Diesel invaded their home and shot his wife, Connie, in the head with a .357 Magnum pistol that Dabate had purchased months earlier. But Connie's Fitbit tracker revealed that she had been walking hours after the time of her murder as described by her husband. This begs the question... what other devices may be tracking where you go, and what you do? Read on... | |
You've Got Electronic Footprints
Police also examined Dabate's home computers, security system, cell phones, text messages going back a year, and social media postings. They revealed that Dabate had acquired a "girlfriend" a year ago and had texted to Connie, "I want a divorce." Credit card records revealed charges at a strip club and a nearby motel. Combined with the Fitbit evidence, that was enough to charge Dabate with murder and lying to investigators.
"It (Fitbit) is an electronic footprint that tracks your movements," Stedman said. "It is a great tool for investigators to use. We can also get the information much faster than some other types of evidence such as DNA tests."
It may seem like every digital amenity we use is keeping track of us in ways that can be used to target us with ads or convict us of crimes. Some things, like Fitbit and smartphones with GPS enabled, definitely do track us. But others do not, despite concerns that they might.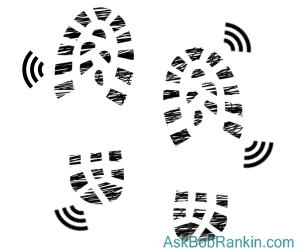 If you bought a car within the past ten years, it probably includes a black box called an "event data recorder." Rumors abound that an EDR records every event from the moment the engine is started until it's shut off, preserving a turn-by-turn, stop by stop record of everywhere you drive, as well as how you drive. But that isn't true.
An EDR records data in a continuous loop, overwriting previous data with new data. In the event of a crash, the EDR saves up to five seconds worth of data immediately before, during, and after the crash. Let me repeat: at most, an EDR saves only five seconds worth of data about your driving habits. Even so, a lot of people would like to get access to that EDR data: police, insurance companies, personal injury lawyers, and auto makers. State laws governing who can access EDR data and under what circumstances can be found at the National Council of State Legislatures.
Other Types of Car Tracking
Cars equipped with OnStar may be collecting certain types of driving behavior. The OnStar Smart Driver system can capture hard braking events, hard acceleration events, time spent idle, speeds over 80 miles per hour, when a trip occurs and the number of miles driven. But this requires opt-in from the customer, and OnStar's privacy policy says they won't share this data without your consent.
If you have an EZ-Pass or similar tag in your car that allows you to zip through toll plazas, your location can obviously be tracked as you pass through the tool booth. But it's been discovered that EZ-Pass tag readers are not just in toll plazas. They are sometimes located in urban areas, and along highways. Authorities in New York City say they are used to study traffic patterns, but we don't have much information about how pervasive this tracking is, and who may have access to the data. If you have one of these tags in your car, you can assume that at least some of your driving (and how fast you drive) could be tracked and/or recorded. Your best defense is to keep the tag in the foil read prevention bag, and take it out only when paying a toll. But that would be inconvenient and possibly dangerous for the driver.
Shoud You Worry About RFID, NFC, and GPS?
RFID (radio-frequency identification) and NFC (near-field communications) have also been credited with more tracking powers than they actually possess. Both technologies are quite limited in range; a few yards for RFID and a few inches for NFC.
RFID chips are used mainly to thwart shoplifters, and in badges to control access to buildings and sensitive areas within them. Some schools require students to wear RFID badges on buses and in school. Certainly, schools have a duty to keep careful track of students while they are in school. But the sensors that detect RFID don't follow any students home. Tracking is limited to times and places where a school is responsible for a student's safety.
NFC chips are most likely to be found in credit or debit cards. They provide the convenience of simply waving your card at a point-of-sale terminal instead of figuring out which side of the card should be swiped or inserted into a card reader. Their very limited range is sufficient for this purpose and virtually no other.
But any personal device (smartphone, smartwatch, tablet, fitness band, portable navigation device, etc.) that uses the GPS system DOES expose its carrier to the possibility of being tracked. When it comes to GPS services, my motto is, "If you're not using it, turn it off!"
Other Tracking Technologies
Video cameras seem to be everywhere now. Some systems in large public venues even have the ability to do facial recognition as people enter. Ostensibly, this is to flag known terrorists and other bad guys who might pose a threat to the event. Lots of business owners have cameras inside and outside their stores for security. In some cities, the police use cameras to detect or deter criminal activity. If you're out in public, you should assume there's a camera somewhere.
But what about microphones? Gunfire detectors are proliferating in urban areas, detecting the sound of gunshots and estimating their locations for police. Microphones are involved, obviously. Some people wonder if these mics can also record conversations within their range. They probably could, but gunfire detectors are designed to filter out conversations, traffic noise, and other irrelevant sounds. They are listening only for the characteristic sound of a gunshot.
And just yesterday, I read an article about how ultrasound signals can be used to track not only the location of a person, but also what you watch on TV, and what you do on your mobile phone. Stores, billboards, websites, and TV commercials can send out ultrasonic beacons, which can be picked up by apps on your phone. Your best defense here is to pay attention to the permissions requested when you add new apps to your smartphone. If an app asks for permission to use the microphone, and you can't see any good reason for that, don't install the app.
Are you concerned about the privacy implications of pervasive tracking? Your thoughts on this topic are welcome. Post your comment or question below...
 

Ask Your Computer or Internet Question



  (Enter your question in the box above.)

---

---

| | |
| --- | --- |
| | Check out other articles in this category: |

| | |
| --- | --- |
| | Link to this article from your site or blog. Just copy and paste from this box: |
This article was posted by Bob Rankin on 5 May 2017
---
---
---
Post your Comments, Questions or Suggestions
---
Article information: AskBobRankin -- Is Everything Tracking You? (Posted: 5 May 2017)
Source: https://askbobrankin.com/is_everything_tracking_you.html
Copyright © 2005 - Bob Rankin - All Rights Reserved