[Windows 10 Tip #7] - Task View & Virtual Desktops
| | |
| --- | --- |
| If you juggle a lot of tasks on your Windows desktop, two features unique to Windows 10 can help you keep organized. They are Task View and Virtual Desktops. Let's take a look at each, and how they can help you be more productive… | |
Windows 10 For (Task) Jugglers
Do you typically have more than one program open at a time while using Windows? (That is, after all, the reason why the operating system is called Windows.) Right now, I have 5 open programs on my desktop -- a web browser, word processor, spreadsheet, email client, and a command prompt. I often switch between them, sometimes copying and pasting data from one to another.
[See more helpful articles in my Windows 10 Tips series: Click Here.]
Your scenario might be a word processor, a game of solitaire, and a photo editing app. Or maybe you've got Skype, iTunes, and Google Chrome running while you do your finances in Quickbooks.
You get the picture… everyone has their own set of frequently used tools. If so, today's tips will help you manage and switch more easily from one to the other.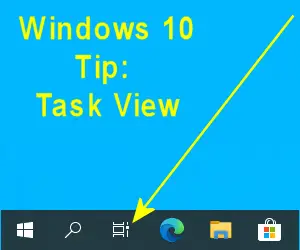 Let's start with Task View, which displays thumbnails of all open apps and lets you choose any one of them with one click. It also enables the creation of Virtual Desktops, each which can contain all the apps and data associated with a particular task.
Some users think Task View is unnecessary; after all, you can switch from one app to another using the Alt-Tab key combo; this Task Switcher feature has been around since Windows 3.0. But Task Switcher is an example of sequential data access; you may have to Alt-Tab through a number of open apps to get to the one you want. Task View enables random access; you can jump right to the app you want. (In geeky terms, It's like the difference between a magnetic tape drive and a hard drive.)
To see how Task View works in Windows 10, click on the icon nearest the "Search Windows" box on your Taskbar. The icon looks like a square with "wings" coming out of its left and right sides. You'll see your desktop and thumbnails of all open apps, as in this example: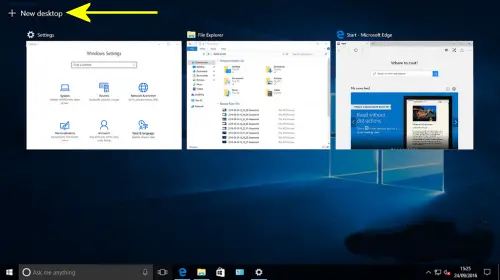 Take Task View for a Test Drive
I've scaled down the image to fit on this page, but it shows three active tasks: Windows Settings, FIle Explorer, and the Edge Browser. Click on any thumbnail and that app is restored; you can go right to work in it. But wait, there's more to the Task View view!
In the lower-right corner of Task View, there's a big + sign labeled, "New desktop." I've labelled that with the yellow arrow. Click on that area and a new, empty desktop will appear on the Taskbar. Click on Desktop 2 to switch to it. Now you can open apps in Desktop 2 while all the apps in Desktop 1 remain undisturbed.
You can also move apps between desktops. Just drag one of the apps in the active desktop to the Desktop 2 icon above your Taskbar.
Another way to create a new desktop is to click on the Task View icon and drag an app over the "+ New desktop" area. A new desktop will be created and the app you dragged will move into it.
To close a desktop, hover over its thumbnail in Task View and click the X button on the upper-right corner. Any apps in the closed desktop will be moved to the next-lower numbered desktop. If you close Desktop 1, then Desktop 2 becomes Desktop 1, Desktop 3 becomes Desktop 2, and so on. Closing all but one desktop returns you to the normal desktop view.
There is no limit to the number of virtual desktops you can have, but they do consume RAM. Your system will slow down if you create too many desktops.
Task View and Virtual Desktops are also useful if you share a PC with a trusted adult. You can create his-and-her desktops, one holding your apps and the other holding your spouse's apps. Then, when a spouse asks to use the PC, just switch desktops instead of logging off and logging in the other user. When the other user is finished, you can switch back to your desktop without losing any of your open apps, as you would when logging out. Obviously, I would not do this with a child who might figure out how to get into my desktop.
Yes, you can have multiple instances of a single app open in different desktops. If a browser is open in Desktop 1, the same browser can be opened in Desktop 2, but the second instance will be a "fresh start." It won't contain any tabs that are open in the first browser.
I do find Task View useful, but I don't use Virtual Desktops because I have a dual-screen setup. That gives me two separate desktops that I can see at the same time. With dual (or multiple) monitors, it's easy to copy/paste or move things from one screen to another. You can even stretch an app's window across two screens. Sometimes I do this when I have a very wide spreadsheet. (See my related article Dual Monitors: Six Good Reasons to Upgrade)
Task View and Virtual Desktops can help keep your computer work organized. You can maintain one desktop for work apps, another for personal/leisure/recreation apps, another one just to watch cat videos, or whatever. Even if you need only one desktop, Task View is a more efficient way to switch between apps. I suggest giving it a try.
Are you a task juggler? Which ones do you use most often? Your thoughts on this topic are welcome. Post your comment or question below...
Ask Your Computer or Internet Question



(Enter your question in the box above.)

---

---

| | |
| --- | --- |
| | Check out other articles in this category: |

| | |
| --- | --- |
| | Link to this article from your site or blog. Just copy and paste from this box: |
This article was posted by Bob Rankin on 21 Jul 2017
---
---
---
Post your Comments, Questions or Suggestions
---
Article information: AskBobRankin -- [Windows 10 Tip #7] - Task View & Virtual Desktops (Posted: 21 Jul 2017)
Source: https://askbobrankin.com/windows_10_tip_7_task_view_virtual_desktops.html
Copyright © 2005 - Bob Rankin - All Rights Reserved