Free People Search Tools
| | |
| --- | --- |
| A reader asks: 'I'm trying to find some friends from high school, but so far all my searches have come up empty. Can you suggest any clever (and free) ways to find a person's address, phone number or other contact information online? I've seen paid people search tools, but I'm not sure they are legit.' Read on for my tips on finding people and businesses online... | |
How to Find People And Businesses Online
The Internet is all about connections. After all, it consists entirely of connections between computers. But what's important about these connections is not the computers, but the people and businesses behind them. Interestingly, "How to find people online" is one of the most frequently Googled questions. Finding businesses online is not far behind. Whether you're looking for an old friend, a classmate, long-lost relative, or a business contact, the "people finders" below will help you find them, if there's a trace of them that can be found online.
To start, I recommend that you just Google someone's name, and you will probably get more hits than you care to explore. Uncommon names are probably easier, because there will be less clutter in the results. But if your target is famous or unique in some way, you may need a bit of luck to find the right "John Doe" in the top 10 search results. Add to your search any keywords associated with your subject, such as their city, employer or school name, to increase your odds of striking the right person in this lifetime.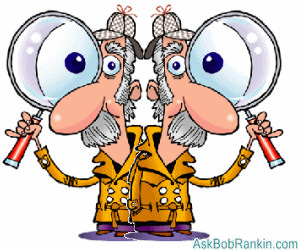 Online white pages directories can be helpful at finding people. My current favorite is 411.com because it has a clean interface, and doesn't try to trick you into paying for contact info like some similar online white pages directories. 411 will tell you the person's address, phone number, approximate age and associated persons, all for free. If you know only the person's phone number or street address, plug it into Google, or do a reverse lookup at 411.com.
The person you seek may very well be on Facebook, LinkedIn, Twitter, or some other social networking site. These sites let you search for people in general ways, such as name and current city/state. If your friend has a common name and you don't know where he or she is, that may produce too many results.
Other free people search tools you can try are local newspaper websites, and information aggregators like Pipl. Pipl is designed to retrieve information from what's known as the "deep web," inside personal profiles, directories, publications, public records and other databases where most general-purpose search engines don't look. It then works to cluster the results that pertain to a single person and present them to the searcher.
Argali White and Yellow is a free software download (Windows only) that searches multiple online phone directories (AnyWho, Google, InfoSpace, Switchboard, and others) and presents the combined results in a clean ad-free format. It also does reverse lookups for phone numbers and addresses. The Home version is free, but only permits 10 searches a month. Argali Pro costs $30 and does not limit your queries.
What About Email Searches?
Another common question is how to find a person's email address. It's difficult to do an email lookup, because even if you know the person's name, address and telephone number, an online email directory would be a source for spammers to harvest. Your best bet is to look for them on Facebook or LinkedIn, and see if you can make contact that way. And of course, you could contact them by letter or phone, and ask!
More People Search Tools
High school and college friends can often be located with Classmates.com or Reunion.com. These are legitimate and useful sites, but both have been known to use spammy techniques to advertise their services. Have you ever gotten a spam email with a subject like "A friend has searched for you, click here to connect"? Clicking the link sends you to the site, where you are prompted to enter your name and age, and then a search is initiated. The results will often list various people who purportedly have searched on your name. The catch is that you have to join the site as a member to get information on your schoolmates.
Be wary also of sites that spam you with not-so-subtle messages like "One of your friends has a crush on you!" or "Five people in your neighborhood are looking for you!? These sites are gimmicky or fraudulent, as is the case with any business that advertises via unsolicited emails. Some sites will ask you to enter your mobile phone number, then send you all kinds of advertising, and you end up paying for text messaging spam that can be hard to stop. If you don't want to lay out cash, try searching in Facebook first to find schoolmates, or find your school's website and get in touch with the alumni association.
If you're looking for information on a relative, or you're interested in genealogy, see Family Search or Ancestry.com. You can also check the Social Security Administration Death Index to search for information on deceased persons. (It will ask for your name and email address to access the records. You can enter real or fake info there to get past that roadblock.) I've also found that online obituaries, typically printed in local newspaper websites, can reveal information about people, their location, and their relatives.
If you know where a person lives, the local government offices may have a searchable online database with information about property ownership, mortgages, liens, judgements, foreclosures, matrimonial records, trade licenses and other public records. A Google search for the county clerk's website will usually point you in the right direction. And just to cover all the bases, I'll mention that most U.S. states have searchable sex offender databases online.
Finding Company and Business Info
To find a business online is usually much easier than finding a person. After all, businesses want to be found by potential customers. So most businesses list themselves in search engines and specialized industry directories. Simply Googling a company name usually does the trick. If it's something boringly generic like "Bob Smith LLC," you may have to add a city and state. But usually, you can find a business online without paying for the information.
If you want more details on a business, there are online tools that will provide public information such as the company's address, phone/fax numbers, the names of the principals, a description of their business, and competing companies in that industry. See my article on Finding Company Background Information to learn about several of these tools. Other sources of business information are the online business registration databases of State Secretaries, or any of several online Yellow Pages directories.
Paid People Search Tools
If none of those tools mentioned so far turn up the person you're looking for, then a commercial people search tool may prove useful. Paid people finders can locate people who leave few traces online. They can also reveal facts such as the person's age, unlisted numbers, property ownership, bankruptcies, previous addresses, and even criminal records. Sites such as Intelius and PeopleFinders.com collect personal data on millions of citizens from public records and other sources, then charge for access to the data. The good news is that if they cannot locate the person you seek then you owe nothing.
The bad news is that the information in paid people finders may be uselessly out of date. For example, a "relative" of a friend of mine identified by PeopleFinders is a woman he divorced in 1993, and the latest address provided is equally outdated. Some people finders want you to give up your own personal data before they will give you anyone else's. That quid pro quo is up to you, but think about who might be looking for you and whether you want to be found by them.
Do you have something to say about online people search tools? Post your comment or question below...
 

Ask Your Computer or Internet Question



  (Enter your question in the box above.)

---

---

| | |
| --- | --- |
| | Check out other articles in this category: |

| | |
| --- | --- |
| | Link to this article from your site or blog. Just copy and paste from this box: |
This article was posted by Bob Rankin on 9 Sep 2013
---
---
---
Post your Comments, Questions or Suggestions
---
Article information: AskBobRankin -- Free People Search Tools (Posted: 9 Sep 2013)
Source: https://askbobrankin.com/free_people_search_tools.html
Copyright © 2005 - Bob Rankin - All Rights Reserved