Spam Blocker
| | |
| --- | --- |
| I'm having a terrible time with spam emails. Suddenly I started getting dozens per day, and I can't seem to get rid of them. Is there a spam blocker or spam filter that's easy and just works? | |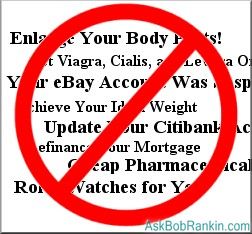 Spam: How Big is the Problem?
Believe me, I feel your pain! I get hundreds (sometimes thousands) of unwanted emails every day. Spam ranges from relatively benign product pitches to blatant p**nography and identity theft schemes; and mailboxes that are unprotected can quickly be overrun by spam, possibly causing the mailbox owner to miss important messages. When you consider that over 35 BILLION emails are sent every day, and about 70% of those are spam, the impact on individual and corporate inboxes is staggering.
CAN-SPAM, the US government's attempt at stopping spam, has been a miserable failure. Email users are getting more spam than ever, both at work and at home. Rather than complying with the law, spammers are increasingly using zombie networks (computers hijacked with spyware) to send spam on their behalf.
In this article, I'll give you some spam blocking tips you can try, and I'll also tell you how I deal with spam on a personal level
Spam Blockers and Filters
Because the volume of spam has grown by more than 65% since 2002, a number of companies have stepped up to the plate with solutions. One of the best end-user solutions is Cloudmark Desktop, a subscription service that costs about $40 per year. Cloudmark analyzes feedback from all of its users to determine what most people consider to be spam, and moves those messages to a separate folder for quick review later. When a spam message does make it into a user's inbox, a single click on a toolbar removes the message and adds that message's profile to the Cloudmark database. With this dynamic system, Cloudmark is able to react quickly to new forms of spam, and claims 98% spam removal immediately after installation. Unfortunately, Cloudmark only works with Microsoft Outlook or Outlook Express on Windows PC's.
Software that uses Bayesian filtering is another good alternative. Bayesian filters can be trained on a per-user basis, causing it to "learn" over time which emails are likely to be spam and which are not. Some free or low-cost options in this genre are SpamBayes, POPFILE, and Spam Bully.
Spam Blockers and WebMail
Web-based email services such as Hotmail, Yahoo Mail and Google's Gmail use a combination of keyword filtering, bayesian and collaborative spam analysis to automatically funnel unwanted messages into junkmail folders. Users can also create their own filters to block messages based on sender, subject or content.
My personal experience with Gmail has been quite good -- several hundred messages per day are blocked, with very few false positives. I rely mostly on the built-in spam filter, but I've also added some filters of my own to block spams by sender, IP address, and specific keywords in the subject and/or message body. The graphic here shows the various options for creating spam filters in Gmail. I like the fact that you can enter your criteria, then click Test Search to see what messages in your inbox it would match.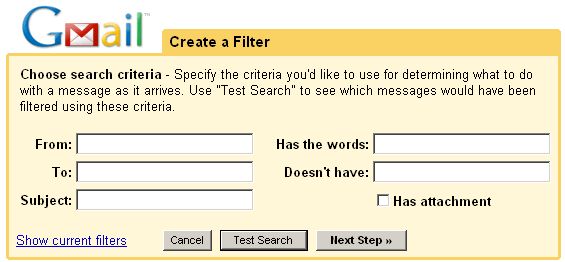 Impact of Spam on Business
For corporate networks, spam can become a financial burden. Considering the amount of time employees spend weeding through e-mail, as well as the amount of load placed on mail servers and the company's bandwidth, the corporate cost of spam quickly climbs into the tens or hundreds of thousands of dollars per year, depending on the size of the company. One good solution for companies with many employees is the Barracuda Networks line of anti-spam firewalls. Barracuda products sit behind the company's Internet firewall, scanning each incoming message before passing it on to the mail server. Another option is the free and open source SpamAssassin, which is popular with ISP's, small companies and webmasters.
Scorn Scum
Think about it... spammers do what they do because it's a lucrative business, not because they like to annoy people. So it stands to reason that people who buy stuff from spammers should bear a large portion of blame for the continuation and growth of spam. If nobody bought products advertised by spammers, the spam problem would go away within weeks. People who abuse the Internet and inconvenience millions of users by mass mailing their pitches should receive your scorn, not your hard-earned cash. If they flout the rules of the online world, they're most likely crooks in the physical world.
Protect Your Inbox
Of course, the best way for an individual user to reduce spam is to keep his or her main e-mail address private. Entering an e-mail address into any kind of public Internet forum or website exposes that address to discovery by spambots that harvest e-mail addresses from websites. One strategy is to get a separate e-mail account for public correspondence such as online forums and newsletters. And don't ever reply to a spammer (even with remove requests), that just tells them your address is valid and ready for more spam. I also recommend that you avoid "forwards" and encourage your friends not to send them, as they provide a rich source of valid email addresses for spammers.
Though spam is a constant problem, it can be effectively controlled with the right tools and smart address management. In summary,
Keep your email address private
Never buy anything from a spammer
Use email software with collaborative or Bayesian spam filtering
Be vigilant to protect against viruses and spyware
And if a few spams get past these defenses, don't sweat it... just press the Delete key. For further reading, see these related articles:
Got comments on spam blockers, spam filtering, or the spam issue in general? Post your thoughts below...
 

Ask Your Computer or Internet Question



  (Enter your question in the box above.)

---

---

| | |
| --- | --- |
| | Check out other articles in this category: |

| | |
| --- | --- |
| | Link to this article from your site or blog. Just copy and paste from this box: |
This article was posted by Bob Rankin on 6 Sep 2006
---
---
---
Post your Comments, Questions or Suggestions
---
Article information: AskBobRankin -- Spam Blocker (Posted: 6 Sep 2006)
Source: https://askbobrankin.com/spam_blocker.html
Copyright © 2005 - Bob Rankin - All Rights Reserved